Harvard Moves Against Single-Gender Final Clubs, Sororities And Fraternities
03:44
Play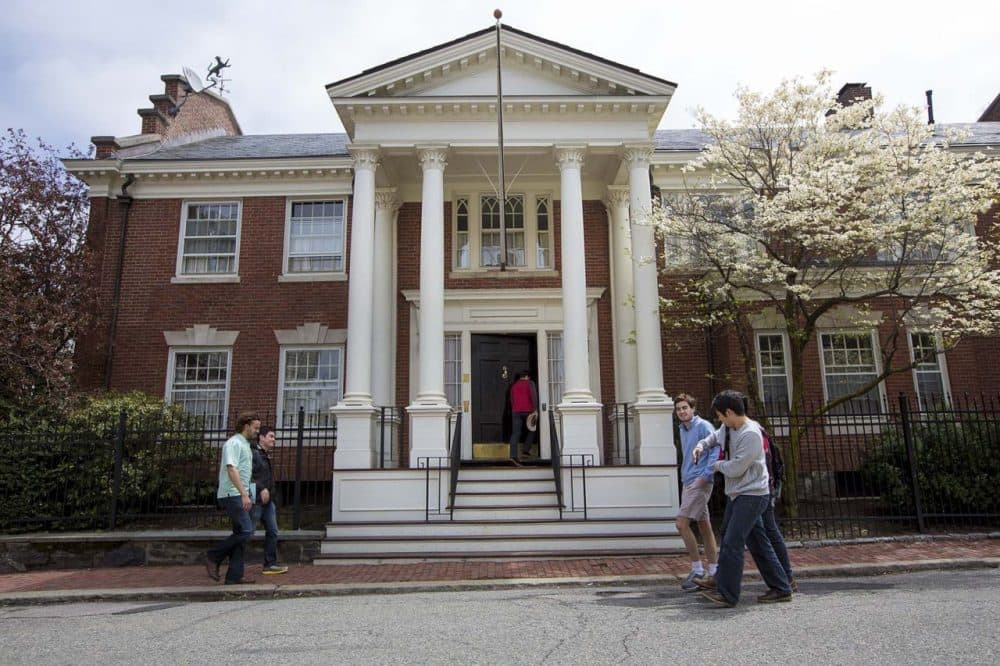 This article is more than 5 years old.
Harvard is banning members of unrecognized single-sex final clubs, as well as fraternities and sororities, from leadership positions in student organizations or athletic teams.
Members will also be prohibited from receiving recommendations for scholarships from deans.
The ban will begin in the fall of 2017.
Harvard has been moving against final clubs since the 1970s, when it started to worry that the the single-gender, invite-only social clubs undermined students' education and their social interactions, and endangered their safety. In 1984, Harvard severed its ties with the clubs after they refused to admit women. This year, when results of a campus survey found women more likely to be sexually assaulted if they had interactions with final clubs, Harvard pressed the clubs to become co-ed.
The dean of Harvard College, Rakesh Khurana, said in a telephone interview that making the final clubs co-ed is still the goal.
"What we're really encouraging is our unrecognized single-gender organizations to expand their membership policies to be inclusive, and we are very much looking forward to working with them and making this transition," Khurana said. "We have invited several organizations that will continue to do so and are in communication with them to help them make this transition."
Reaction from undergraduates is mixed. Sophomore Patrick Hansen worries Harvard's ban could be counterproductive.
"I think it's kind of a bold move by the deans," Hansen said as he stopped to talk on Mt. Auburn Street. "I don't know how well it's going to go over. I feel like a lot of the social clubs will go back to being secret societies like they were when they began."
Since the groups don't make their member lists public, Harvard is counting on students' integrity to be up front about their membership.
"In my experience, our students are very straightforward, honest people," Khurana said. "They do the right thing, and I have a great deal of confidence in them. They have the right to decide their own path, but they also have a clear understanding of what Harvard's values are and what it means to be a member of this community."
Khurana says a committee will be formed to decide which fellowships might be denied to students who are members of single-sex final clubs or fraternities or sororities. Among the scholarships that could be affected are the Rhodes and Marshall scholarships.
The first final club, the Porcellian, was founded in 1791. For most of their history, final clubs, like Harvard College, admitted only men. Today there are eight historic all-male final clubs. Two of them are going co-ed. Five other final clubs are all-female.
Senior Yamna Anwar calls the ban a step in the right direction.
"Gender equality is a really strong pillar of the values here," Anwar said as she stopped to talk in Harvard Yard. "Even in the social sense, the way that women are treated in social gatherings in those organizations, it just makes me very sad."
Final clubs are a big part of the social scene at Harvard because they have the houses to hold parties.
Freshman David Wechsner is worried that the move might spell the end for final clubs. If that's the case, he would like to see the college do more to create its own social spaces.
"If final clubs were to stop really being a thing, that'd definitely create a pretty big hole in the social scene, and they'd need to do something to pick up for that," Wechsner said.
In her letter to undergraduates today, Harvard President Drew Faust recognized that fraternities, sororities and final clubs play a growing role in student life. Today's announcement puts that role in question.
This segment aired on May 6, 2016.