'The Best Place I Could Have Ended Up': Incarcerated Veterans Get Support At Middlesex Corrections
Resume
While the vast majority of military veterans who return to civilian life after their service lead lawful and productive lives, others find themselves tangled in the legal system and facing jail time. There were a 181,500 incarcerated veterans in the United States in 2012, the last year statistics were available.
A special housing unit at the Middlesex Jail & House of Correction was created specifically to help with some of those veterans.
"This isn't just about the treatment while they're in here," says Middlesex County Sheriff Peter Koutoujian. "This is about turning them out better and stronger when they leave this facility than when they came in, because that brings benefits to society."
Koutoujian opened the Housing Unit for Military Veterans or "HUMV" eleven months ago. It's the first of its kind in the state, and so far, staff and inmates like the way it's working.
"I think everything happens for a reason, because this is the best place I could have ended up," says Steven Valdivia.
Valdivia was one of the first vets to move into the unit. He was serving a sentence for a breaking and entering charge he says he committed to pay for a drug habit he developed after being injured in Afghanistan by an improvised explosive device. Valdivia was released in May after completing his sentence. Before his release, Valdivia told me the support from fellow vets helped tremendously.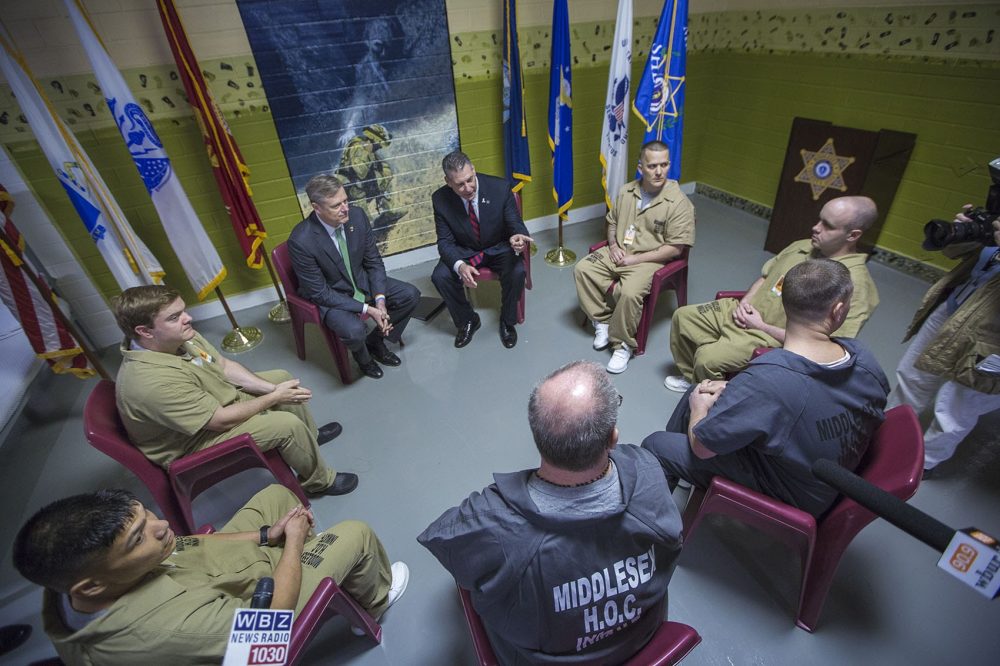 "Being here with guys that, even if they're not combat veterans like me, they at least know where I'm coming from," Valdivia says. "They may recognize that when I'm having a bad day, and rather than letting me isolate like in another unit in a cell, everyone, you know, kinds of lifts each other up. We build each other up here, we try not to let anybody-- it's very unit-based. It's every man for himself on other units. Here, it's like being back in the military where you look after the man to your left and your right."
The vets in the HUMV unit have a structured day. Wake up is at 7 a.m., and there is a house meeting at 8:30 a.m where all the inmates discuss concerns about the unit. They attend programs ranging from Anger Management to a parenting group. The unit can house up to 54, although, as of last week, 29 veterans were living in the the barracks-style unit, decorated with patriotic murals and the emblems of the various branches of the military.
Sheriff Koutoujian says there's virtually no extra cost to running the unit since his department would have to be incarcerating the inmates anyway.
"It is easily absorbed within our system right now. The personnel is already working here. We're just assigning them to this unit, and it has not been taken away from any of the other resources or capacities that we've needed throughout here," Koutoujian says.
He credits his staff, including Veterans' Services Coordinator Paul Connor for the early success of the unit. Connor, served as a platoon leader in the Army, and has been sober for more than ten years. Connor says the unit operates much like the military.
"We've created in there something very similar to what like a platoon of soldiers is," Connor says, "and not that, they don't come to attention. We don't march around saluting, you know, not that kind of stuff. But they're broken up into squads for work and detail purposes."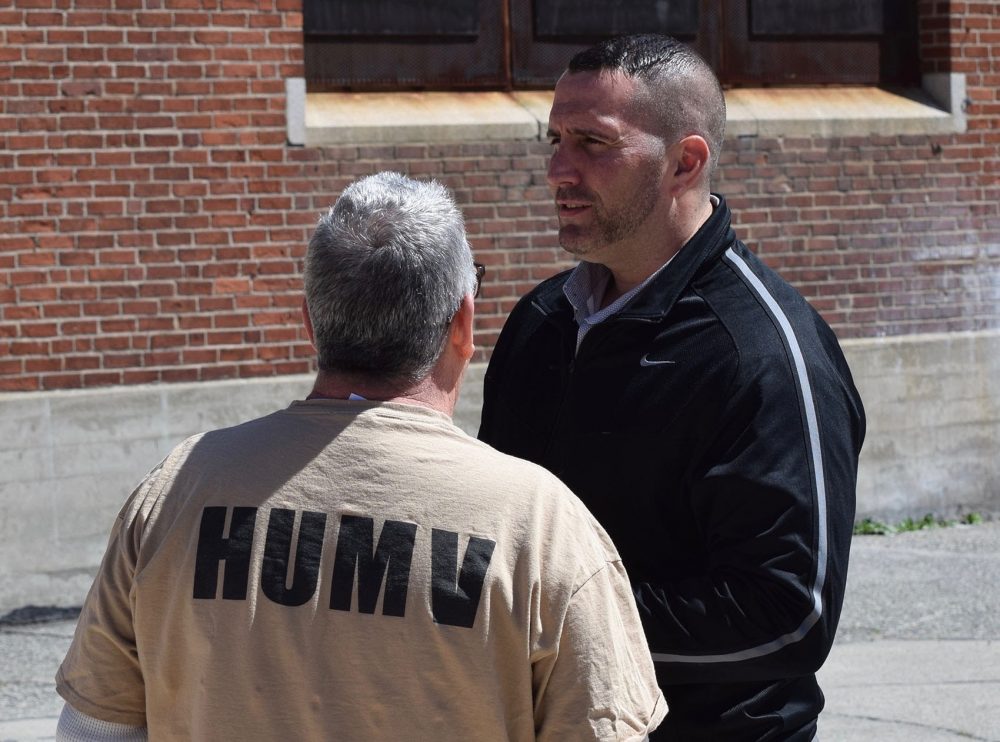 Connor interacts one-on-one with the inmates in the unit, as well as with justice-involved veterans in the Middlesex Veterans' Court. He tells the veterans that their mistake should not define them.
"There are some guys in there who have done some, not so great things, obviously, that's why they're here," Connor says. "But at one point in their life, they took an oath to defend this country and ya know, for one reason or another they ended up here. And this is kind of our way of saying, well, 'Thank you for your service. And how can we help you, help point you back into that right direction. Bring some honor back to your life.'"
Other sheriff's departments, as well as the state Department of Correction are keeping an eye on the Middlesex HUMV unit, to determine whether similar programs might be right for other prisons and houses of correction.
This segment aired on November 11, 2016.