'They Just Want To See Me Smile': Teen Who Lost Home In Cambridge Fire Finds Support At School
Play
This article is more than 6 years old.
A couple of nights ago, 16-year old Isaiah Robinson went to basketball practice. He's shooting guard for Cambridge Rindge and Latin. Today he went to school, just as usual.
Isaiah is a junior at Rindge and Latin. Going to class and playing ball are a welcome routine in a life that's just been turned upside down.
Isaiah, his parents and five siblings lost their home in Cambridge in a 10-alarm fire on Saturday. The family was home at the time. Isaiah helped rush his younger siblings out of the building, then went back in to alert neighbors. He heard and saw cars explode, and he saw flames shooting from the building where the fire started. That's about a half-block from his family's building.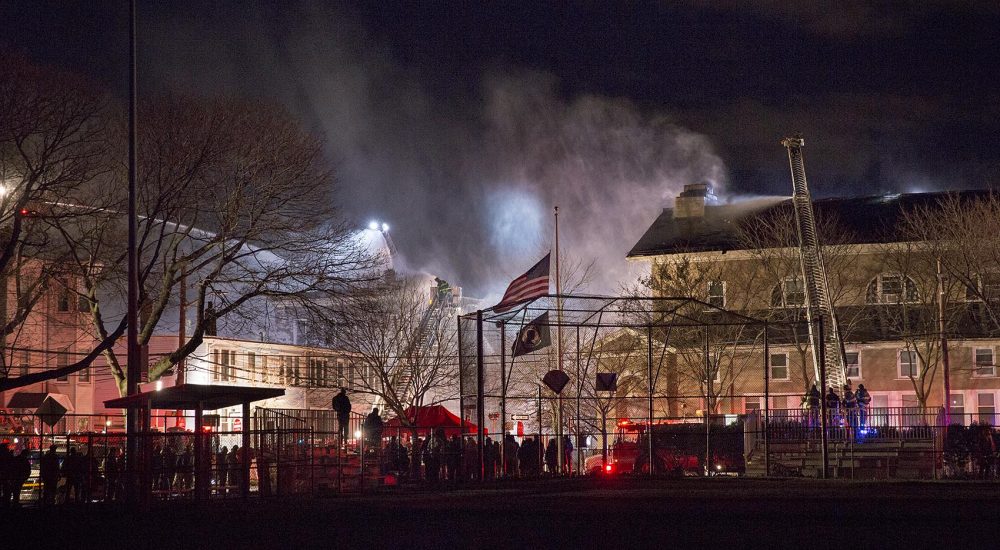 The Robinsons are now staying in a hotel. Isaiah is one of 11 Rindge and Latin students who lost their homes in the fire. Another 14 students were affected by the fire in some way.
Isaiah says a good friend and supportive people at school are helping him cope.
"The teachers and, like, the staff there are very supportive," Isaiah told WBUR's All Things Considered host Lisa Mullins. "They're trying to get me what I need and also what I want. They're doing their best. Every time they see me, I get a long hug. They buy me lunch, they make sure I eat breakfast. They gave me a T pass for the whole year ... They just want to see me smile, and they're doing a good job of it."
The teen has not gone back to the neighborhood to see his former home of eight years that was destroyed.
"I don't want to see it. I don't want to see none of that," Isaiah said. "I already get like, not flashbacks, but I keep thinking about it. I don't want to go in and see it and then keep thinking about it more."
Listen to more Isaiah's conversation with Lisa Mullins above.
The mayor of Cambridge has set up a relief fund for those who were displaced by the fire.
This segment aired on December 8, 2016.