In Newburyport, They Race Beds In The Streets—Because They Can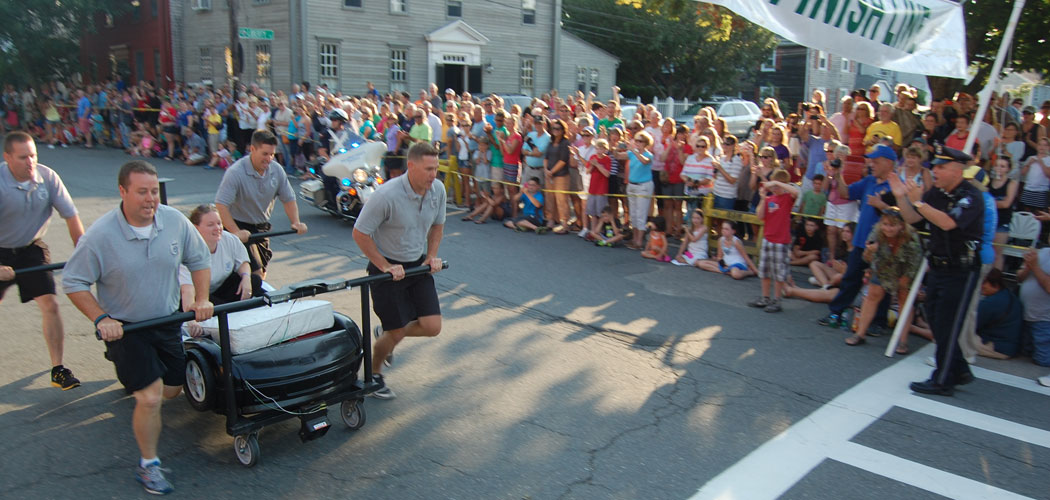 This article is more than 6 years old.
They go faster than you'd expect, a wise friend advised me about Newburyport's annual Bed Race.
Teams of up to five people push the beds—made up to resemble sailing ships and fire trucks and churches—as fast as they can down a quarter-mile stretch of Federal Street. Well, of course, some groups do meander down the street, approaching it more as a costume parade.
"People are timed and we race them one at a time for safety reasons," says race chairman Chad McDonald.
The rules require at least one person to ride the bed during the competition. Crowds line the street. And during each run, a young man stands in the foyer of the Old South Church and pulls the rope that makes the church bell ring and ring.
"It's just something entertaining," McDonald says.
The race occurs during Newburyport's annual Yankee Homecoming, but it's not technically part of festival. Instead it's put on independently by the Newburyport Lions Club.
Bed races have been know to occur from San Francisco and Ogunquit, Maine, to Pattaya, Thailand, and Kogarah, a suburb of Sydney, Australia. The, ahem, sport seems relatively popular in Florida and Indiana, where a number of communities host competitions. One of the oldest continuing races is the Great Knaresborough Bed Race in Britain, which was founded in 1966, and is proudly described as "part fancy dress pageant and part grueling time trial over a 2.4-mile course, ending with a swim through the icy waters of the River Nidd."
The origins of Newburyport's Bed Race are shrouded in mystery. Or at least, McDonald says, "I don't know who exactly started the Bed Race." He thinks the tradition goes back at least to the 1980s.
"I've been chairman for 13 years. The Bed Race had been defunct for six, seven, eight years before I took over," he says. Previously, "I think it was the American Legion that was the charity group that did the Bed Race."
However, to call them beds may be somewhat misleading. While some retain the appearance of beds, with headboards and all, most are actually wheeled carts designed with large handles for pushing and just a rudimentary mattress slapped on top for the spirit of the thing. In fact, the rules have stated: "Mattresses are not necessary but may be used (riders will appreciate the comfort, it's a bumpy ride)."
Last night, Old South Church's "Whitefield Racers" won with a time of one minute and six seconds. The Newburyport Police team took second at 1:08 and the Fire Departent third at 1:09.
The Raybeam team's bed made up to look like the house from the movie "Up," complete with a bundle of helium balloons, was awarded the prize for "most original entry." And Institution For Savings group's sailing ship-bed won for "Best in Show."
What's the fastest bed to ever make a bumpy ride through Newburyport? "I want to say six or seven years ago, it was a team called the Pirates of the Pont. And they did it in one minute and three seconds or one minute and four seconds," McDonald says. "And to date that's still the fastest anybody has done it."
What was the team's secret? Did they have an especially aerodynamic bed? "They had a normal bed," McDonald days. "They just had five pretty athletic guys."
Greg Cook is co-founder of ARTery. Follow him on Twitter @AestheticResear and discuss the things he does with his bed on Facebook.