Filmmakers Play Nice In Public, But It's A Slugfest Behind The Scenes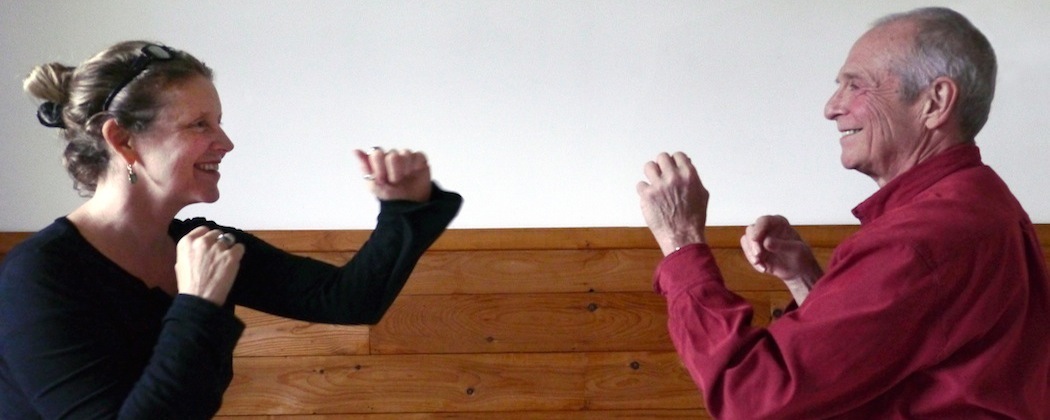 This article is more than 6 years old.
If the creative process fascinates you — in my case, it's how a movie gets made — you never stop searching for honest, even revelatory stories from the field. Yet in my dozen or so years of interviewing filmmakers, it's rare to have frank conversations about what really goes down between individuals, behind the scenes. Even off the record.
Instead, the talk is limited to niceties and vagaries. This is especially true of multi-city press junkets, and wildly apparent when any celebrity hits Jimmy Fallon Thursday night and the "Today Show" Friday morning. Of course aggression or indifference can also be deployed, but usually the journalist, not the collaborator, is the fall guy.
Independent filmmakers can be just as tight-lipped about their collaborations. I've always figured it was about career preservation, or another symptom of "thumbs up" acquiescence in a world that runs on Facebook. I also naively thought it was more common among filmmakers than other artists because the form is unavoidably collaborative.
That's why I was interested in a new book by Joshua Wolf Shenk, "Powers of Two: Finding the Essence of Innovation in Creative Pairs." Shenk and Boston-based essayist and literary critic Sven Birkerts will discuss the book at Porter Square Books on Monday, Aug. 18 at 7 p.m. Birkerts, who often advocates for an unplugged life, suggested via email that the conversation would touch on how the book is "of our time" and how that notion "plays into networked living."
Shenk told me that he, too, has had difficulty finding creative people who open up about their partnerships. With good reason, he explained via phone, "Creative pairs are like long-term love relationships." The comparison that runs throughout his book (the two filmmakers I spoke with also frequently used marriage metaphors to describe their collaborations). Shenk spelled out that an insistence for such details might be akin to asking a married couple to lay their intimacies bare.
Assuming the dyad as an essential building block of creativity, "Powers of Two" lays out six stages of creative intimacy through notable pairs, including some opponents, such as artists Marina Abramović and Ulay, innovators Steve Jobs and Steve Wozniak, athletes Magic Johnson and Larry Bird, and many more, with John Lennon and Paul McCartney as the most prominent coupling.
Films and filmmakers get mentions but this book casts a wide net over the creative process and the duos responsible for a cornucopia of fruits, past and present. Still, I found the material, especially on the topic of the social psychology of relationships, helpful to my own understanding of how filmmaking collaborations function.
For Shenk, a culture that over-emphasizes and rewards the lone genius is both problematic and false. But it's far easier to summarize, and in an age of 120 characters or less, requires fewer words. "When you're representing yourself to the public, there's a constant pressure to revert to very, very simplified narrative. Who made this? 'I made this, I'm the director,'" he explained, though credits could roll hundreds of names. "In film, it's the problem of the auteur."
Local filmmaker, Lucia Small, has been grappling with similar issues in a trilogy of first-person narrative documentaries. When she was starting out, she said recently by phone, "I had that image of the lone auteur. But I didn't know how to sustain it." The first of the three films, "My Father, the Genius" (2002), scrapes away at that pesky fiction with her architect father at the forefront. Small said when she teamed up with Ed Pincus for her next film about Hurricane Katrina, "The Axe in the Attic" (2007), "We were both interested in debunking the mythology behind the all-knowing documentary filmmaker."
Her third and most recent film, "One Life, One Cut" (2014), co-directed with Pincus, alternates between both filmmakers' points of view, blowing up a form that has primarily been known for solo on-camera talents like Ross McElwee or Michael Moore. In "One Cut," Small and Pincus talk frequently about the nature of their creative interdependence, making no secret that it troubles Pincus's wife. In fact, they weave that tension into the storyline. The trailer sets all of this up:
("One Cut" had its Boston premiere at IFFBoston and will screen at the New York Film Festival on Monday, Sept. 29 at 6 p.m.)
The filmmakers also talk about how their relationship soured over "Axe" and kept them from working together for seven years. I'll admit I wanted more juice on this than "One Cut" yielded but Small admitted, "It took us several years to know what happened." She boiled it down to "money problems." "I was partnering with an older man with more financial resources."
"Powers of Two" talks about power differences in a way that prioritizes the result of the dynamic over specific behavior, showcasing partnerships in which both parties benefit in the long run. "The only thing that is fatal to creative work is when creatives stop working," writes Shenk. The off-balance relationship between the much older, distinguished choreographer George Balanchine and Suzanne Farrell (one of his many ballerina muses) is one such example. Despite his unrelenting, morally questionable pursuit of her early on, decades later she became his foremost interpreter and a respected artistic director in her own right.
The last time I spoke with local filmmaker, Garth Donovan, he and Newton native Alex Karpovsky were in postproduction on their psychological thriller, "Rubberneck" (2012), which was not critically embraced. With Karpovsky's star on the rise for his role as Ray on HBO's "Girls," the film finally gained traction when it was packaged with Karpovsky's other films released the same year. As the dominant narrative goes, and it did among local media, Donovan's role as a "Rubberneck" collaborator (he is credited as co-writer, co-editor, producer; Karpovsky as director, co-writer, co-editor, lead actor) went largely unnoticed.
"Being human that was somewhat difficult," Donovan acknowledged recently. "In the same vein I'm a creative person. I understand how much you have to fight to be heard. Alex's story is not an overnight story." I asked whether or not specific filmmaking roles (director, producer, etc.) make filmmaking more or less conducive to collaboration. "I went in knowing Alex was the director and I was going to write… But we were open enough that we could run almost like we were two directors. It was a very satisfying creative process," he said.
"Powers of Two's" chapter on roles, "Dialectics," emphasizes simultaneous clarity and fluidity among successful partners. Filmmakers would likely find themselves flowing in and out of Shenk's subgroups: star and director; liquid and container; dreamer and doer; generator and resonator. Donovan, who has moved on to new collaborations, described himself as a dreamer who benefits from a doer.
I wondered if Donovan would like his fellow filmmakers to be more transparent. "If somebody has a 'personality' I can understand that they'd want to protect it," he said. He also cited the example of taking the stage after a film festival screening: "That's maybe not the exact place to get into 100 percent of honesty." Instead he turns to podcasts for his dose, "where the setting is different" and more suitable to filmmakers' straight talk.
"There's a lot of privacy around [collaboration]," said Small. "You don't want to feel you're not professional. Art is something that commingles business and passion… it's not clear cut."
In his five years of research, Shenk realized that isolation stalls out his own creative drive. Ultimately, his book acknowledges, and encourages, the power of reaching out. He wishes boys and girls would grow up knowing that intimate relationships can "activate creative connections" and should be as commonplace, and as coveted, as falling in love.
Erin Trahan edits The Independent and is teaching an adult education course for Montserrat College of Art that will travel to Montreal's RIDM Film Festival this November.