'Hole' Lotta 'Happy': Tony Shalhoub And Brooke Adams Bring Beckett's Classic To Babson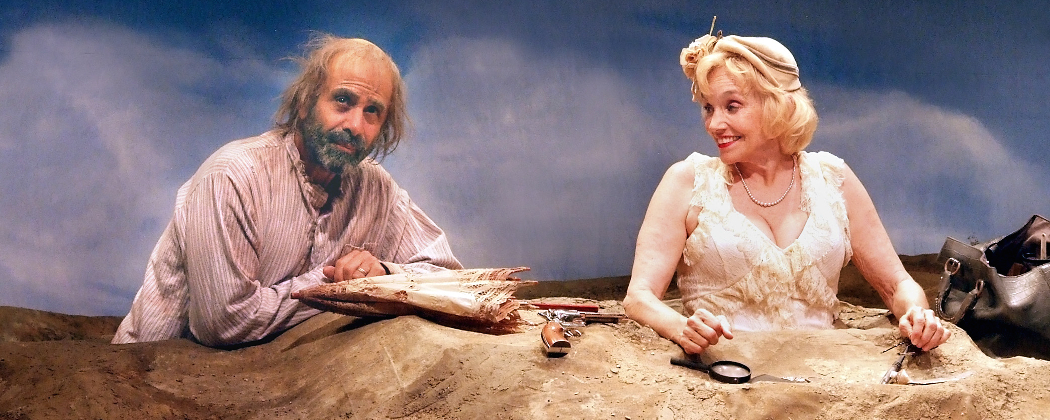 This article is more than 5 years old.
The husband and wife in Samuel Beckett's play, "Happy Days," don't get around much anymore. For one thing, she's buried in the sand. As for him, he spends most of the play popping in and out of his own hole in the ground or crawling about grunting the occasional response to his wife's nearly nonstop monologue.
Real-life couple Brooke Adams and Tony Shalhoub will bring the characters of Winnie and Willie to life when "Happy Days" moves from Pasadena, California, to Babson College's Carling-Sorenson Theater, Nov. 18 – 23. The show is a production of Commonwealth Shakespeare Company.
Adams is best known for her roles in such films as "Days of Heaven" and "Invasion of the Body Snatchers." Shalhoub starred in the popular television show, "Monk," and films, "Men in Black," "Big Night" and many others. Also, each has a long list of theater credits.
The day of our interview was Shalhoub's 61st birthday. During our phone conversation, there were sounds of a party in the background that came over the line. He has been married to Adams, 65, since the early 1990s. The couple met while starring on Broadway together in "The Heidi Chronicles." They've worked together several times in the past — a working relationship in the best sense, he said.
"It's a fantastic experience," Shalhoub said. "Plus we bring our own relationship and our own marriage to the material somewhat, finding the parallels. And it gives us the opportunity to laugh at ourselves and not take ourselves and our situation too seriously."
The play has been earning rave reviews in California. Adams, who's never been in a Beckett play before, said she loves the role, even though it means performing partly underground.
"I've never had such a great role," she said. "Physically, it's not as hard as it seems because I'm sitting on a stool in a hole, but it does require a lot of talking-head kind of acting. I just have a very expressive face, I guess. People say, 'You know the expressions you're making?' I see the photographs and I'm surprised."
The play, which premiered in September 1961 at the Cherry Lane Theatre in New York, features the talkative Winnie buried up to her waist in act one and up to her neck in act two.
It's typical of Beckett to get to the naked humanity of his characters by placing them in extremis. In other plays and in his fiction, he leaves them forever waiting, reduced to a yammering mouth, howling into the darkest of voids, strapped to a chair and stuffed in trash cans.
In the fall of 1960 when Beckett began writing what would become "Happy Days," he jotted in his notebook the words, "buried in a cruel earth and exposed under a hellish sun." This notwithstanding, the title reflects his desire to write some lighter fare for the stage.
As to an exact meaning of the play, don't look to Beckett himself, who told one inquiring Winnie: "I know creatures are supposed to have no secrets for their authors, but I'm afraid mine for me have little else."
Shalhoub has been stranded in Beckett's world before. Twice he's appeared in the playwright's signature work, "Waiting for Godot," both times under the direction of Andrei Belgrader, who helms this production of "Happy Days." As an actor, he finds Willie's rather stationary lot in life actually freeing.
"It's kind of liberating in a way," he said. "The material, the writing, it's so specific and delicate."
The real challenge of the role is keeping his back to the audience for much of the time and staying attuned to Winnie's constant flow of words, he said.
"Willie in this play, especially in the first act, he's a character but he's also an audience member. He's taking it in as the audience is, and I find myself getting sort of swept up in Brooke's performance. I have to remember there's a cue coming up and that I have to act."
One way to view the play is as an existential allegory, albeit not the cheeriest, especially in the way its meanings are shaded by modern concerns such as climate change and Ebola. Yet, Winnie perseveres, using only her stream of words and the contents of her pocketbook as a way to ward off some unknown fate. It may be a natural tendency of audience members to turn her into a symbol or construct some backstory to explain how she ended up buried in the desert, but Adams resists this.
"I have no idea how she got this way and I don't think it's important," she said. "And I don't think it's about marriage swallowing you up. Beckett just sets these people up in this situation and then let them express what life is. It's much larger than the circumstances. It's the human condition pared way, way down."
Performances of "Happy Days" are Tuesday, Nov. 18, through Saturday Nov. 23 at 8 p. m., and Sunday Nov. 23 at 3 p.m. at Carling-Sorenson Theater, 231 Forest Drive, Babson College, Wellesley, MA. Tickets $80 - $15. For tickets, visit the website, or call OvationTix at 866-811-4111.
John Winters can be reached via johnjwinters.com.