In 2015, Small Theaters Are Having Their Say, Too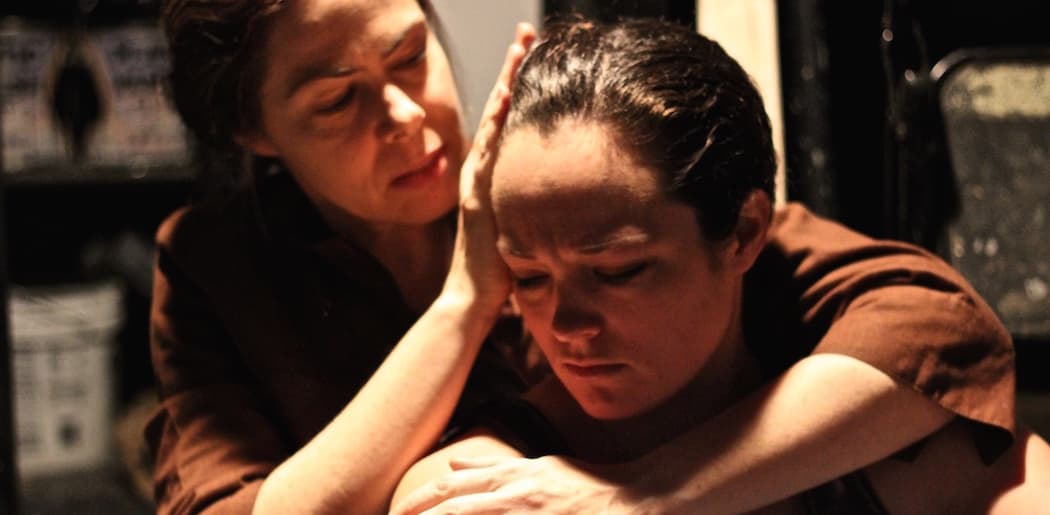 This article is more than 6 years old.
With virtually every Boston large and midsized theater reopening in January, most with high-profile productions, it's easy to lose track of Boston's adventurous small and fringe companies, theaters that play a vital role in the health of the community. Two of those theaters, Fresh Ink and imaginary beasts, are also back this month with a pair of intriguing productions, "Chalk" and "Kerplop! The Tale of the Frog Prince."
When The Factory Theatre closed its doors, the Boston theater community mourned the loss of a great space that had offered work for small and fringe companies alike. The members of Fresh Ink theater had to dry their eyes quickly, though, as the closing left them without a space for their entire season, a season that had already been planned and programmed. With an immediate need to book a new space for its play, Fresh Ink's first call was to Kate Snodgrass at Boston Playwrights' Theatre. It is very fitting that the play is, at its heart, a survival story.
An intense sci-fi fable set after the end of the world, Walt McGough's "Chalk" (Boston Playwrights' Theatre, January 9-25) digs deep into issues of motherhood, responsibility and possession. Think about some of pop-culture's recent survival stories, and you'll begin to get a feel for McGough's play. Literary Director Jessie Baxter said that rehearsal discussions have drawn parallels between that which exists outside the room of the action of the play to the world of AMC's "The Walking Dead." There are some sci-fi elements to the story, but as Baxter added, it is also a very human story, the story of regular people trying to get by.
Committed to developing new work in New England, Fresh Ink offers the Boston community the opportunity to engage in a sort of theatrical evolution. For example, "Chalk" comes to us from a Huntington Theatre Fellow who has had works premiered by Boston Playwright's Theatre, New Repertory Theatre and now Fresh Ink. "Chalk" received a staged reading as part of the company's InkSpot Festival and was then selected for full development for the current season — the latter process entailing a staged reading, a closed workshop and, in the end, a full production.
The play and its team have been through it all, welcoming some audience members and working hard to make small script adjustments that have, ultimately, an undeniably large impact. The sci-fi elements in the play started out very nebulous, then became more intricately defined, and now, in this version, are once again more ambiguous. Baxter said that they have discussed whether it is scarier for such elements to be defined. When things go bump in the night, do you usually want to investigate or hide under the covers?
Meanwhile, from the other edge of Boston is a new work that is both imaginative and playful. Opening January 17 at the Boston Center for the Arts' Plaza Black Box and running through February 7 is imaginary beasts' annual Winter Panto: "Kerplop! The Tale of the Frog Prince."
For the uninitiated, a pantomime (panto for short) is a UK tradition dating back to the Victorian Age — today, imaginary beasts is one of the only theater companies producing a panto stateside. In its parodying of current events and popular and local culture, the performance requires audience participation (in the form of cheering for the hero and hissing at the villains) as well as music and maybe a little cross-dressing to bring about a happy ending. The script can change nightly, depending on the hot topics of the day, and the company promises a night full of fun for all ages.
In the past, Artistic Director Matthew Woods and imaginary beasts have brought characters like Mother Goose, Dracula and Humpty-Dumpty to the Winter Panto. This year, the company reimagines "The Tale of the Frog Prince" in a topsy-turvy world. Prince Friedrich, our ill-fated hero, is on his way to woo and possibly wed the Princess Aurelia when a wicked water nymph turns him into a "gill-fated" hero — a frog. The entire Kingdom — from Her Royal Majesty to an unlikely pet skunk — must band together and take a giant leap of faith, in order to bring about a traditional "hoppy" ending.