Mark Morris Dazzles With Dualities At The ICA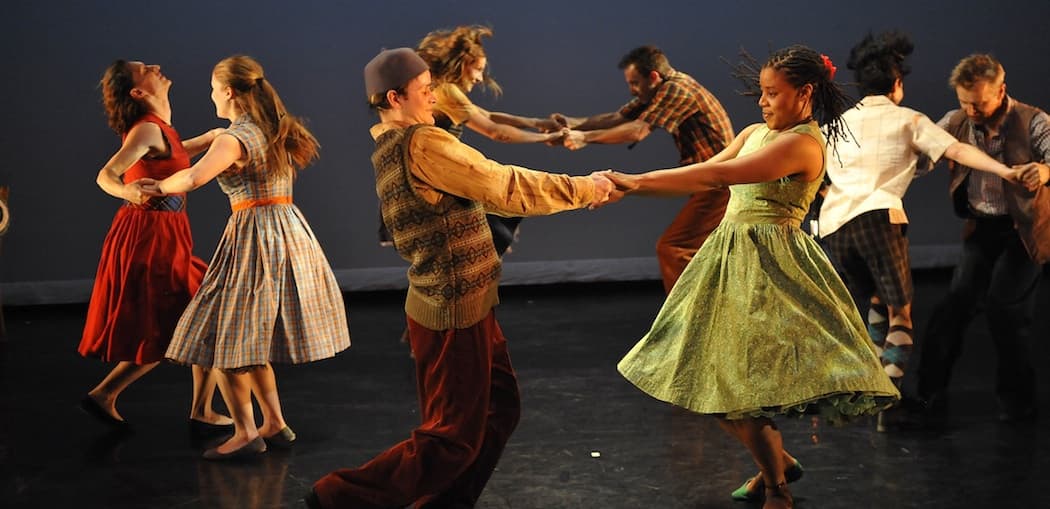 This article is more than 6 years old.
Mark Morris has the uncanny ability to show us the darkness in light, the still point in a maelstrom (of traffic, of relationships), or, as Joan Acocella put it in her 1993 biography of him, "one noble, one ignoble, version of the same truth." He did so again last night, in a concert of four Boston premieres by the Mark Morris Dance Group and Music Ensemble presented in the intimate Barbara Lee Family Foundation Theater at the Institute of Contemporary Art (through Jan. 25 with some cast changes).
How does he pull off such seeming dichotomies? With intricate, musically driven juxtapositions. In Morris's dances, gestures scrape against lyrics, contrapuntal rhythms spark butter-smooth spins, embraces tangle into contests of sinew and bone. That some attempts resonate more fully than others is to be expected: No one can conjure coins, especially double-sided ones, from thin air every time.
Among the program's offerings, "A Wooden Tree" (2012) does so in a way that's profound. A series of 15 "vignettes" (it's hard to know what else to call them) for eight dancers and some movable chairs, the dance sprang from the music and words of Ivor Cutler, a Scottish poet, songwriter, and humorist who introduces himself on the recording as an "Oblique Musical Philosopher," the title of one of his albums. The dancers' shifting of roles from doers to watchers, and Elizabeth Kurtzman's flouncy Scottish costumes—plaid skirts, argyle socks, Tam o' Shanter— forecast the revelations to come.
The dance is mordant, poignant, and droll at once, using refracted mime and everyday movement—now miniaturized, now exaggerated—to both reflect and comment on lyrics that seem whimsical but are in fact much more. We hear of punches in tonsils and car wrecks, seduction in a field, cold bums and white faces, and messages (unsent). We see these things too, in echoes of square and other group dances: fingers, as grass, flutter on cheeks, arms clutch shivering bodies, a man taps out Morse Code—"dit dit dit…" —on a chair seat. Or tries, till the chair is pulled away: "The battery's gone," intones Cutler. We laugh at the absurdity of it all, but we know, too, how difficult it is to connect. At the end, a man and a woman sit in chairs, facing each other. "We have a beautiful cosmos," sings Cutler, "You are at the center of your little world, and I of mine."
Unlike "A Wooden Tree," the other three dances feature live music — a Morris trademark. "Jenn and Spencer" (2013), to Henry Cowell's six-part Suite for Violin and Piano, is a departure for Morris in another way: The entire piece is a duet for a man and a woman, danced vigorously on opening night by Jenn Weddel, in slippery burnt-sienna gown, and the glorious Brandon Randolph, in dress pants and shirt.
Morris excels in group manipulations—in thickening and thinning the stage space with dancers as part of the polyphonic score. "Jenn and 'Spencer," by contrast, is a stark pairing: a view of love/lust and its dark underbelly. It rivets you, but leaves you wanting.
The score, emphatically rendered by Georgy Valtchev (violin) and Colin Fowler (piano), is dramatic, full of rumbles and discordance. So too is the movement: Jolting or stumbling walks give way to back falls saved by wide open arms. As Randolph lies prone, Weddel lies supine on top of him; he kicks a calf skyward between her thighs. Later, he grasps her by the leg and twirls her on her back, her dress blown asunder. This is a contest of wills, ambivalence caught in a breath.
But then "Words" (2014) comes along, to soothe our souls—but not without a wink. Set to 10 of Mendelssohn's "Songs Without Words," the piece was danced by 17, though Morris has said that cast size can change based on venue. It is an open-hearted paean to "language"—whether visual, verbal, or musical.
Morris's preoccupation with timing—how it's divided, skims forward, circles back—comes to the fore here. A large beige square of cloth, carried by dancers, works as a segmenting device: It reveals new players and spirits away old ones. Groups gather and disperse, skipping, spinning, leaping. Dancers bob up and down like horses on a carousel, or trace sin curves and later hieroglyphics in the air. They stir the space with Laura Dean-like spinning—no spotting here—with arms horizontal then raised, hands flexed to the heavens. Still, there is reason for pause: Why the heads in hands or running, blindly, after so many leaders?
The oldest dance on the program, "Italian Concerto," from 2007, brought together Bach's Italian Concerto in F Major with some searing images: Lauren Grant's raised fist, with two fingers pointing, Sam Black's open palm, pulsing on his chest. The piece was elegantly danced, but upstaged by its multilayered counterparts.
But no matter. The Mark Morris Dance Group was last at the ICA in 2007—too long ago. The black-box aura of the stage at night, with its seats rising up to the rafters, seems made to embrace the choreography's complexities: You are right smack in the heart of it all.
Thea Singer is a Boston-based writer specializing in dance and science. Her work has appeared in the Washington Post, Boston Globe, Scientific American, MORE magazine and Inc. magazine, among other publications.