The Essential Christine McVie Returns To Fleetwood Mac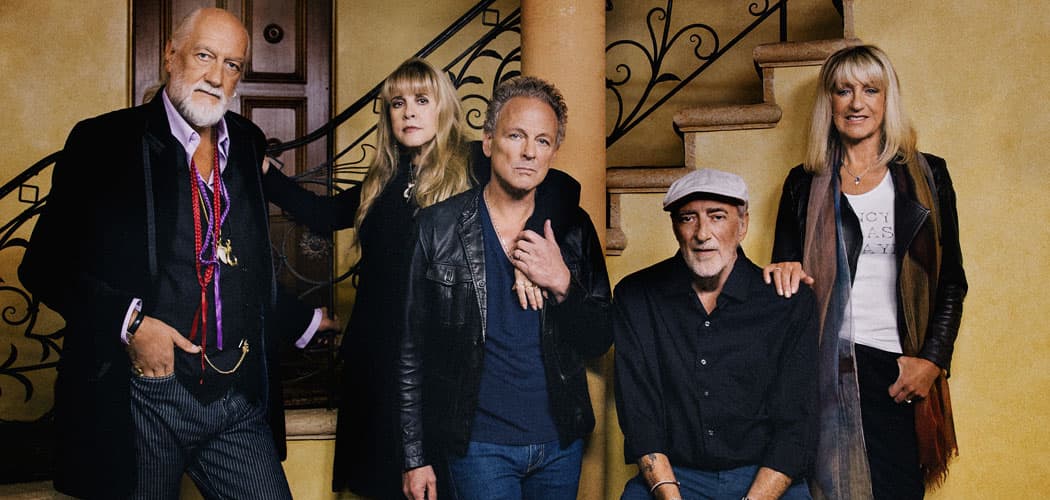 This article is more than 6 years old.
Though I have been a casual fan of Fleetwood Mac for many years now, I must confess to having possessed only a dim awareness of Christine McVie's existence for most of that time. Stevie Nicks always managed to steal the spotlight, what with her ribbon-festooned tambourine and new-agey mystique. McVie penned four and sang lead on three songs on 1977's "Rumours," Fleetwood Mac's most famous album, but somehow, I never quite heard her.
Luckily, her inclusion in Fleetwood Mac's current world tour is bound to make Christine McVie appreciators out of even the most ignorant. (Fleetwood Mac play the Dunkin' Donuts Center in Providence on Jan. 28.) It's thanks to her that the band has at last been able to reassemble its iconic mid-1970s to '80s lineup, one that splintered with Lindsey Buckingham's departure in 1987. That was the group that pioneered its signature California soft rock sound with the multi-platinum albums "Fleetwood Mac," "Rumours," "Tusk," "Mirage" and "Tango in the Night." With McVie onboard, many of the band's biggest hits can be added back to the set list, like the insistently singable "You Make Loving Fun," the blithe, peppy "Little Lies" and the effervescent "Everywhere."
Though McVie is personally responsible for eight of Fleetwood Mac's most popular songs (at least according to their "Greatest Hits" album), in many ways she is the band's most elusive member. After leaving the group in 1998, she quite literally retired to the English countryside, largely disappearing from the public eye. And it is tempting to think of Fleetwood Mac primarily as the sum of two prodigious musical pairs: the indomitable rhythm section comprised of drummer Mick Fleetwood and bassist John McVie, who were there nearly from the beginning in 1967, and the brilliant, perpetually at-odds ex-lovers Buckingham and Nicks, whose addition in 1975 propelled Fleetwood Mac to mainstream American success.
Christine McVie, née Perfect, married John McVie in 1968 and joined his band in 1970. Like Nicks, Christine was brought on because of her romance with one of the band's members, and like Nicks, she severed that relationship around the time that "Rumours" was being recorded. Meanwhile, Fleetwood was going through a divorce as well. The album is widely understood to be a product of these disintegrating romances. The recording sessions were rambling, coke-fueled affairs, fraught with interpersonal melodrama. Buckingham wrote "Second Hand News" about breaking up with Nicks, and Nicks composed "Dreams" about her toxic relationship with Buckingham. McVie penned "You Make Loving Fun" about a fling with the band's lighting director, something that reportedly did not sit well with her soon-to-be-ex-husband. Whether the album succeeded because, or in spite, of those breakups is a question that could be debated for eternity. (Though I would encourage you not to bother.)
McVie is undoubtedly the most conventional of Fleetwood Mac's songwriters. Buckingham has a penchant for odd, flamboyant turns of phrase—"Won't you lay me down in the tall grass/ And let me do my stuff"—and ambivalent statements—"If I could/ Baby I'd give you my world/ How can I/ When you won't take it from me?" Nicks, meanwhile, is a master of imagery and metaphor, as evidenced in the wry, evocative poetry of "Dreams:" "Thunder only happens when it's raining/ Players only love you when they're playing."
McVie, by contrast, gravitates towards simple, positive sentiments. This sensibility is most ironically rendered in the hit single "Don't Stop": "Don't stop thinkin' about tomorrow/ Don't stop, it'll soon be here." Yet it would be folly to dismiss "Don't Stop" for its plain language and hopeful demeanor. In truth there is a sort of desperation at its core. We are given a glimpse of it in the final verse, when the singer tries to sooth a rejected lover—and perhaps, by extension, himself: "I know you don't believe it's true/ I never meant to harm you/ Don't stop thinkin' about tomorrow."
McVie is a masterful composer of melodies, with an ear for contrast and suspense. When her natural straightforwardness is deepened by the push-pull tension between verse and chorus, her songs achieve a kind of luminescence. Take, for example, "You Make Loving Fun," which on its surface is as pure and joyful as a song can be: "Sweet wonderful you/ You make me happy with the things you do." The verse is undergirded by a chugging, minor-key rhythm, lending it anxious urgency. McVie's voice is husky and androgynous. The chorus—"I never did believe in miracles/ But I've a feeling it's time to try/ I never did believe in the ways of magic/ But I'm beginning to wonder why"—spirals yearningly upwards, suffused in a chorus of sighing "aah"s. The song seems to hover, its forward momentum momentarily halted, as McVie basks in the glow of possibility.
Songwriting aside, it is easy to overlook McVie's musical contributions to Fleetwood Mac. Guitar is a lead instrument, and Buckingham's playing is particularly distinctive. His self-taught finger-picking technique brings out a bright, springy tone on the acoustic guitar, and on the electric he demonstrates a flair for vivid, pithy remarks. But a keyboardist's task, often, is to blend in unobtrusively. McVie plays piano, keys, Hammond organ, clavinet and synthesizers. She provides the syncopated piano bedrock on "Don't Stop" while Buckingham's guitar screams in the foreground. On "Dreams," she conjures an almost palpable liquid murk for Nicks to swim around in. Her synths in "Everywhere" offer a gleaming, yet grounded, counterpoint to Buckingham's energetic fills.
There is a moment in McVie's ballad "Oh Daddy," as the song slinks towards a gentle fadeout, that she lets loose an eccentric flurry of notes on the organ. According to "Rumours" engineer and producer Ken Caillat, McVie was trying to signal the band to stop playing because she thought she had made a mistake. But no one noticed, and the take ended up on the album. It's easy to see why the gesture failed; even McVie's most unexpected notes blend pleasantly with their surroundings. Once you tune in, though, it's impossible to miss her.
This article was originally published on January 27, 2015.