'Provincetown Four' Celebrates The Players Who Revolutionized American Drama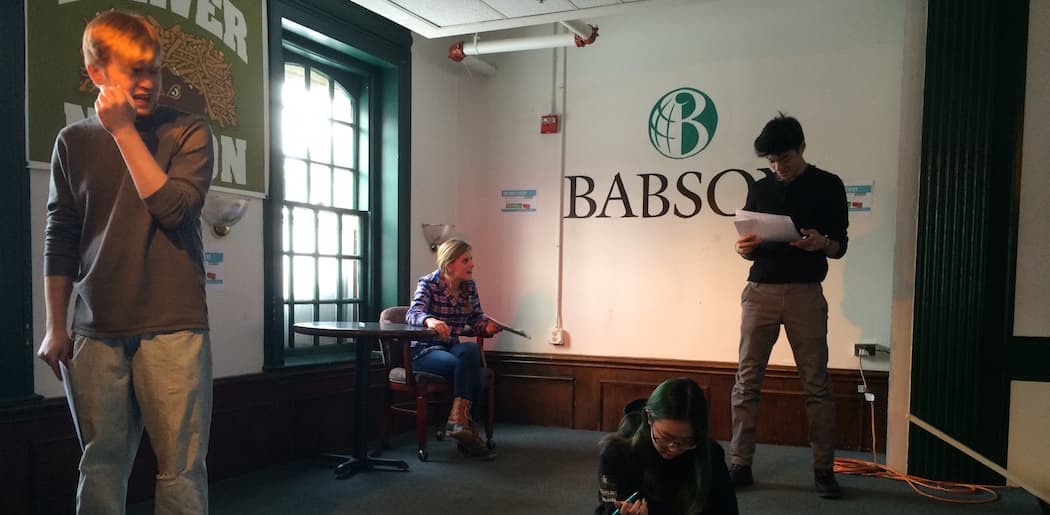 This article is more than 5 years old.
Massachusetts is no stranger to revolutions. We had a rather successful one start here about 240 years back that you might recall. A century ago, another, less bloody, revolution took place on the tip of Cape Cod, when a group of vacationing writers and actors came together to stage a few plays.
It was, for American drama, the proverbial "shot heard round the world."
The Provincetown Players started small, but during the early decades of the last century, it quickly grew into a real force in the American avant-garde. From its ranks came Pulitzer Prize winners Susan Glaspell and Eugene O'Neill. Meanwhile, the group's influence on the American stage continues to this day.
To celebrate the centennial of the seminal troupe's founding, The Empty Space Theater will present four one-acts by the original Players. "Provincetown Four," a two-hour program held from March 9-11, will be acted by students and performed at Roger's Pub in Babson College.
"Provincetown Four" goes back to the very beginning, presenting "Suppressed Desires" by Susan Glaspell and George Cram Cook, "Constancy" by Neith Boyce, "Lima Beans" by Alfred Kreymborg, and "Freedom" by John Reed. Each will be featured in an appropriately sparse, rustic set, in keeping with the tradition of that first year out on the wharf in Provincetown.
The event celebrates that initial impulse of a century ago, when a group of folks felt there was something missing in what they were seeing on the stage.
"Broadway at that point was filled with frothy musicals and somewhat romantic comedies, as well as melodramas," said Beth Wynstra, assistant professor of English at Babson, who will direct "Constancy." "These founding members said these plays don't represent who we are, the subject matter doesn't speak to us. It was that impetus that led to that first summer in Provincetown writing and performing their own plays."
The Players came about after a group of writers and artists gathered on July 1915 in the veranda of the PTown cottage rented by Boyce and Hutchins Hapgood for an evening of theater. Boyce presented "Constancy," while the married playwrights Glaspell and Cook staged their "Suppressed Desires." When word spread about this particular evening, so many others wanted to see the plays it necessitated moving the operation to a fish house on the pier.
Thus the Players were born, and that fish house became the original Provincetown Playhouse. Glaspell would go on to become a formidable playwright, actress, journalist and novelist, and win the 1931 Pulitzer Prize for drama. Many of her fellow Players would also become important members of the theatrical world.
Jeffery Kennedy, an assistant professor of interdisciplinary arts and performance at Arizona State University and a Provincetown Players scholar, said the group's founding members brought something new to American drama.
"The almost spontaneous experimenting with theatre that was born out of the late-night discussions on the beaches of Provincetown in the summer of 1915 was so effective precisely because they weren't theater artists before they began; they were prose writers and visual artists who were bringing their new aesthetic from these genres and applying it to theatre for the first time," he said.
The following summer, a young hopeful named Eugene O'Neill joined the ranks of the Players, and later in 1916, the playhouse moved from the tip of the Cape to Greenwich Village, then already a bastion of the bohemian and avant-garde. In short order, the Players began to present truly American plays, written exclusively by native playwrights, that reflected life in the U.S. Some of these works made Broadway, but the radical spirit of the Players never dimmed, Kennedy said.
"Before they were done, they presented the first truly experimental plays in America -- expressionistic, surrealistic, and futuristic plays – often with potent political themes, as well as poetic and verse plays, and they solidified the importance of the Little Theatre movement in America," he said.
Add to this the launching of the careers of Glaspell and O'Neill, as well as playing a role in shaping the artistic lives of Djuna Barnes, Edna St. Vincent Millay and Wallace Stevens, and it's easy to see why the Provincetown Players hold such an esteemed place in history.
While O'Neill is generally seen as the father of American theater, the presentation of these other works by the original Players demonstrate that he was really the first among equals, all of whom were skilled practitioners instrumental in developing an aesthetic that influenced later American masters, from Odets to Miller and Williams, and even Albee and Shepard. While the works of Glaspell, Boyce and Reed may not be performed these days with great regularity, they are still studied in classrooms across the U.S. and heralded for their groundbreaking approach to character, plot and set design.
"Provincetown Four" aims to showcase a variety of the early works of the Players. "Constancy" depicts the end of a love affair between a woman and a younger man. Or, as Boyce herself put it, the play deals with "the difficulties of creating new forms of intimacy between middle-class women and men."
"Suppressed Desires" involves a couple's satirical dealings with Freudian ideas about repression. Professor Jon Adler of Olin College will direct the play.
"Lima Beans," places at center stage a rhythmic mix of pantomime and spoken word along with a slight plot. It will be directed by Adam Sanders, associate director of the Sorenson Center for the Arts at Babson. He said the play struck him as prescient, putting him in mind of a great modernist European playwright.
"It's a play that really stood out among those of the Provincetown Players for me, personally," Sanders said. "It's not a naturalistic play at all, it's written in irregular verse and it really plays around with the form and it's very experimental. It reminded me very much of Beckett."
John Reed's "Freedom," directed by Babson student Kai Haskins, is the comic tale of three prisoners contemplating an escape and battling with the philosophical implications of doing so. Reed, a journalist who covered the Russian Revolution and befriended O'Neill, found himself in Provincetown in time to write a handful of plays produced by the Players. He and his wife, Louise Bryant, were also famously the subjects of the Warren Beatty film, "Reds."
The fact that two of the plays are by women is no mistake, said Wynstra, who is the producer of "Provincetown Four."
"It's another element that excited me about this group is the work of women was so celebrated," she said.
While the production is meant to mark the 100th anniversary of the founding of the Players, it doesn't mean the work they did is dated. Quite the contrary, Wynstra said. She still teaches these plays at Babson.
"My students have always loved them. It's just one of the many gifts of these plays that they still speak to our world a century later," she said.
---
"Provincetown Four" will be performed March 9-11 at 8 p.m. at Park Manor Central-Roger's Pub, on the campus of Babson College. Tickets and more information is available here.
---
More from John Winters is at johnjwinters.com