On Tour With Garage-Pop Trio Ex Hex, Mary Timony Visits Her Old Boston Haunts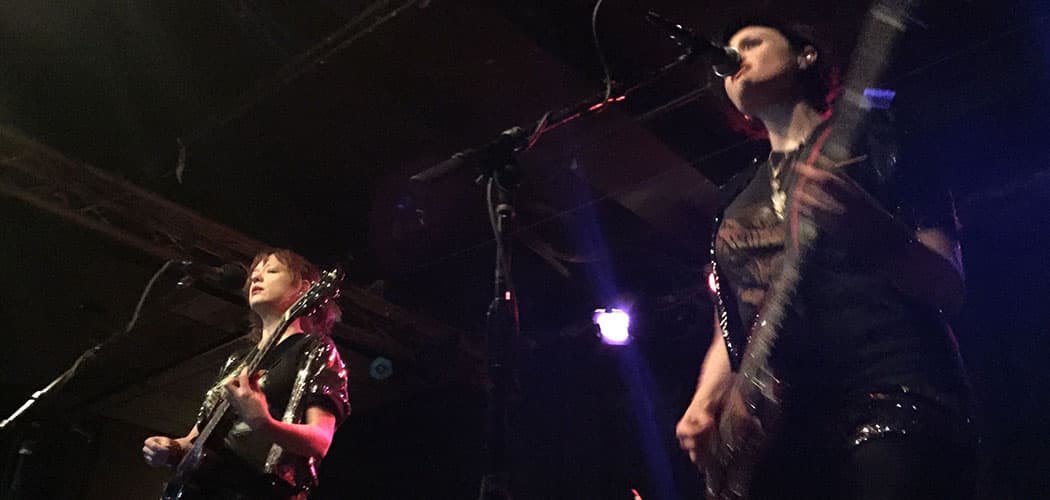 This article is more than 5 years old.
Mary Timony wore a jean jacket with a tiger emblazoned on the back, its shiny embroidered mouth stitched into a defiant snarl. The lead singer of the DC-based garage-pop trio Ex Hex stood under pink lights on the rickety stage of Great Scott in Allston, sound-checking for a show later that night. A squeal of feedback reverberated through the monitors. Timony tilted her head back, murmuring, "It's OK. It's OK. It's gonna be fine."
Sound checks are by nature unglamorous. It was April, and Timony, bassist Betsy Wright and drummer Laura Harris had been on tour, almost continuously, since October. They looked tired. They also looked matching: All three wore black pants and jean jackets on top of black hoodies. Against all odds, their sartorial synchronicity came off as cool. Perhaps it was the aura of scruffy rock 'n' roll exhaustion.
In 2014, Ex Hex seemed to emerge, fully formed, out of indie rock's swirling, distortion-filled mire. (They play the Sinclair in Cambridge on June 13.) Their debut album, "Rips," earned the coveted title of Pitchfork's "Best New Music." Like many of their garage rock contemporaries, Ex Hex mines the hook-centric pop of the '70s and '80s. Yet something about the band jumps out, a vivid streak of highlighter across black text.
All three members of Ex Hex grew up in the D.C. area, but for Timony Boston is home, too. She enrolled as an undergrad at Boston University in 1988 and stuck around for 16 years, first in Allston and then in Jamaica Plain, before moving back to D.C. in 2004. (She roomed for a time in Boston with Claudia Gonson of The Magnetic Fields; Stephin Merritt, the band's celebrated frontman, lived nearby.) Timony came up as the lead singer of the Boston-based alt-rock band Helium, making moody, feedback-colored music marked by medieval melodies and a harpsichord's tinsely timbre. Those were the days of Nirvana and an industry eager to cash in on the next indie sensation, and Timony stood out for her spectral vocals and psychedelic guitar work. Helium released their second and final full-length album, "The Magic City," in 1997. For the next 10 years Timony worked primarily as a solo artist—her third album was titled "Ex Hex"—and enjoyed renewed notoriety when she joined the Carrie Brownstein-fronted, critically adored rock band Wild Flag; they released just one album, in 2011.
Walking down the wide, bustling Brighton Avenue in search of a place to eat, Timony points out the spot where she bought her first legal drink as a 21-year-old. A few minutes later she gestures across the street to Tavern in the Square, which she remembers being a bar called Molly's. "I saw Phish there in the 1980s," she says, chuckling. "And there were only, like, 15 people at the show."
After a few false starts—Korean? Pho? Sushi?—Timony, Harris and Wright settle on a loud Tex-Mex bar that Timony remembers having pretty good burgers back in the day. No one seems entirely enthusiastic about the choice, but after the drinks arrive—white wines all around!—they begin to perk up.
I ask about the matching outfits. "It just kind of evolved," says Harris, who speaks in a husky monotone and allows long blond bangs to fall in front of her eyes. "We'll go through these phases," Timony explains. "Like, for a while we only ate chicken soup. Then chicken soup turned to leather jackets..." The others nod. "Sequins," adds Harris, "Boots." Wright chimes in: "Rice crackers."
"Cosmic." "Miraculous." These are the words the band uses to describe the circumstances of their birth. Two years ago, when the three women first started playing together, each was experiencing a period of transition. Wild Flag had broken up. Hoping to start a new project, Timony started jamming with Harris, who was working as a bartender at the legendary Black Cat rock club in D.C. Harris, formerly one half of rock duo The Aquarium and a member of singer-songwriter Benjy Ferree's group, hadn't played in a band in four years. "I was losing my mind," she says. "I would drum in my apartment on an electronic kit along to other people's music just so I didn't totally give it up. I was just working and not playing music and being bummed out."
Wright, who played with New York rock band The Childballads and fronted the Charlottesville-based indie outfit The Fire Tapes, also found herself unattached to any projects around that time and decided to move back to D.C. She knew Timony and Harris only casually, but something clicked as soon as she started playing with them. "It just fit," says Timony.
The musical aesthetic was something they instinctively agreed upon, too. Timony describes a shared love of '80s power-pop, as well as a personal need to move away from her habitually experimental, metaphor-driven style into something more direct and viscerally appealing. "You know when you've done a certain thing for a while, [how] it doesn't do anything for you anymore?" she asks. "It's like that phase is over. Personally I just was in a mode where I wanted to approach music from a different part of my brain a little bit. I don't even have anything to be angry about anymore, or I don't have as much angst as I did at one point."
"I was getting sick of listening to really crappy garage bands," says Harris. "I love good garage bands—but when it's so scuzzed-out and the songs aren't good, I got sick of hearing that stuff. And then started listening to this stuff that was a little poppier and a little more thought-out, and all of a sudden [it was] like a breath of fresh air."
"Right around that time, too, I had been thinking the music that I was making was not the kind of music that I like to listen to," says Wright. "Which seems like, duh, but it's not. I don't know why, but you think you have to make something that nobody else does. So you make this weird stuff and you're like, 'Well, what is it?'"
For "Rips," the trio approached songwriting and arranging with an eye towards craftsmanship, "like we were working at Stax or something, in the '60s," says Timony. The album has a breathless, athletic feeling, like biking up a hill. It is less about virtuosity than the giddy, death-defying rush to come. Timony's solos are expressive but sharp, as are her lyrics, which sneer at broken romance rather than wallow in it. "I can't stop feelin'/ So what do I do?/ I tried so hard not to forget/ I got no regrets, I got no regrets."
Wright, who contributed two songs on "Rips," writes in a similar mode, all bold declarations and singable choruses. With a shock of jet-black hair and a proclivity for flashy lipstick and power poses, she plays the mugging rock star to Timony's meditative, eyes-closed mystic. "Even before I started playing with these guys, I was writing these songs, [and] I was like, 'Everything I write just sounds like Rick Springfield, it's so cheesy,'" says Wright, laughing.
The fact that Ex Hex is an all-female group has thus far not featured heavily in the narrative spun by the press. When I ask if the all-women lineup was deliberate, Timony and Harris describe it as a sort of happy coincidence. But Wright pipes up. "I think it was [intentional] for me, personally. ... I just wanted to see what it was like to leave all guys out of it."
Was it any different?
"Yeah," she replies, without hesitation. "It was much more awesome."