10 Boston-Area Music Festivals Not To Miss This Summer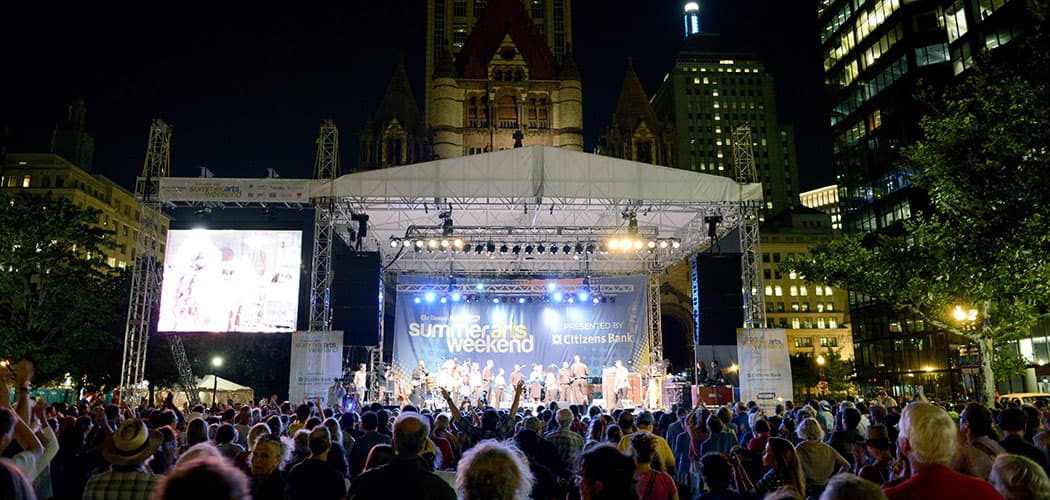 This article is more than 5 years old.
There are plenty of reasons to cheer for summer, but one of the best is that live music emerges outdoors, and it is often free.
Below is a list of 10 music festivals and events held in and around Boston during the summer months. Many are your standard summer festivals, but Boston has more than one eccentric offering, from public dance parties to boat raves to roller discos.
- Donna Summer Memorial Roller Disco: June 19, Boston City Hall Plaza.
Last year's event was such a rousing success that Mayor Marty Walsh and Together Boston brought back the Donna Summer Memorial Roller Disco. (The event is tied to a Facebook-galvanized movement to build a Donna Summer Memorial.) The title tells you pretty much everything you need to know, but here are a few additional details: It's free, there will be skates available to rent, and Dorchester's DJ Kon spins the tunes.
- Cambridge Dance Party: June 26, Central Square, Cambridge.
Once a summer, Massachusetts Avenue in Central Square is shut down for a city-sanctioned rave. There will be neon lights, free admittance and a collective nose thumbed at city noise ordinances.
- FreakquenSea II: Zebbler Encanti Experience Boat Cruise: July 9, Boston Harbor.
The Boston-based Zebbler Encanti Experience—Peter "Zebbler" Berdovsky and Ben "Encanti" Cantil—put their patented audio-visual extravaganza on a boat. DJ Encanti pumps brain-melting heavy dubstep to VJ Zebbler's mind-warping projections while the sun sets over Boston Harbor. The event sold out last year so buy your tickets in advance.
- Green River Festival: July 10 to 12, Greenfield Community College, Greenfield.
The Green River Festival always displays impeccable taste when it comes to folk, roots and indie rock music. It's a great alternative to the Newport Folk Festival, which sells out far in advance. This year's lineup features gritty singer-songwriter Steve Earle, boisterous indie-pop musician Tune-Yards, indie-rock legend J Mascis, New Orleans' Preservation Hall Jazz Band and a plethora of New England-based supporting acts.
- JP Porchfest: Saturday, July 11, Boston.
The citizens of Jamaica Plain come together on their porches and in their front yards to show off the neighborhood's excess of musical talent. Modeled on Somerville's wildly successful Porchfest, the event operates like an open studios for musicians, and it is free.
- Boston Hip Hop Fest: July 11, Middle East Downstairs, Cambridge.
Presented by Leedz Edutainment, the Boston Hip Hop Fest is a daylong event featuring an all-local lineup, including Dutch ReBelle, Slaine, STL GLD, Reks and many more.
- Outside the Box Festival: July 14 to 19, Boston Common.
After a year off, Boston's ambitious and beloved Outside the Box Festival returns. The event is free and features many local musicians, like the Grammy award-nominated singer-songwriter Alastair Moock and the Boston Gay Men's Chorus, as well as headliners Guster and Kacey Musgraves.
- Festival Betances: July 17 to 19, 100 W. Dedham St., Boston.
Festival Betances is "New England's longest-running Latino cultural celebration." In addition to parades, dance performances and a grease pole contest, the free festival features plenty of music. Past performers include Puerto Rican salsa icon Tony Vega and the Latin Grammy Award-nominated American salsa musician Larry Harlow.
- Boston Summer Arts Weekend: July 25 to 26, Copley Square, Boston.
Boston Summer Arts Weekend is a free, family-friendly event with performances geared toward both adults and children. Headliners this year include Boston's Handel and Haydn Society, New Orleans' Dirty Dozen Brass Band and Emmylou Harris and Rodney Crowell.
- Boston Fuzzstival: Aug. 6 to 9, Middle East, Cambridge.
New England is home to a startling number of rock, garage, surf and psych outfits, and the Boston Fuzzstival celebrates them in the most appropriate way: for three days in a basement nightclub with psychedelic projections.
Correction: An earlier version of this post mislabeled the banner photo as the Outside the Box Festival. We regret the error.
This article was originally published on June 17, 2015.