'Three' Asks A Lot Of Questions, But Are They Questions Worth Asking?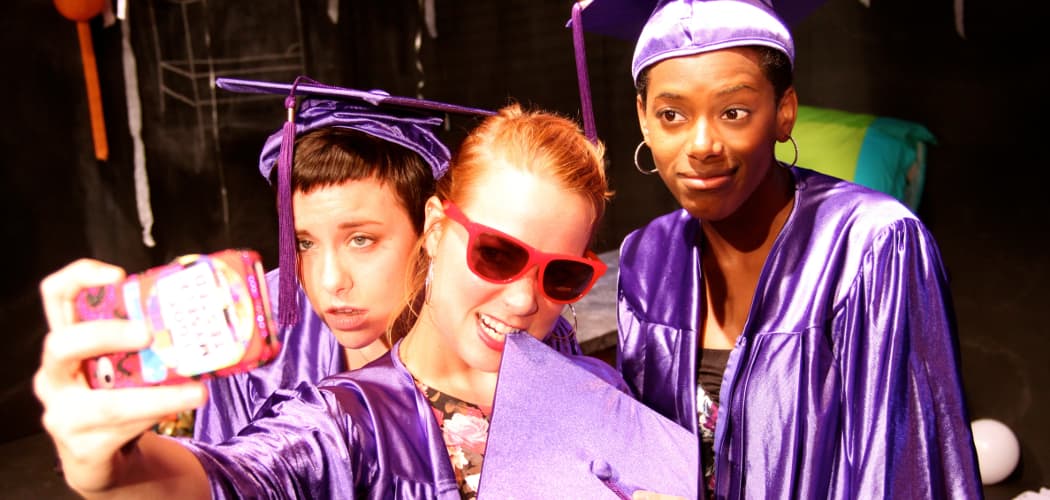 This article is more than 5 years old.
According to the Boston Public Works theater company website, playwright Emily Kaye Lazzaro "got a little sick of seeing so many talented young women at auditions without enough roles." Evidently, she decided to do something about it and wrote the intimate comedy-drama "Three," which is now playing at the Plaza Black Box Theatre at the Boston Center for the Arts.
The play's title, "Three," refers to its cast of characters — a trio of women who start out as best friends and college roommates. The title also refers to a triptych of episodes as they grow up and grow older, literally and metaphorically graduating to new stages in life.
The play begins on the borderline between carefree youth and the responsibilities of adulthood: commencement day. Diane (Kelly Chick) is uptight, hitting the booze and quarreling with Sam (Tasia Jones). Both young women have worries and anxieties — about the ceremony, about family issues (Sam's parents rub her the wrong way; Di is an orphan who wishes for the luxury of irritating parents) and about the fact that due to a mix of alcohol and affection, they had sex the night before. Sam's ready and willing to chalk it up to youthful experience and move on; Di, caught between abandonment issues and uncertainty about her own sexuality, feels vaguely exploited, maybe even victimized.
The third member of the trio is Jenni (Sarah Elizabeth Begard), who rolls in buzzing from a rooftop sexual encounter with a virginal freshman. Picking up on the stress between the others (and finding herself the target of Sam's not-quite-articulated discomfort with her lesbian experience), Jenni sets about coaxing the story from Di. Not that Jenni has any problems with it; her attitude toward sex is playful and free-spirited.
Fast-forward a few years to a get-together in a bar to celebrate an engagement, and then a number of years after that, when youth has given way to maturity and mortality has begun to intrude. Things hinted at on the surface turn out to have deeply tangled roots that keep each of the characters anchored unhappily in place. Di's conflicted feelings about Sam, and about their night together, torment her; Jenni's promiscuity begins to feel hollow rather than adventurous; and Sam's life, which unfolds in a manner that only looks perfect, includes painful omissions.
Each chapter contains lessons about letting go, as well as staying connected. The play unfolds in a black box space that's simply, and effectively, outfitted with two walls, a table and some artfully shaped trash heaps that double as furniture. (In a marvelous bit of shorthand, Jenni pulls a bath towel from an empty pizza box early in the first episode.) The black walls double as chalkboards upon which drawings that suggest the different settings are scrawled. Ian W. King's lighting scheme includes an artfully done moment in which a hand-drawn beer sign blossoms to vibrant neon life. Andrew Duncan Will's sound design features different versions of "Pomp and Circumstance" that underscore the idea that graduation from college is only one of a series of transitions from one passage to another as we shuffle along this mortal coil. There's even a dirge-like take on the tune that sets the stage for the play's final third, which takes place in a funeral home.
Director A. Nora Long pulls all the elements together to create a cohesive production. The three cast members bring new layers to their characters as the play progresses from episode to episode without losing what they defined before, and the three parts of the play feel successively more complex. This is material meant to build on itself; the performances, costuming (by Amanda Ostrow), props (by Shelly Barish) and other design elements reflect that. What's missing, however, is a sharply delineated sense of what it all means.
The specifics of the story feel unresolved even as the play ends on an upbeat note. To the head, that makes sense: Life includes things that tug at and torment us until we're ready to let them go, and we may never hear the words or find the things we think we want. Meantime, other issues turn out to be bigger and more important than we might initially have thought. It's when we shift focus to the things that matter that we grow up.
To the heart, though, there's a sense that the play simply throws up its hands and lets the story grind to a halt. The ending seems to be an exercise in trying to have it both ways: Unfulfilled desires will remain unfulfilled, unanswered questions will dangle forevermore. At the same time, when the going gets tough, none of those nagging, festering issues really matter. If that's the case, why have we spent an hour and a half with them? It's a little frustrating; is that frustration the whole point?
"Three" seems more interested in asking questions than in giving answers, but the answer we most want is whether the questions posed here are the ones most in need of our attention.
"Three" continues through June 20 at the Boston Center for the Arts.
Kilian Melloy has reviewed film and theater for a number of publications, including EDGE Boston and the Cambridge Chronicle. He is a member of the Boston Theater Critics Association and the Boston Online Film Critics Association.