JP Porchfest: Our Picks From The 125 Acts Playing Saturday's Free Music Fest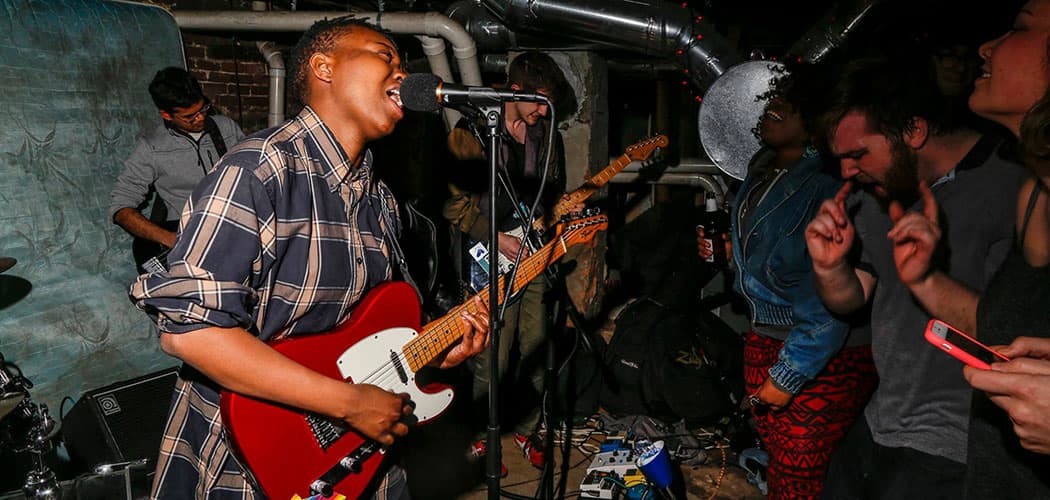 This article is more than 5 years old.
This is how JP Porchfest works: Lots of local musicians sing and strum and drum on porches across Boston's Jamaica Plain neighborhood. For free. It's like a neighborhood-wide open studios for bands with (approximately) 125 acts to choose from this time around. (Full schedule here.) Let's call it a community hootenanny offering catchy indie pop, old school rap, sci-fi surf rock, experimental weirdness and one Grammy-nominated chamber orchestra. Influences range from jazz to childhoods in Africa to Vanilla Ice.
Now in its second year, JP Porchfest runs from noon to 6 p.m. Saturday, July 11. (If it rains, everything moves to Sunday, July 12.) The music festival is the toddler cousin of Somerville's PorchFest (which was itself inspired by a similar event in upstate New York). And Sept. 12 brings the birth of the Roslindale Porch Fest.
In addition to the tunes, there will be circus-y acts (clowning, contortionists and unicycling), storytelling, theater, dance and politicians ("see your local elected officials speaking and singing").
But, really, what we're talking about here is homegrown music. Some bands worth checking out:
Anjimile, Brewery Complex, 284 Amory St., Noon to 2 p.m.
When this infectiously charming indie rock band, fronted by Anjimile Yvonne, released its album "Human Nature" in March, they described it as "Death looms, subtly but ominously, over this 10-track rumination on the wonders of life and the mysteries of the afterlife." They actually sound like summer vacation. Yes!
---
A Far Cry, St. John's Church, 1 Roanoke Ave., noon to 1 p.m.
You might recall that this Grammy-nominated, self-conducted chamber orchestra caused a bit of a stir in February when they played an impromptu concert in the Tucson airport when their flight to the Grammys was delayed.
---
Sterling Rhyne, Bromley Heath Amphitheater, 10 Lamartine Street Extension, noon to 2 p.m., and 106-8 Chestnut Ave., 4 to 6 p.m.
"Ethereal rhythms blended with soul" inspired by Billie Holiday, Ella Fitzgerald and Nina Simone.
---
JP Honk, 6 Biltmore St., noon to 2 p.m.
A classic brass band performing "old jazz, NOLA and whatever we fancy."
---
Dust Clouds of Mars, 33 Cornwall St., Noon to 2 p.m.
Sci-fi surf rock. Forever.
---
Aurora Birch, JP Cohousing, 65 Cornwall St., 1 to 2 p.m.
"Her folksy style coupled with her affinity for sci-fi, mythology and astronomy yield songs that explore our essential conundrums with grace and subtlety," according to her website. We add: heartfelt.
---
Gyovanni, 90-92 Bickford St., 1 to 3 p.m., and First Baptist, 633 Centre St., 4 to 6 p.m.
Giovanni Houessou left his native Benin for studies in France (including stints in a reggae band and gospel choir) and then Berklee College of Music. He combines these experiences for a laid-back hip-hop vibe.
---
Krista Page y los Super Vatos, 33 Cornwall St., 2 to 3 p.m., and a Spanish-language set at 3 Gay Head St., 4 to 5 p.m.
"Alternative/soul/Latin/pop...rock." Also check out her recent Vanilla Ice cover.
---
Opposite People, Egleston Square Peace Garden, 3135 Washington St., 2 to 4 p.m.
A big "Afrobeat, funk and world groove band" powered by lots of horns and percussion.
---
Nikochet, Brewery Complex, 284 Amory St., 3 to 4 p.m.
Half of the rap duo Sun E-Shea, which proudly professes, "We are stuck in the past and we are staying for the music."
---
AD.UL.T, 33 Cornwall St., 3 to 5 p.m.
Experimental rock plus (sometimes) potty mouths plus humor. Exhibit A: They sometimes guitar while wearing a zebra mask.
---
Albino Mbie, Eliot School, 24 Eliot St., 4 to 6 p.m.
"A unique Moz-Jazz sound" that blends inspirations from Mbie's childhood in Mozambique and his study at Berklee College of Music.
---
Johnny Blazes and The Pretty Boys, 17 Segel St., 4 to 6 p.m.
Saucy, soul funk. Lots of covers of classic tunes.
---
Damn Tall Buildings, 26 Grovenor Road, 4 to 6 p.m.
A "guerrilla roots" string band. Bluegrass from Boston.
Greg Cook is co-founder of WBUR's ARTery. Follow him on Twitter @AestheticResear or on the Facebook.