WHAT For Kids Spins The Tale Of 'The Fool Of The World'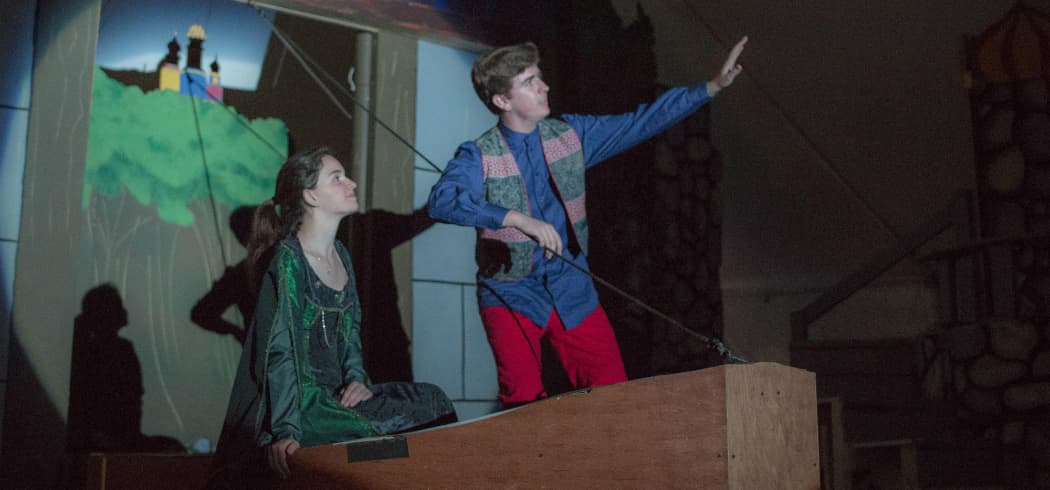 This article is more than 5 years old.
Once upon a time, centuries ago in the old Russia where tsars ruled and peasants toiled, there was a fairy tale called "The Fool of the World and the Flying Ship."
Like many fairy tales, it's a byzantine, goofy story replete with smart characters and dull ones, honest fellows and nasty schemers, a monk with magic powers, sailors of the sky and, of course, a princess who's longing to find the road out of Papa's palace or her prince charming, whichever comes first.
Versions of "The Fool" have been written and produced in many formats, from books and audiotapes to video and film. On Cape Cod this season, a children's theater version by Stephen Russell is playing through Aug. 27 at Wellfleet Harbor Actors Theater's, WHAT for Kids.
First performed here in 2008, it's just been resurrected with a spirited, multigenerational cast ranging from teenagers to septuagenarians. It's performed in a big tent alongside WHAT's Julie Harris Stage, and kids are invited to sit on the carpet close to the platform. Occasional outcries meant as helpful tips to the actors ("She's there! I saw her!") or the less helpful calls of "Mommy!" don't disrupt the seasoned players.
The show begins with auspicious color and energy, as most of the cast is spread out across the stage, waving ribbons and singing about the fool of the world. It's not hard to spot the one who's the fool, since poor Ivan (warmly played by Ian Kerig Hamilton) is dressed in his cluelessness: short red pants, ugly patterned vest and shoes that make his feet look like burnt pancakes. The ribbon-waving and singing are interrupted by a call that "Breakfast is ready!" That's the first of many references to food — getting cheated of it, sharing it and having it magically transformed; not to mention being forced to eat impossible amounts and singing about it endlessly.
Ivan's family assembles for breakfast in storybook peasant chic (costumes by Carol Sherry) — lively mother (Ellen Anthony) wrapped in bulbous skirts, cackling happily with her husband and sons as all of them denigrate and poke fun at the youngest boy, Ivan. Everything pauses when the town crier Antonia Pushkitty (brightly played by Freya Rich) steps in to deliver an amusing, CNN-style newscast.
What's up in the kingdom? The Tsar has proclaimed that anyone who brings him a ship that can fly will have his daughter's hand in marriage. The older brothers immediately sign up for the challenge. Ivan the fool is intrigued by the notion of a flying ship, but declares he's not interested in marrying a princess. More than that, the peace-loving Ivan disapproves of the tsar's warlike intentions for a flying ship.
Meantime, back at court, the royal princess is appalled at the idea of marrying any odd stranger who comes up with a flying ship. So there's much to unfold: Will the mean brothers find a flying ship? Will the bear find a luscious meal? Will the monk locate a truly good person out there in the world? Will the fool's good heart and pacifism win out in the end? (Given that this is a fairy tale, one can hope for such unlikely outcomes.)
We also wonder whether the songs will ever end.
This is an endearing production, but its repetitive, interminable songs are wearisome, and the action is a bit muddled (the bad brothers' demise as the bear's dinner could be clearer). The standout performer here is Mae Cutrona, who's vivid and dynamic as the heroic Dmitra.
Overall, this fairy tale is a sweet way for youngsters (especially patient ones over five) and oldsters (equipped with mosquito repellent) and fairy tale fans in-between to while away a summer night.
Sharon Basco is a journalist, critic and public radio producer.
Sharon Basco Contributor, The ARTery
Sharon Basco is a a journalist, critic and public radio producer.