12-Year-Old Joey Alexander Might Populate YouTube, But He Also Plays Major Jazz Fests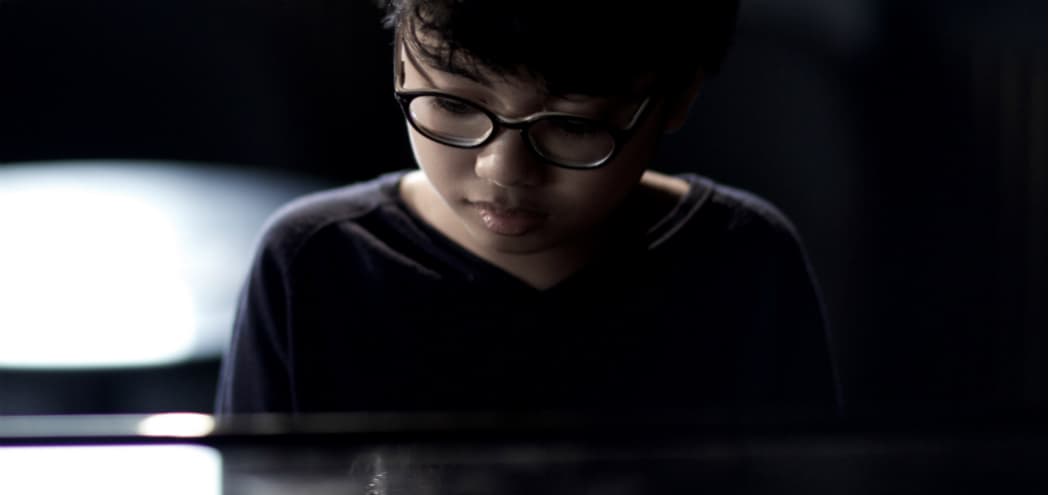 This article is more than 5 years old.
Joining the ranks of YouTube child prodigies who dance like Nicki Manaj, sing like Beyonce or just look cute is 12-year-old Joey Alexander playing "Giant Steps." Perhaps Alexander is also entering a lineage of great jazz pianists.
The young pianist will be making stops at the Newport (Aug.1) and Rockport (Aug. 15) Jazz Festivals with the other two thirds of his trio: Larry Grenadier on bass and Ulysses Owens Jr. on drums. Alexander released his first album with his trio earlier in the year, and although Grenadier and Owens are almost three times his age, Alexander holds his ground as the leader.
Alexander started playing piano at age 6 in his home city Denpasar, in Bali. He received no formal jazz training and instead listened intensely to recordings by Monk, Coltrane and Freddie Hubbard (to name a few). It didn't take long for Alexander to get noticed by Herbie Hancock and Wynton Marsalis who helped to push his performing career forward. Which brings us to Joey's life today: sets at the major jazz festivals, appearances on the "Today" show and an album that's topping the jazz charts.
At a performance at Scullers Jazz Club in Boston last May, Alexander didn't have to say much to get the crowd applauding — even before he started a tune. "Next we're going to play a song called 'Lush Life,'" he said in his preteen, high-pitched voice. But Alexander's popularity has little to do with the cuteness factor. When he sits down at the piano, Alexander is serious. It's clear that he takes his time with whatever song he's playing and gives it his absolute focus. His solo in "Lush Life" demonstrated thoughtfulness and musicality. Not only did he play the song with ease and spontaneity — Alexander certainly has fast fingers — he captured the depth of Strayhorn's emotional song with a delicate touch and dynamic variation.
The concert at Scullers showed a maturity and versatility from Alexander that's not apparent from his YouTube videos and recordings. Or perhaps he's improving that fast. Instead of his usual trio, Alexander performed with two students from Berklee College of Music: Rodney Rocques on drums and Tabari Lake on bass. With only a little rehearsal, Alexander sounded comfortable listening and responding to them.
In addition to some of the more popular standards that make up his album ("Giant Steps," "It Might As Well Be Spring"), Alexander played a new original, which he said was conceived as a prayer. It is a concern that resounding applause and controlling managers might stifle Alexander's artistry because of his age and malleability. But comments like this followed by a meditative performance give the impression that Alexander is grounded in his own background and future goals.
Perhaps one of the most exciting things about seeing Alexander is that he's in the midst of a musical growth spurt. He's still developing a deeper understanding of rhythm and harmony, and his compositions at this point are fairly one-dimensional, but his musicality and instincts are apparent, and he's developing at warp speed.
Alexander is more than just raw talent. He possesses a thoughtfulness and creativity many musicians twice his age can't muster. He seems to understand that jazz is about surprises — a sudden change of tempo, a stark dynamic contrast, the power of space and silence. If he continues to surprise, Alexander is looking at a lot more than fleeting YouTube fame.
Claire Dickson Contributor, The ARTery
Claire Dickson is a jazz vocalist and writer studying at Harvard College.