Massmouth: A 'Perfect' Storytelling Community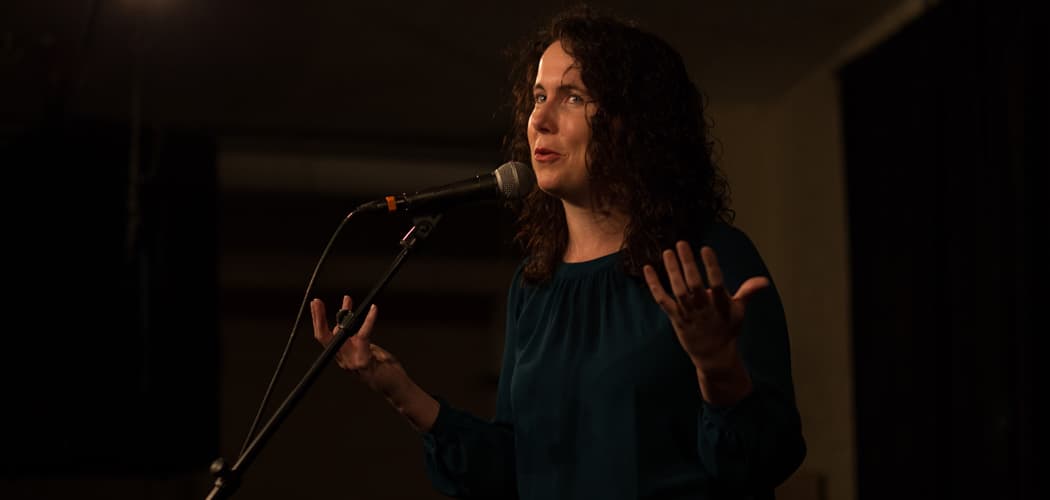 This article is more than 4 years old.
The word "perfect" can be applied to many things: the perfect moment, the perfect job, the perfect storm. In the dimly lit room of Club Passim in Harvard Square on a Monday in November, 10 storytellers took the stage to tell five-minute stories on the theme as part of Massmouth's seventh season of story slams.
The packed club was full of anticipation as people waited to see what was in store for the night. Who would be chosen to tell their story? What would they tell?
Each slam, five judges are chosen at random from the audience and score the storytellers on a scale from one to 10 based on story arc, teller presentation, connection to the theme and overall impression. The two tellers with the highest scores win and a third winner is chosen by the audience.
Storytellers who want to participate that night put their names in a bowl. The hosts of the evening — in this case, Lynn Cooper and Andrew Tripp — draw 10 names to determine who will get on stage.
"I like seeing people making themselves vulnerable and having the crowd hold them," Cooper said. "That is quite beautiful and profound. It's not unlike a church in some ways, but people are cussing and drinking beer."
But this summer, that sense of camaraderie was almost lost when the 7-year-old storytelling group was almost disbanded.
The founder, Norah Dooley, had dedicated years of her life to the nonprofit and decided it was time to step back from the story slams and refocus her energies on the educational side of the organization. Four storytellers — Cheryl Hamilton, Theresa Okokon, Dan Dahari and H.R. Britton — weren't ready to lose the community that had been built, so they stepped up to take it over in August.
"Everybody does Massmouth for different reasons," said Hamilton, who now serves as Massmouth's coordinator and manages the slams at Club Passim. "But at the end of the day for us, the reason we wanted to continue and the reason I love the scene, is that it's the fastest way to connect with neighbors."
On Monday night, Amy Monticello brought her class of Suffolk University freshmen to watch the slam. One student said she would tell a one-minute story during intermission if Monticello put her name in the bowl.
"I didn't come prepared to tell a story," Monticello said. "But I felt that if I was asking them to put themselves out there, I needed to put my money where my mouth is."
On stage, Monticello described the pain and grief of recently losing her father. Caught up in turmoil and sadness, she and her husband were "trying, but not trying, to have a baby," but as the tests kept coming up negative, she started thinking it might be for the best.
As fate would have it, on Mother's Day, she found out she was pregnant. Yet Monticello had some reservations. "Grief makes everything seem completely impossible," she told the audience.
On top of mourning for her father, she was having a really rough pregnancy from extreme morning sickness to gestational diabetes, "My body was the worst temple to hold this life." As she recounted the details, her body and manner became tense. Each minute that ticked by dripped with the stress and pressure Monticello felt at the time.
Nine months of misery and mood swings had passed and it was time, but not before a grueling finish: 47 excruciating hours of labor. But as her daughter finally made her screaming entrance, Monticello described, with glistening eyes and a voice full of a serene and hushed calm, the moment when her emotionally shaky world finally fell into place — "she cried, and I cried, and God, those were perfect tears."
Unsurprisingly, the top winner of the night was Monticello, a first-time teller to Massmouth. "I had written and talked about this time in my life, but I had never told it like this before," she said. "It's an incredible high to feel like someone is really listening to something from your life, like you are really truly being heard."
Other tellers included Ralph Chadis who painted a scene of "a most perfect sail" along the coast of Maine through a heavy dense fog that garnered him the audience choice. Justin Werfel, a long-time storyteller who eerily resembles a young Jerry Seinfeld, placed second, telling a sad story of buying the perfect gift for his hard-to-please father who "doesn't like anything," presented in a way that had the audience laughing through the more poignant moments.
Many say the array of stories shared and the element of surprise of what each event will bring keeps Massmouth exciting.
For Lynn Cooper, a story slam brought the first encounter she would have with her future husband. At a Massmouth event on a December night in 2012, Cooper was volunteering and on the stage she watched as a man told a touching story about his experience as a chaplain in a hospital. The two bonded over their shared careers and a month later, Cooper went on a date with the teller of that story — Andrew Tripp.
The next story slam will take place Tuesday, Dec. 8, at Trident Booksellers on Newbury Street, organized by Theresa Okokon. The theme is "damage control."
---
Dianna Bell is a recent graduate of the Goldring Arts Journalism master's program at the S.I. Newhouse School of Public Communication. She has written for the Pulitzer Prize-winning Post and Courier in Charleston, South Carolina, MarieClaire.com and several other publications.