A Good Storm And Dazzling Heroics Make 'The Finest Hours'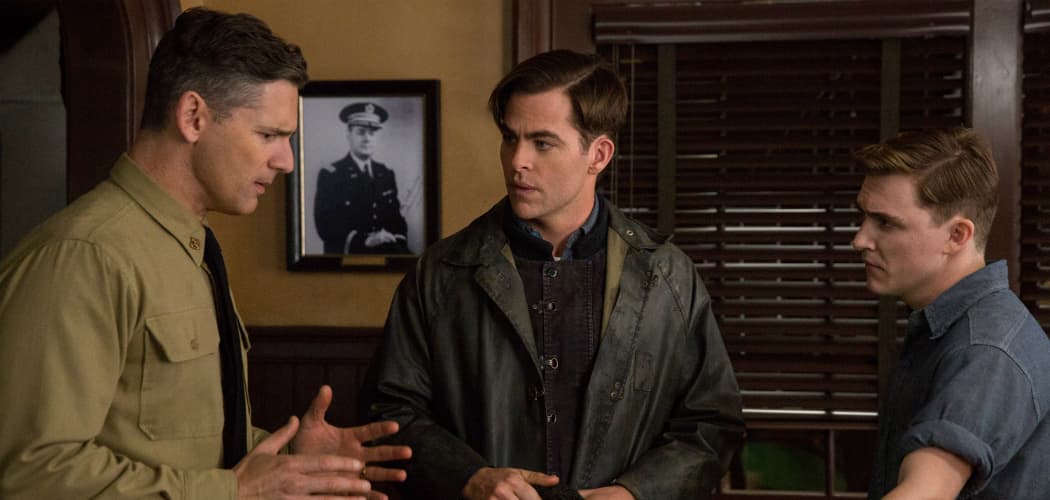 This article is more than 5 years old.
I love a good storm — and dazzling heroics float my boat. Disney's new film "The Finest Hours" satisfies both cravings at a time of year that generally finds us in the doldrums of the movie release schedule. But this film is a new year's treat. Not only is it well made, but it tells the true story of the most daring, small-boat rescue in the history of the U.S. Coast Guard, its thrills enhanced in Digital and IMAX 3-D.
It all happened right off the coast of Massachusetts, so beware the accents, though they don't wreak as much havoc as the nor'easter which struck on Feb. 18, 1952, and was chronicled in the book of the same name by Michael J. Tougias and my former WBZ-TV colleague Casey Sherman. The storm was so powerful it ripped a pair of tankers in two, separating stem from stern, leaving first assistant engineer Ray Sybert — admirably played by Casey Affleck — to captain one of them along with 30 sailors fighting for their lives against hurricane-force winds in the heaving sea.
Meanwhile on shore, a romance and several other storms are brewing. Chris Pine of "Star Trek" movie fame plumbs the depths here as shy and ultra-conscientious U.S. Coast Guard Capt. Bernie Webber who has just proposed to his girl, the lovely and feisty Miriam played by Holliday Grainger. But when the Coast Guard discovers the tanker in trouble, new Warrant Officer Daniel Cluff (Eric Bana) who has yet to prove himself in the job, orders Bernie to head up a rescue mission at the height of the storm.
The men think he's crazy, but Bernie — under the shadow of a previous deadly rescue mission — sets out to do the impossible. He launches a small rescue boat with only three additional crewmen and attempts to cross Cape Cod's Chatham Bar while battling 60-foot waves, raging winds, freezing temperatures and the loss of his compass.
The tale, as exciting as it is, might have sunk under the weight of schmaltz and melodrama traveling from page to screen. There are a few clunker "Bahstin" accents, and a subplot that should either be punched up or dropped, but director Craig Gillespie navigates a smart, sensitive and thrilling script, knowing when to lean in and when to pull back for maximum impact. I've never known an adventure tale to be as subtly effective. Sometimes the air goes quiet, and actors take their time; no one over explains, and we are often left to simply understand what is not said. The storm has real physicality and all the action makes visual sense. I was truly on the edge of my seat wondering who, if anyone, would come out alive.
Then there is the absolutely first-rate cast. Pine as Bernie is a reluctant hero, his clear blue eyes suggesting Bernie's innocence, faith, intelligence and ramrod straight character which convince us he'll get the job done. At one point when all seems lost, the filmmaker manipulates the elements to somehow suggest that it might be Bernie's very soul doing the steering. Even so, this almost mystical vibe never seems beyond what's credible.
Pine's perfect complement here is Golden Globe, Oscar nominee and Boston native Affleck. One of the best and most under-appreciated actors working today, Affleck is mesmerizingly charismatic as the introverted default captain who must convince his panicked crewmen to do the impossible through the sheer force of his conviction. (In a pivotal scene he has a bit of business with a hard boiled egg, a twist on something Humphrey Bogart did with ball bearings as the besieged and questionably sane Capt. Queeg in "The Caine Mutiny.")
Affleck's authority is impossible to resist in a sublimely understated performance. He and Pine are like twin eyes at the center of the storm — calm, as chaos swirls around them. They are laser-focused on getting the job done and almost seem to be tracking each other.
Finally, British actress Grainger is perfect as the epitome of demure 1950s female beauty and good old American spunk. Grounded, smart and determined, she storms in and takes a stand against Bana's inexperienced Officer Cluff (far from his role as 2003's "Hulk"), who she believes has sent her fiancé to his death.
Bana's role is interesting and muddles the moral waters a bit — was he wrong to send the rescue crew out? Was it foolhardy for them to keep going? It's an interesting dimension in an otherwise straightforward action adventure film and "The Finest Hours" is one of the best of its kind.
A piece of history and nostalgia, it's a document of decency in simpler times when heroism was tied to doing the right thing for reasons that seemed clearer. What a breather in a new year marked by murkier depths than ever before.
---
Joyce Kulhawik is an Emmy Award-winning journalist, president of the Boston Theater Critics Association and member of The Boston Society of Film Critics. You can read her reviews online at JoycesChoices.com.
Joyce Kulhawik Contributor, The ARTery
Joyce Kulhawik, best known as the Emmy Award-winning arts and entertainment critic for CBS-Boston, is the president of the Boston Theater Critics Association.