The Cons Of 'Fast Company' Are Enjoyable, Despite Imperfections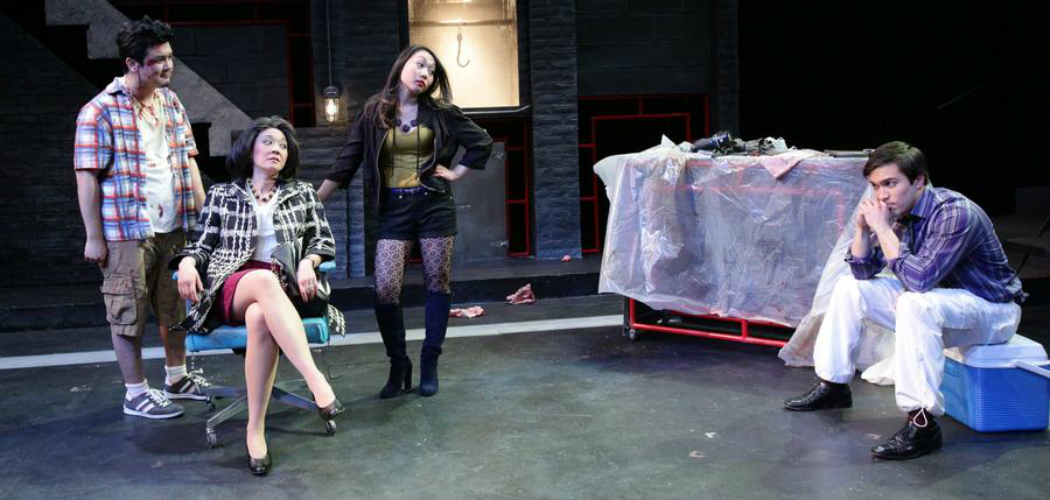 This article is more than 5 years old.
The recipe for Carla Ching's "Fast Company" would appear to be a jigger of the 1990 Stephen Frears film "The Grifters" with a few drops of Anthony Harvey's 1968 Peter O'Toole and Katharine Hepburn-led "The Lion in Winter" added in, plus the merest soupcon of the 2013 Louis Leterrier caper "Now You See Me."
The play, continuing through March 27 at the Lyric Stage Company of Boston, revolves around the cons that three siblings and their mother run on unsuspecting victims, but it also revolves more tightly around the scams they pull on each other. Mother Mabel (Lin-Ann Ching Kocar) has taught her brood everything she knows, though sometimes her lesson plans have been unorthodox: One of the first lessons her children recall is being left at Coney Island and told to make their own way home with nothing in their pockets.
Blue (Theresa Nguyen) feels that the con artist's life is the only life for her. Brothers Francis (Tyler Simahk) and H (for Henry; he's played by Michael Hisamoto) range from ambivalent to fed up with elaborate schemes designed to sucker, bilk and rob the "marks" of the world. Francis, in fact, has become a popular illusionist as a means of getting out of the life and pursuing a semi-respectable career. Clueless H, meantime, bumbles along more or less aimlessly, and finally allows himself to be drawn into Blue's plan to pull a bait-and-switch on a wealthy target, a scheme that involves a rare first edition of a "Superman" comic book. The job is relatively simple, and if they can pull it off, they're in for an epic payday.
But when things go wrong and H disappears with the comic book, leaving behind a well-executed but worthless fake, it looks as though the swindler is now the swindled. Since Blue's plan has a built-in deadline (she "borrowed" the genuine comic from a boyfriend who's out of town for a few days) she turns to Francis and Mable to help her beat the ticking clock and evade a tightening noose of consequences. What follows is a labyrinthine web of smartly devised strategies, with long cons leap-frogged by even longer cons, all nested within the longest con of them all.
To reveal more about the plot would be to tug on threads that unravel the tapestry. Suffice it to say that "Fast Company" is a swift and entertaining hour and a half. The play's storyline doesn't quite fulfill its cinematic ambitions, but the design work that's gone into this production certainly does. Director M. Bevin O'Gara oversees a cohesive, snappy production with some glossy effects that are rooted in the bedrock of Cameron Anderson's deceptively simple scenic design, which takes an urban motif of sooty-looking brickwork and industrial red piping. But those gray surfaces double as de facto chalkboard for Garrett Herzig's sophisticated projection design, which spells out in animated chalk lines the play's various chapter titles and different settings.
Arshan Gailus provides a jazzy, propulsive score that surrounds and cushions the piece in a genre-specific, but fresh-sounding acoustic setting. Annie Wiegand's lighting design underscores the production's cinematic stylings; there's some especially clever, almost noirish use of spotlights here that bring 1940s cinematography to mind. Wiegand lights flashbacks with a magenta hue that, together with the staging choices, makes it easy to understand what's happening in the moment and what's taking place in memory.
Tyler Kinney's costumes, by contrast, are contemporary: Sloppy casual wear for H, sharper off-the-rack styles for Francis, suits for Mabel that are both cosmopolitan and matronly, and sassy in-charge wardrobe choices for Blue. The clothes really do make the characters in this case, which helps gloss over what feels like a lack of chemistry among the cast. It's still early days in the production's run, and that might account for it, but none of the actors felt convincing in their roles. Blue is still slightly green, but she has got the kind of ambition she's going to need to blossom into a master of the con; H is young, and operating outside his competency (he's a great forger but lousy at planning); Mable is an old pro and expert at the psychology of the game; Francis has transcended the profession and moved into another realm of hucksterism, one more legitimately artistic.
Those qualities all come through, but it's more thanks to the writing, music and costuming than the performances. Look past that, however, and what you have here is a criminally amusing new play.
"Fast Company" runs through March 27. For tickets and more information, visit the Lyric Stage Company of Boston's website.
---
Kilian Melloy has reviewed film and theater for a number of publications, including EDGE Boston and the Cambridge Chronicle. He is a member of the Boston Theater Critics Association and the Boston Online Film Critics Association.
Kilian Melloy Theater Critic
Kilian Melloy is a contributor to WBUR's The ARTery.