Hervé Koubi At ICA: Sufi Music Meets Bach; Contemporary Dance Meets Hip-Hop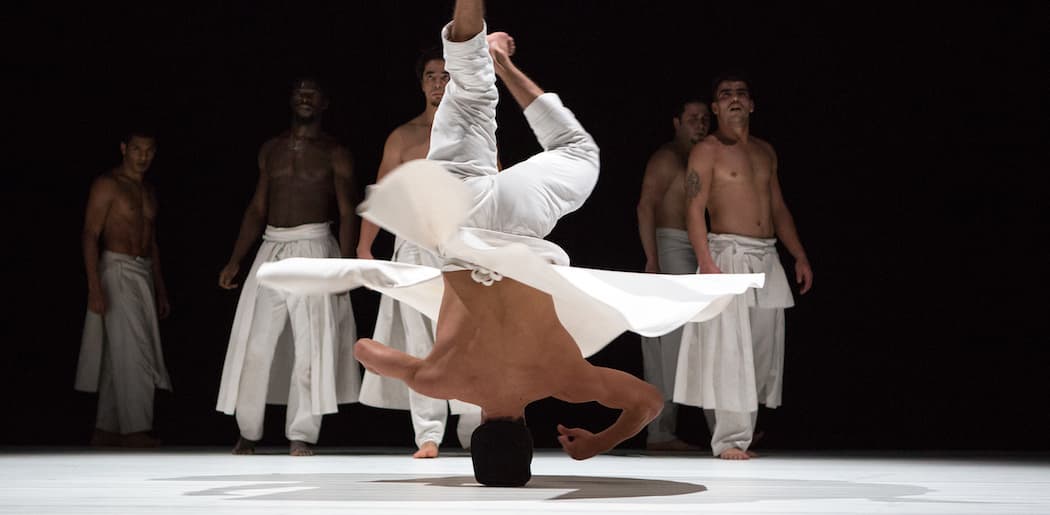 This article is more than 5 years old.
A search for his roots is what led choreographer Hervé Koubi to Algeria. He wanted to illuminate what had thus far been darkness in his life, the unknown of his origins. "I had to give life to my Orientalist dreams," Koubi said in an email interview. "I had to do it with dance. I had to do it with dancers from Algeria using their specific skills."
What developed was a choreographic project for 12 French-Algerian and African male dancers that fuses capoeira, martial arts, acrobatics, hip-hop and contemporary dance. The creative process began in 2010 with the creation of "El Din," an excerpt of the now-finished "Ce que le jour doit à la nuit," which translates as "What the day owes the night."
For this project, Koubi found inspiration through other forms of artistic expression, including Orientalist paintings, Islamic architecture and poetry, and music. The dancers move to a compilation of musical genres that includes Sufi music, excerpts by German composer Johann Sebastian Bach, and a traditional piece by Nubian musician Hamza El Din that is performed by the Kronos Quartet.
---
The full work, performed by the France-based ensemble Compagnie Hervé Koubi will debut in Boston this weekend (March 11-12) at the Institute of Contemporary Art. The show is presented by World Music/CRASHarts.
---
"I wanted to build bridges between my European culture I grew in and my roots that are from the other side of the Mediterranean Sea," Koubi said. "The musical accompaniment is thus a come and go between those two cultures that are melted in me."
Culture plays an influential role in every aspect of the work, including the costume design by choreographic assistant Guillaume Gabriel. Dual aprons overlay otherwise ordinary white pants, creating a seamless vision as the dancers weave through intricate patterns, soaring one minute then spinning on their heads the next.
Koubi has worked with both male and female dancers in the past, but for this project, he said he had no other choice. At the audition he held in Algeria in 2009, Koubi met 250 dancers and only one of them was female. He chose 12 men, whom he refers to as his "found brothers." With these dancers, he said, "there has been a choreographic alchemy I can't explain. They respond exactly to what I expect and I love in dance."
One of these dancers is Lazhar Berrouag. Like most of the men in the company, he learned how to dance in the streets, only receiving training in the aesthetics of ballet and contemporary after being selected by Koubi. Of the cast, he said, "we have been working together since the beginning. It's almost like a family. This project is a real turn in our lives."
Unlike his dancers, Koubi had a traditional background in dance. He studied at Rosella Hightower's Centre de Danse International in Cannes and then with the Opéra de Marseille before starting his professional career in 1999. "I worked in several national companies in France," he said, "but I always preferred to have the position of author. I really like to exchange with the audience, to share my thoughts. Choreography is like an open book for me."
But Koubi did not always envision a career in the dance field. To please his parents, he graduated with a doctorate of pharmacology and clinical biology — but the appeal of the arts was too strong for him to resist. In 2000, he established Compagnie Hervé Koubi with his first creation "Le Golem." Although he sees no connection between his academic and artistic work, he said, "I kept, of my pharmacy studies, the love of the process of research. I love to experiment and investigate when I create a choreography."
In his work, Koubi searches for authenticity in movement, a genuineness of breath and meaning within motion, Berrouag explained. "He hates when movements are made automatically," he said. "Of course we worked a lot to dance together, to have the proper movement and the good energy, but the most important for him is to find the 'alchemy,' as he says, between us once onstage."
For his contributions to the arts, Koubi received the honor of Knight of the Order of Arts and Letters (l'Ordre de Chevalier des Arts et des Lettres) by the French Ministry of Culture last July.
"We are all the result of our pathway," Koubi said. "I am part of all my teachers, choreographers I worked with or I admired." But he has an even greater vision — a vision of global culture, "of a brotherhood beyond the frontiers and beliefs," that he hopes audiences everywhere will experience through his choreography.
Then, referring to his pharmacological studies, Koubi repeated the famous words of French chemist Antoine Lavoisier, "Nothing is created, nothing is lost, everything is transformed."
Lawrence Elizabeth Knox, a recent graduate of Boston University, is a freelance photojournalist in Birmingham, Alabama. Prior to attending college, she was a professional ballet dancer with Tulsa Ballet. Her work may be viewed at lawrenceknoxphotography.com. She may be contacted at knoxlawrence@gmail.com.
Lawrence Elizabeth Knox Contributor, The ARTery
Lawrence Elizabeth Knox, a recent graduate of Boston University, is a freelance photojournalist in Houston, Texas, and a contributor to The ARTery.