'H.M.S. Pinafore' At Oberon — Boys Will, Hilariously, Be Girls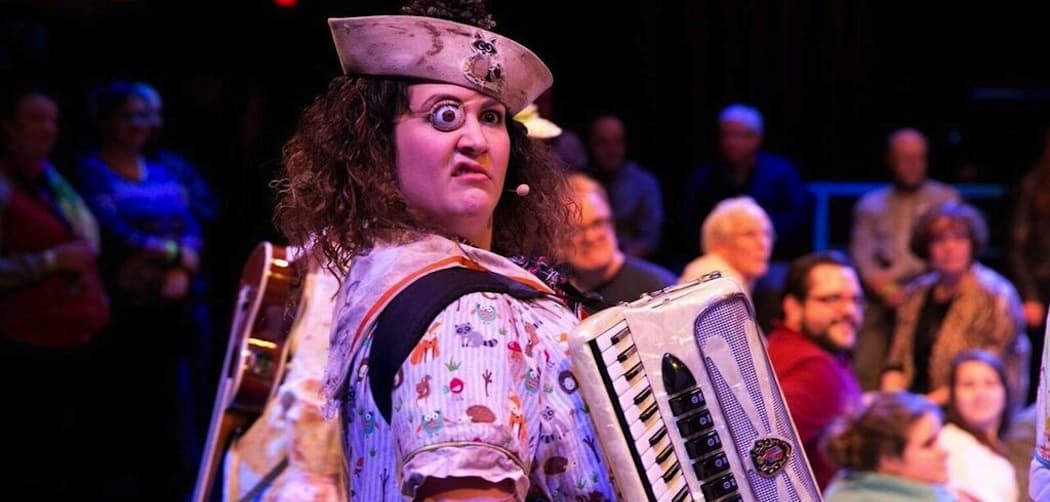 This article is more than 5 years old.
The seafaring ladies of the H.M.S. Pinafore are sweet rather than salty (they "hardly ever" use profanity, and achieving tight harmonies are their idea of keeping things shipshape), and in this frothy production of the beloved opera their vessel is both party barge and love boat. Get ready for some nautical japes: Chicago-based acting company The Hypocrites return to Oberon, the American Repertory Theater's second space (through March 20), with another of their remixed, amped-up Gilbert and Sullivan productions.
This Sean Graney-directed fever dream of sprightly ditties on the high seas flips the gender script, adding to the opera's built-in social satire in decidedly contemporary ways. The captain of the ship, Cat Coran (Emily Casey), has a social-climbing scheme in mind: To marry off her son Joseph (after whom all the ladies aboard ship pine) to the Admiral Dame Jo-Anne Porter (Christine Stulik), and thus elevate her own social ranking. Ah, but amour has charted a course of its own, and young Joseph (Doug Pawlik) falls hard with his first glimpse of new crewmember Ralphina (Dana Omar). She returns his affections, but significant obstacles stand in their way. The first is the captain, who is displeased that her "good boy" is on the verge of defying her wishes; there's also a schemer in the crew called Dot Dead-Eye (Kate Carson-Groner) who's plotting to keep the lovebirds apart. Worst of all is social prejudice: Joseph is highborn (his mother is a ship's captain, after all), while Ralphina is a commoner and a lowly "tar" (a regular sailor, as opposed to being an officer).
But the union envisioned by Captain Coran, while socially acceptable, is troublesome to Joseph because he has no affection for the Admiral Dame Jo-Anne Porter. It's troubling to a modern audience, too, given that the admiral is decades older than Joseph. That's when this reinvention's sly, and unspoken, social satire hits you: We're accustomed to stories in which a man of middle, or even late middle, years courts a much younger woman (as in the original version of Gilbert and Sullivan's opera), but switch up the gender roles and suddenly the idea of an arranged marriage that pairs a reluctant 20-year-old with a 50- or 60-something purely for political gain seems ridiculous and unfair. (The opera's twist ending is likewise braided with a little extra age- and ageism-related sting.)
That clever bit of reinterpretation fits nicely with the opera's overall mockery of class distinctions that were, at the time of the opera's premiere in 1878, so rigid that birthright opened career paths and competence figured into it only afterward. But the Hypocrites don't hit you over the head with polemics. Instead, they offer a freewheeling musical celebration, with actors and audience mixing in the performance space, performers wandering around singing and playing (and occasionally nudging audience members gently out the way), and a set that evokes bedtime story more than three-masted ship of war.
Actually, the show takes the look and theme of a pajama party. The captain's long-time love interest, L'il Buttercup (Matt Kahler), wears a robe and slippers, as does Joseph on occasion, and even the naval uniforms look like repurposed dressing gowns. Even the admiral is in on the act: She's upper crust and "fancy," but in this case that means she's wearing a Japanese-looking robe under her naval jacket. (Perhaps it's a nod to The Hypocrites' production of "The Mikado" from last year.)
The efforts of costume designer Alison Siple are echoed by scenic designer Tom Burch. The big pool in the middle of the space is filled not with water, but with pillows; even so, there's a slide that sends giggling participants of all ages into its feathery depths. (That, too, feels like a thematic resonance from an earlier season, namely the beach party-set production of "The Pirates of Penzance" from two years ago.) What's more, the set is furnished with a number of benches, suitable for the constantly shifting audience members to use as seating but also employed by the actors as platforms for particularly comic (or dramatic) moments. It's like a McDonald's playland and a mattress store collided in some sort of cosmically happy accident.
Adapters Sean Graney, Andra Velis Simon, and Matt Kahler slip in all manner of contemporary humor, with references to everything from "bronies" (guys with a passion for "My Little Pony") to Auto-Tune. This is theater that has slipped all the usual constraints, and burst both corset and fourth wall, and that seems to the goal The Hypocrites have in mind. The hijinks start well before the show, as the troupe perform pop songs – everything from David Bowe's "Starman" (complete with a clarinet solo!) to Talking Heads' "Psycho Killer" played on guitars, ukulele, and violins and a rendition of The Eurythmics' "Sweet Dreams Are Made of This" that boasts an accordion.
If all this seems a little more modern — or postmodern — than you might expect for an opera from the 19th century, it's perfectly in keeping with the high-spirited sense of fun and play that the authors deliberately infused into their works. It's hard to imagine that if they attended this production, Gilbert and Sullivan themselves would do anything other than jump right into the pillow pool, grab up any number of the small plush animals that litter the place, and join in as actors and audience alike pelt and pummel everyone in reach with gleeful abandon — all without missing a beat, a syllable, or a note. It's all in good, unagressive fun, but you can sit in seats on the sides if you prefer.
If there's anything to be sad about here, it's not the complaints of Gilbert and Sullivan purists who reject this fresh take on "H.M.S. Pinafore," along with The Hypocrites' versions of "The Mikado" and "The Pirates of Penzance." Rather, it's the news that this is the last in a trilogy of such loose-limbed, larky adaptations. But why stop now?
Kilian Melloy Theater Critic
Kilian Melloy is a contributor to WBUR's The ARTery.