'Go to the Light': Photos From The Blacklight Screenprints Show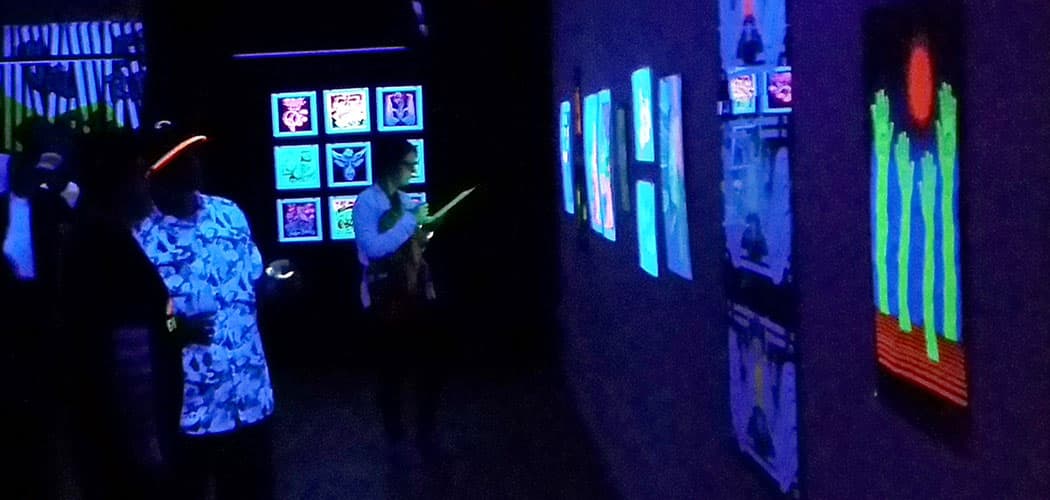 This article is more than 4 years old.
There's a kind of mysterious, nocturnal magic to DayGlo art.
"There is almost like this alchemy in something not electric glowing," says artist James Weinberg of Weinberg Design of the glow-in-the-dark screenprints in the exhibit "Go to the Light" at Casablanc gallery, 46 Cedric St. in Boston's Roxbury neighborhood.
With screen printers Helen Popinchalk and Morgan Grenier of Trifecta Editions and Jay LaCouture of AntiDesigns, he curated the exhibition of DayGlo screenprints by some 30 artists displayed in a blacklight gallery. The show closes with party from 7 to 10 p.m. Friday, June 3.
The exhibition grew out of a creative friendship that's developed between Popinchalk and Weinberg through screenprinting. In March 2015, they co-curated the printmaking exhibit "Bless This Mesh" at Thomas Young Gallery in Boston, which included a showcase of Popinchalk's DayGlo renditions of works by the 19th century Spanish master Francisco José de Goya y Lucientes in a "blacklight grotto."
Seeing it, Weinberg told Popinchalk, "I think the blacklight grotto should be the whole show. Because I felt like that was the most powerful part of the show. And that got the ball rolling."