With Release Of 'Harry Potter And The Cursed Child,' A Fan Revisits His Childhood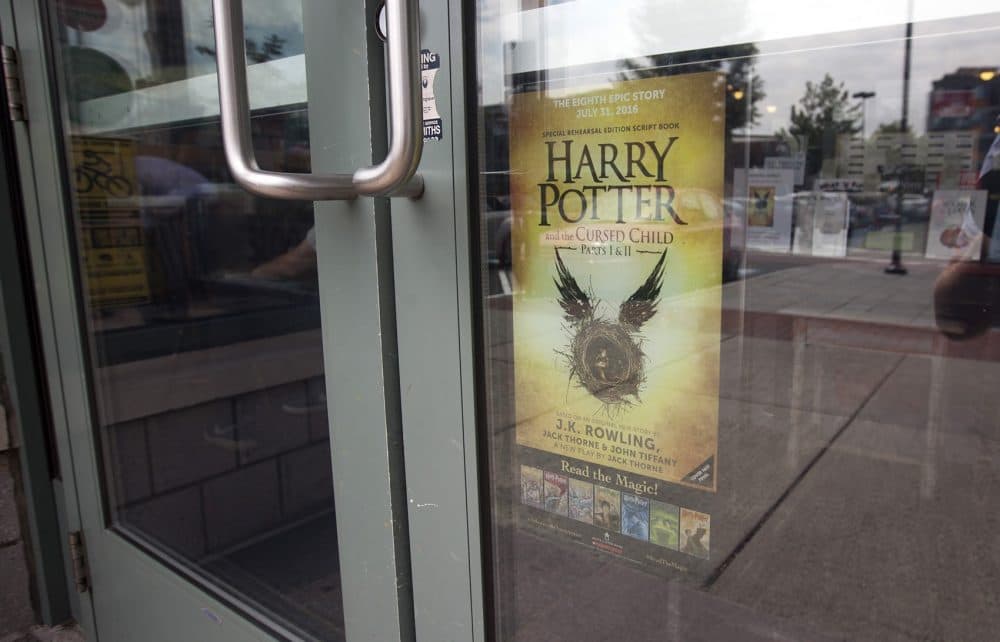 This article is more than 4 years old.
Editor's Note: Warning to fans who didn't devour "Harry Potter and the Cursed Child" as soon as it was released, there may be some spoilers in here.
---
It was a Saturday night, and I was in a line outside Porter Square Books in Cambridge that wound down the strip mall sidewalk. We were all there for the festivities that would culminate in the release of "Harry Potter and the Cursed Child," the next installment in the series.
Unlike the seven previous books, all novels, this story is a play — a collaboration between J.K. Rowling, screenwriter and playwright Jack Thorne and theater director John Tiffany. Thorne is credited with writing the script. The play opened at London's Palace Theatre in July. Special editions of the script went on sale across the globe at midnight on July 31, Harry Potter's birthday.
While fans were excited for another tale, we were all wondering if Thorne would be able to capture the Harry Potter magic.
The Porter Square gathering instantly brought back memories of the last time I had been at the bookstore for a midnight release — to buy the seventh Harry Potter book, in 2007.
I read the first novel in 2001, when I was 7 years old. My parents bought me the Bloomsbury edition from the U.K., so I read of Harry's quest to find the philosopher's stone, rather than the sorcerer's. The Bloomsbury edition to me is truly the original — untranslated, unadulterated. When Harry visits the Weasleys at The Burrow, Mrs. Weasley serves kippers for breakfast, not sausages, and she knits jumpers for Harry and her sons for Christmas, as opposed to sweaters. When Peeves drops water balloons on students arriving at Hogwarts for the new school year in the fourth book, it's Harry's trainers, and not his sneakers, that are soaked.
An avid reader from a young age, I demolished the first book in a matter of days, entranced from the book's first sentence — "Mr and Mrs Dursley, of number four, Privet Drive" — and immediately upon finishing begged my parents to find the second installment. But my mother, forever overprotective, had read the first book herself and decided that there was too much doom, death and destruction for my young mind to handle.
Like most 7 year olds, I had little patience. So I did what any fiercely stubborn child with obsessive-compulsive tendencies would do — I swore to read nothing but the "Philosopher's Stone" until the "Chamber of Secrets" was in my hands. After more than 25 cover-to-cover readings, I awoke Christmas morning to find not only the "Chamber of Secrets," but also — rejoice! — the "Prisoner of Azkaban" under the tree.
I think there are a few reasons why I still periodically re-read the books to this day. And for those of you who haven't read Harry Potter, beware: This is about to get a little technical.
First of all, I was a shy, anxious and risk-averse child. I didn't have much interest in other kids my own age and spent an inordinate amount of time in my own bedroom. I graduated high school never having traveled outside of New England and New York. I hated germs, amusement parks and anything that took me away from a radio when the Red Sox were playing.
But I longed for adventure and excitement, for beauty and passion. And within the confines of my bedroom, there was no better way to have such an experience than eating in Hogwarts' Great Hall, flying through the air on Harry's Firebolt broomstick or perusing the magical shops in Diagon Alley.
I also learned more about being a good person from the series than from any other piece of literature. In the "Chamber of Secrets," when Harry confesses he's ashamed the Sorting Hat considered placing him in Voldemort's Slytherin House, his headmaster, Dumbledore, says that Voldemort, unlike Harry, never would have asked to have been placed in a different house. "It's our choices, Harry, that show what we truly are, far more than our abilities," he explains.
I learned from Harry and his classmates what it means to be a good friend. In the "Goblet of Fire," Harry risks losing the Triwizard Tournament to make sure that Gabrielle is also rescued from the Great Lake. Gryffindor wins the House Cup in the first book because Dumbledore awards Neville Longbottom 10 points for trying to prevent Harry, Ron and Hermione from sneaking out to find the philosopher's stone. Dumbledore rewards Neville because "it takes a great deal of bravery to stand up to our enemies, but just as much to stand up to our friends."
The key reason Harry survives all seven books (spoiler) is that the charm left protecting him after his mother died to save him. In books filled with the likes of giants, dragons, and an omnipotent evil wizard, a parent's love for his or her child is the most powerful force, a theme that comes up again and again throughout the series. Over-protective mothers have their advantages, I learned. In summary, it truly is a story about love. Ron and Hermione choose a difficult quest with Harry in the seventh book not because they have to, but because they love him. And Harry is ultimately willing to sacrifice himself to ensure his friends' safety. Harry and his friends were the perfect role models at a time when I was also coming of age.
But I think what made the time spent reading the series so special was that I was able to share it with the people around me. I remember my uncle reading the fifth book to my cousins, sister and me as we took the ferry to Martha's Vineyard in the summer of 2003. For the sixth and seventh book releases (2005 and 2007, respectively), my sister and I traveled with friends to Porter Square Books to celebrate the midnight release, entertained by costumes, trivia and cups of Butterbeer, a Potter-inspired beverage.
There were late nights at relatives' houses over the two years between books six and seven, all of us, children and adults alike, crowded around the dining room table debating how Harry would defeat Voldemort, sifting through the previous installments for hints of remaining Horcruxes, which held pieces of Voldemort's soul, and conspiring that Dumbledore had somehow survived his fall from the top of Hogwarts at the end of the sixth book. I remember my father being the only one to interpret Dumbledore's final words — "Severus, please" — as Dumbledore asking Snape to kill him, which supported his theory that would be proven true in the final book: Snape had been helping Dumbledore the whole time.
Even after the final book came out, the fun continued. My friends and I would dress up to see the movies in the theater (well, at least my friends did), gather in living rooms to watch the various spin-offs, like the YouTube series Harry Potter puppet pals or University of Michigan's "A Very Potter Musical" and avidly play Harry Potter trivia quizzes on Sporcle. I think when I look back on my childhood when I'm older, I'll be more nostalgic about my time spent in the world of Harry Potter than anything else.
But it was with a sense of doubt that I waited at Porter Square Books to pick up my copy of the script. The crowd, comprised of people of all ages, seemed a little nervous. Even those decked out in wizarding robes seemed unsure about how excited they should be for the play's release. We technically weren't receiving another Harry Potter book — the release a script for a play not written by J.K. Rowling. Could this play possibly live up to the expectations created by the seven books?
Since scripts are essentially entirely dialogue, the play wouldn't include Rowling's intricately detailed settings, such as Hogwarts, Hogsmeade and 12 Grimmauld Place, or her intimate portrayal of the inner workings of Harry's mind.
The festivities began promptly at 10:30 p.m. As the line poured into the shop, a server began pouring cups of Butterbeer and another employee handed out Harry Potter Mad Libs. A table in the corner had sheets of Harry Potter trivia, and in the back of the store a stage was set up for attendees to read their own fan fiction. A group of friends sat by the window playing with a deck of Harry Potter Trivial Pursuit they had brought along.
Since Thorne wrote the play, it doesn't quite have Rowling's sensitivity or biting wit. Thorne also doesn't have the same genius for dialogue as Rowling. He's limited by the fact that he can't rely on description to move the plot along, but the characters have the tendency to sum things up a little too nicely.
The play does have the one thing essential to a story set 19 years in the future — a thoughtful portrayal of characters, who were deeply fleshed out in the seven books, later in life. We see a more mature but still proud Draco Malfoy, a contentedly married Ron Weasley, an anxiously paternal Harry Potter. It's difficult to write a sequel to a story set in a fictional land, but Thorne does so convincingly. You're definitely in the world of Harry Potter throughout the story.
At times, it feels a bit more like an encore for the series than an eighth story. Many characters from throughout the first seven books make token appearances throughout the play in moments that aren't essential to the story's plot. And the play revisits scenes from past books and could have spent more time exploring a post-Voldemort world. While I probably won't be slipping this edition into my bookshelf next to the seventh novel, I think I'll still hold onto it.
---
Will Sullivan is an ARTery intern. He studies math and music and runs on the cross country and track teams at Swarthmore College.