New MFA Exhibition Of Renaissance Sculptures Shows Della Robbia Family's Ongoing Artistic Influence
08:02
Play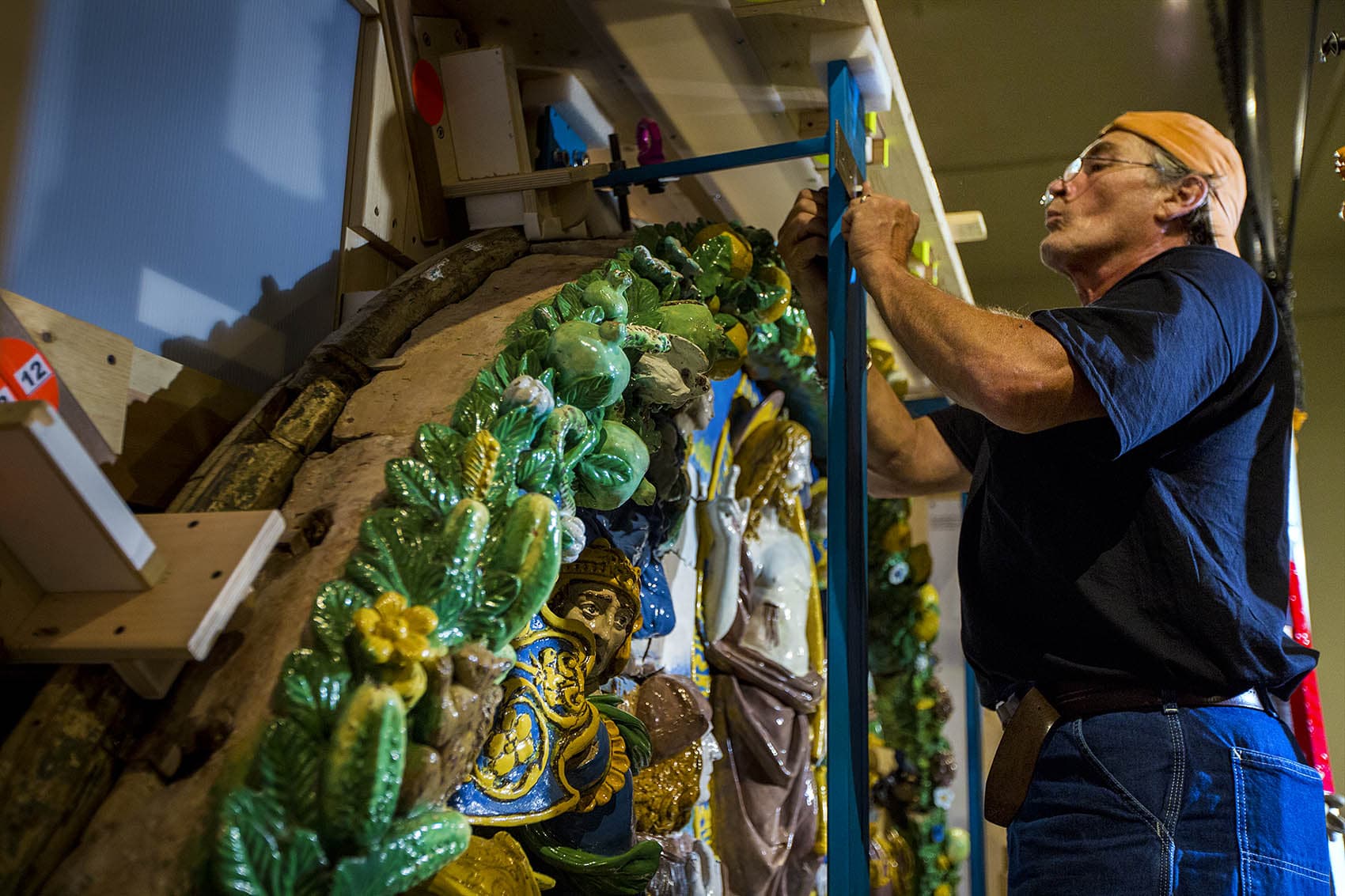 This article is more than 4 years old.
You might not know the name Della Robbia, but the vivid, blue and white glazed sculptures made by the family of Italian Renaissance artists might seem familiar. These innovators — Luca, Andrea and Giovanni — created pieces that decorate churches and important buildings in Florence and other parts of Europe. As it turns out, their signature style also inspired reproductions you could find in other cities — including Boston.
Now 46 sculptures from this family's workshop fill the first major showing of the Della Robbia in the U.S. The excitement was high at the Museum of Fine Arts as it was being installed.
MFA senior curator Marietta Cambareri had been dreaming about this exhibition for six years. She smiled with glee — and a little trepidation — now that the Della Robbia sculptures borrowed from about two dozen institutions around the U.S. and Italy were in one place at the same time.
"The largest piece in the gallery has arrived," she explained, "and we are in the process of uncrating it, making sure that it traveled from Brooklyn to Boston safely, and we are going to lift it up onto the wall. It weighs, I think, 1,100 pounds so it is a very nerve-wracking and very exciting day."
Because of its unwieldy size and unique nature, museum engineer Dante Vallance designed a custom rigging system to lift and gently mount the nearly 12-foot wide "Resurrection of Christ" onto the wall. It's the first piece visitors will encounter in the new show titled "Della Robbia: Sculpting with Color in Renaissance Florence" — and it's epic.
Museum conservators hovered around the work's dramatic Biblical scene, gushing over newly revealed colors and shine.
Brooklyn Museum chief conservator Lisa Bruno has been overseeing the relief's year-long restoration in New York. It came into that institution's collection in 1899.
Giovanni della Robbia was commissioned to make it in the early 1500s. He and his relatives ran a bustling workshop in Florence during the Renaissance, when marble and bronze sculptures were everywhere. But it was Giovanni's great uncle, Luca della Robbia, who broke away and invented a new, glazed terra-cotta technique around 1440. Cambareri says the material gives the "Resurrection of Christ" shimmer and life.
"The other beautiful thing about this material is that because it's a ceramic glaze, essentially the color has not changed since these left the Renaissance workshops," Cambareri told me. "So it really is a picture of Renaissance color."
Bruno called the "Resurrection of Christ" a tour de force of glazing.
"I think initially you may look at this object and think it's sort of kitschy, but it's actually an incredibly stunning piece of Italian Renaissance sculpture," she said, adding that she hopes visitors will look more closely so they can appreciate the complexity.
MFA objects conservator Abigail Hykin understands why the perception that the Della Robbia are "kitschy" persists. She believes some people feel like they know the sculptures because they may have grown up with religious figurines that riff on the Della Robbia family's many blue and white interpretations of, say, the Madonna.
"I think people feel like they've seen them," Hykin mused. "My aunt said, 'Oh my grandmother had [a] Della Robbia.' There was a time when people had these in their homes, even here in the U.S. — just blue and white Madonna and Child things — so I think people will see that it's a lot more."
Bruno, the conservator, sure hopes so. She calls the Della Robbia a family of innovators for forging new ways to make durable, eye-catching sculptures.
The "Resurrection of Christ" shows Jesus bursting from the tomb as Roman soldiers freak out around him. Angels float over their heads. The scene is framed by colorful insects, animals and fruit — not only blue and white, but yellow, brown and varying flesh tones.
For Bruno, this piece illustrates the Della Robbia at the top of their game. She recalls using UV reflective imaging to learn more about the family's technique by focusing on a particular part of Jesus's anatomy — his abs.
"He really has a six-pack," Bruno said, laughing. "But it also showed that they were applying the glaze in a painterly manner so they were using the glaze to articulate the musculature."
Like other Della Robbia pieces, this relief is made of individual pieces small enough to fit in a kiln.
"And putting it together was like a big puzzle," Bruno continued. "There's definitely an order that you have to put them back on the piece and figuring that out was part of our trick."
Conservators at the Metropolitan Museum of Art discovered that for themselves with their contribution to the show. It's a large, wall rondel by Andrea della Robbia featuring a virtuous "Prudence" encircled by a leafy garland. The Met's Carolyn Riccardelli explains.
"In the process of dismantling it, we discovered a numbering system on the inside molding — and we realized that the garland was in the completely wrong order," she recalled.
Riccardelli says her team put it back together correctly, but not in time for the exhibition catalog. The wrong version of "Prudence" is on the cover, while the rightly ordered one is on the wall.
The Met acquired this Della Robbia in 1921 and Riccardelli says it's been out of public view for 30 years.
On the other end of the gallery, the MFA collections engineer directed two men with conductor-like hand motions as they pulled chains to hoist the hefty "Resurrection of Christ" into the air. Cambareri explains how the special rigging and the conservation work were paid for by descendants of the man who originally commissioned the piece in the early 1500s. The family is even represented in the piece.
"There's a figure in the relief who is praying," Cambareri points out. "He's even bigger than the figure of the resurrected Christ, but he's actually life-sized so he actually relates to the people outside the relief."
Alessia Antinori has a pretty deep connection to the figure inside the relief. She says her family is almost positive it's their ancestor, Niccolo Antinori.
"He was at the time considered a nobleman but also an entrepreneur and a merchant," the contemporary Antinori said. Her family's crest bookends the bottom edges of the relief.
The Antinoris have been making wine in Tuscany for 26 generations and still support artists. Alessia says her family's new winery has a gallery with some Della Robbia pieces. She traveled to Boston to see the newly restored "Resurrection of Christ" and the new exhibition. The Brooklyn Museum bought the piece from the Antinoris in 1899 and Alessia says her family has been eager to help pay for its care.
"My dream would be to once have it also for a little period back home because I think maybe in its life it should come back home too," she said wistfully, "but we are very related to the arts, and to what we have done in our family, so it was the minimum that we could do."
Antinori hopes this first U.S. show dedicated to Della Robbia will expose their telltale glazing technique to a wider audience. The sculptures are a part of her past and her landscape back home in Tuscany.
"They are in one church close to our house, which has many pieces in it," she said.
And the Della Robbia can be seen on buildings around Boston, too. That came as a surprise to Antinori.
"Once you start looking for them you find them everywhere," Cambareri, the curator, said laughing.
We met over in Brookline Village, where she's lived for 15 years, and she told me she didn't notice a Della Robbia-inspired relief in her own neighborhood until about five years ago.
"I was taking the bus down Harvard Ave. on one of those very snowy days," she recalled, "and I happened to be standing looking out the window — and I thought, 'I just saw a Della Robbia go by.' And I came back and there it was."
Cambareri went back to the parochial school, St. Mary of the Assumption.
"Above the door is a very wonderful and unusual early 20th-century re-working of a famous Luca della Robbia that lives today in the Bargello museum in Florence," she told me.
It's just one example, Cambareri says, of American interest in the Della Robbia look in the early 20th century. Her research intern went on a hunt and found nearly two dozen Della Robbia-style pieces in other schools and churches around Boston. You can see little babies — also called "innocenti" — on the exterior of Brigham and Women's Hospital.
Cambareri believes many of them were made by the Atlantic Terra Cotta Company for American architects who might've seen Della Robbia in Brooklyn or Florence. She hopes the new exhibition will re-ignite an interest in the Renaissance technique that only lasted for about a century.
"And I hope people walk around Boston and notice more," the curator said laughing. "Look up, you might see a Della Robbia!"
There's even a missing duplicate of a Della Robbia original that Cambareri says was reported to be part of a church sanctuary in Roxbury — but she believes it disappeared.
Correction: An earlier version of this story misspelled the Della Robbia family name in the headline. We regret the error.
This segment aired on August 12, 2016.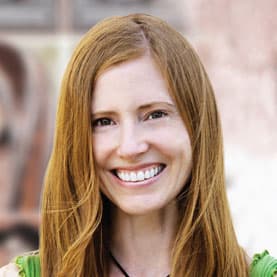 Andrea Shea Senior Arts Reporter
Andrea Shea is WBUR's arts reporter.