A Sixth Grader's 'Fly Like A Dove' Video Performance Soars Like An Eagle
This article is more than 4 years old.
Some songs you really have to sit down and think: Does this word rhyme with that one? Does that word rhyme with this one? For Inari Jade Higgins Barrett, those songs are not that much fun to write.
Not like "Fly Like A Dove," which Inari wrote back when she was in the third grade. The melody came to her in the shower. Then the lyrics, about bullying, she added on word by word, from the shower to her bedroom, and then in front of the mirror, and around the house, over the course of a couple of weeks.
"When it starts flowing out like that, it's just so awesome," said Inari, 11, a student at Chestnut Accelerated Talented and Gifted Middle School in Springfield.
Also awesome: The way it feels when Inari sings that song, as she did a few weeks ago at a barbecue at the Louis D. Brown Peace Institute in Dorchester. In her pink sunglasses and turquoise bandana, she sang out strong to the community on Christopher Street, her father drumming and harmonizing beside her. Since we posted a video of their performance on Everyday Boston's Facebook page, it's been viewed more than 16,000 times.
When the views started accumulating, and her father told Inari about it, she wasn't really paying attention. And then she was.
"I, like, couldn't stop smiling," she said.
Inari has performed plenty of times before, mostly with her father, a professional musician and community advocate who goes by the name of Toussaint Liberator; she joins him sometimes at The Beehive on Mondays, when he plays with The Naya Rockers.
But at those performances, she usually comes on at the end. This time, Inari was the opener, swaying with microphone in hand — singing, as she says, with "all of my might and all of my heart," as she does when it's her very own song. Beside her, Toussaint stood solemn in his white head scarf and sunglasses, trying — and sometimes failing — not to smile.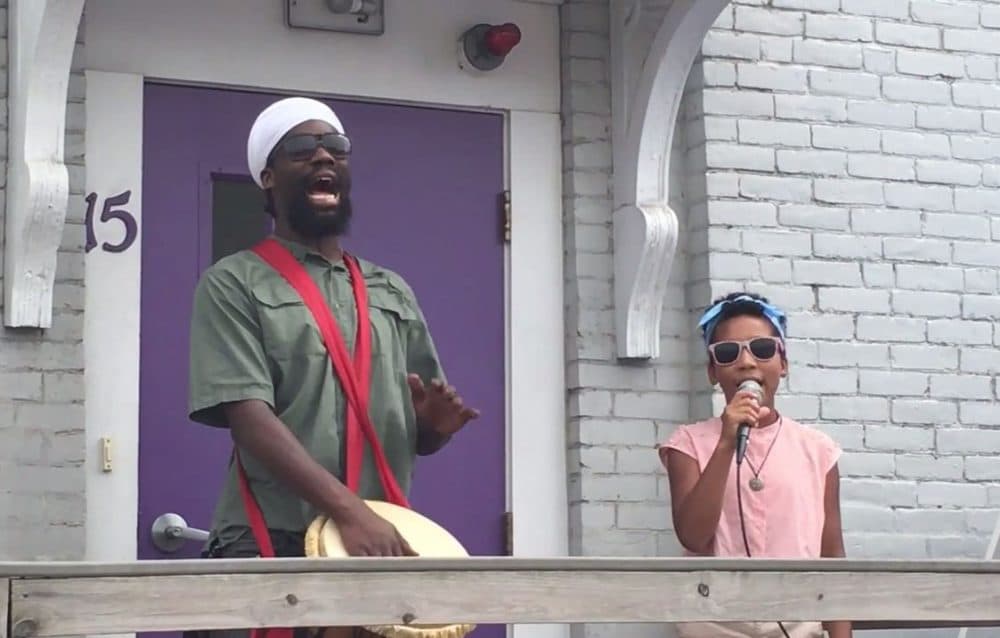 On Facebook, among the comments, someone teased Toussaint, a fixture on the Boston music scene, that Inari could outshine him soon. He leaned back on his Dorchester porch the other night, his daughter doing handstands against the house.
"Man," he said, smiling. "She already has."
When she came to him with that song — verses done, a bridge complete — he could hardly believe it. Toussaint wrote his first song in the seventh grade. It was so bad, his brothers in Indiana still tease him about it.
Inari had something else from the start. Before she could even talk, she could make music with her voice. A stay-at-home dad back then, Toussaint raised her in his musician's world, with rehearsals and performances and traveling with the band. One day, she started rapping her own version of "The Little Mermaid" lyrics. She was 3.
Her parents were careful not to push the music on her. But singing became the thing she loved most to do: in the car, in the shower, wandering around the house before school, to psych herself up for the day.
"I almost think it's grounding in a way — like it's her center point," said her mother, Heather Barrett, an economic development specialist who works for Prosperity Candle, a social enterprise based in Easthampton.
So Toussaint taught her how to breathe right. And how to project. And when she started trying to sound like other people when she sang, he gave her some simple advice.
"Just don't do that," Inari said.
This is not going to be Inari's career. She's already decided that much. She can't make a living at it unless she becomes a pop star. So she's thinking about becoming an obstetrician — a midwife, to be exact, because midwives have more independence than obstetricians. Or maybe she'll make something with computers.
It's still unclear right now, since she just headed into sixth grade.
In the meantime, Inari has written five full songs — composed them in her head, then written the lyrics down in two separate notebooks, in case one gets lost on her way to growing old. "Fly Like a Dove" was her first.
In it, she speaks to someone dragged down by a bully, like her friend once was in kindergarten, when some boys commented on the girl's hairy arms. Imari worried when they said it. Would it make her friend sad?
So she stepped in and shut it down.
"Basically, I was like: You need to be quiet. Stop saying that. There's no reason. It's not necessary," Inari said.
Then three years later, all of a sudden came the song. She remembered all the snobby kids at that private school where she was a scholarship student, and the way they would taunt some of her friends, and she started piecing together the lyrics that would shut them all down again, and lift all the others up for good.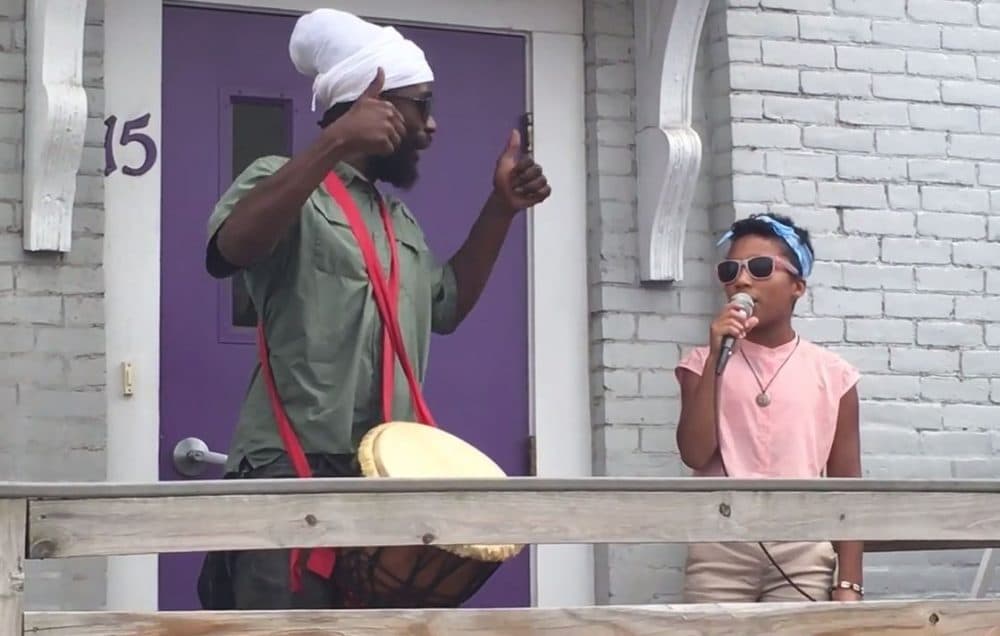 At the Peace Institute that day, she had the smallest of butterflies, as Inari always does. So her father started drumming -- just a couple of measures, to give her time to settle in. Her words were soft at first. Then, as Inari sang more of her song, her voice got strong:
"Sometimes/People may get in your way/Here's what I've got to say/The only reason why/People may bully you/Is because they're less than you/Jealous of you/Or they've had a really, really tough life/But you'll still be flying like a dove/Flying like a dove/Flying like a dove/Flying like a dove."
Related: Toussaint Liberator and The Naya Rockers at the Beehive:
This article is part of an occasional collaboration with Everyday Boston, a community-building project that connects people across the city through stories. Cara Solomon is its founder.