Clothes That Make The Character — Exhibit Illuminates Invisible Role Costumes Play In Cinema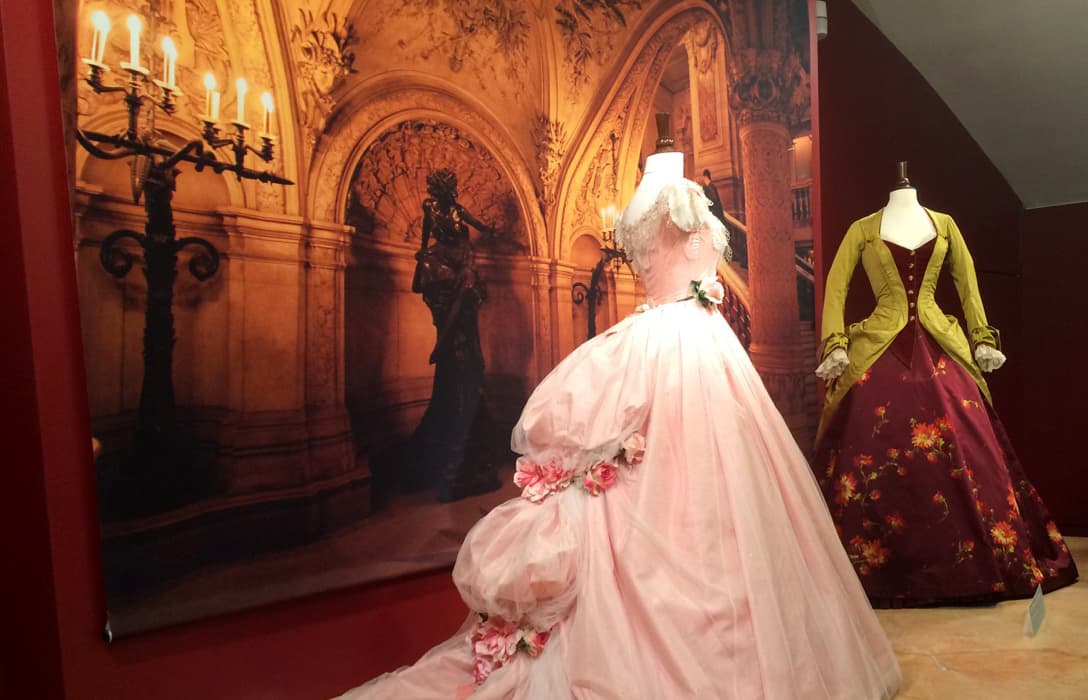 This article is more than 4 years old.
Movie lovers know that the best costumes are invisible. Not emperor's clothes or Wonder Woman's plane invisible. More like the swaggering pirate Jack Sparrow (Johnny Depp) in "Pirates of the Caribbean" or the vulnerably glamorous opera singer Christine Daaé (Emmy Rossum) in "The Phantom of the Opera." Invisible in the sense that you can't imagine the character dressed any other way.
Costumes worn by both characters are part of "CUT! Costume and the Cinema," one of the numerous indoor and outdoor attractions nestled among the 100 acres of the Heritage Museum & Gardens in Sandwich.
The entertaining exhibit features film costumes from the collection of Cosprop, a regaled British design house, founded by costumer John Bright. (It runs through Oct. 10 and there's a guided tour planned for Saturday, Oct. 1 as part of ArtWeek Boston.)
To most moviegoers, Bright and his company are as invisible as their artistic creations. Yet Cosprop is responsible for outfitting some of the most memorable period dramas of the last four decades, including "Downton Abbey."
"It's amazing to see the range of silhouettes, how identities have changed over time, and what was thought of as beautiful," said MassArt professor Jennifer Varekamp. She spoke by phone a few days after delivering a lecture on the relationship between costume and fashion at the museum. "A lot of research and development goes into making something accurate," she explained.
From the museum's entrance, "CUT" is a scenic walk along a hilly path that cuts through a hydrangea test garden and is punctuated by installations of fiber artists in a related exhibit called, "Natural Threads." A red carpet leads into the special exhibits gallery where the costumes are, for the most part, arranged chronologically. They're from films made between 1992 and 2009 and they reflect more than 500 years of fashion history, starting with "Ever After" set in 1510 and ending with "Land of the Blind" set in an unspecified post-war era.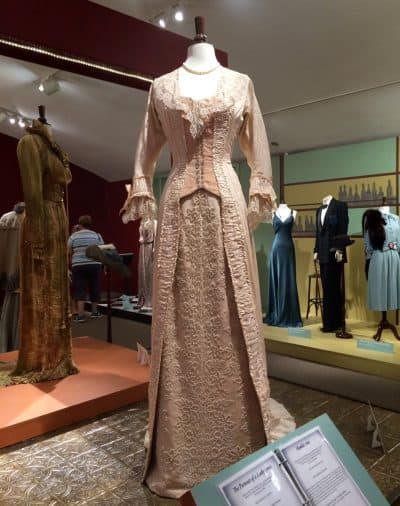 Walking me from the earliest cluster of costumes, including a high-waisted Renaissance court gown worn by Anjelica Huston in "Ever After," Heritage Museum curator Jennifer Madden singles out a cream gown worn by Nicole Kidman in "The Portrait of a Lady." The dress was created around a beaded front panel that dates back to the era of the film, about 1880. Madden explains how designer Janet Patterson added four inches under a jacket to accommodate Kidman's 5'11" height. Patterson earned an Academy Award-nomination for that film. Winning costumers, including Jenny Beavan and Alexandra Byrne, also have work on display.
One of Madden's hopes for "CUT!" is that like the Heritage's American car collection, it will help visitors see popular culture in a new light.
"Costumes help an actor get into a role," Madden says, and can quickly depict age, class and role within the film. "Sometimes they only appear on screen for 10 or 15 seconds but no one knows that when they are being made."
All of the costumes appear on models that replicate the actors' stature, which Madden says has fascinated visitors.
"People don't realize how small these actors are," she says, referring especially to the women. Kate Winslet may be considered full-figured but the embroidered silk night gown and flowing robe she wore in "Finding Neverland," one of Madden's favorite ensembles, shows she is far smaller than average. "I would love to wear that," says Madden with a laugh. "Of course, it's completely impractical."
The impractical, even outrageous outfits that film characters often wear must be constructed to withstand the rigors of film production. At times, multiples are made. And for some plots, clothes must show the wear and tear of strenuous life circumstances.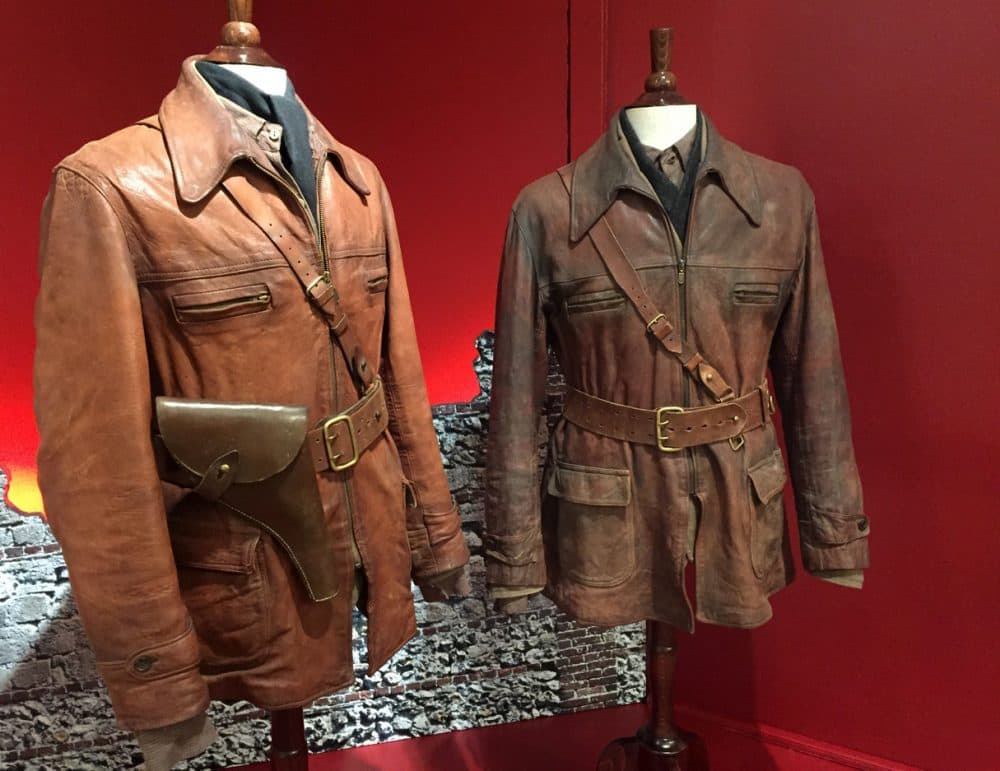 Madden walks to a corner where two leather jackets worn by Daniel Craig in "Defiance." He plays a character who survives in the forests of Belarus for years during WWII. She explains how six jackets were made and then aged with dye and cheese graters. "My mind is blown by the responsibility of keeping sometimes thousands of costumes clean and ready for filming," she says.
Jack Sparrow's costume, flanked by Colin Farrell as Captain John Smith in "The New World" and Heath Ledger as Giacomo Casanova in "Casanova," is a reminder of how similar men's clothing has been through the centuries, with coat length the most obvious variable. A nearby three-ring binder describes how Depp used rocker Keith Richards as inspiration for Sparrow's look. And no matter the film, Jude Law seems to always be dressed as Watson (a three-piece wool suit from "Sherlock Holmes").
It's notable, too, that none of these costumes were made for a character of color. Madden says the exhibit includes all of the costumes offered. The absence is subtle evidence of what the #OscarsSoWhite campaign brought to the fore last year, in response to the overly-white Academy Award nominees and an indisputable dearth of leading roles with people of color.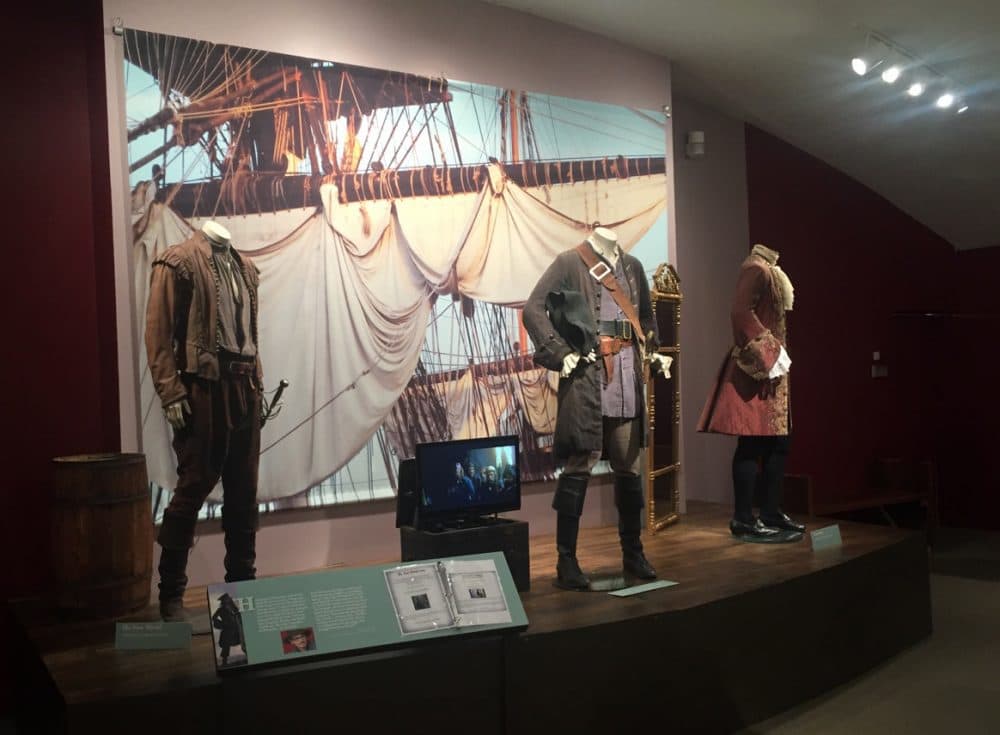 The one-room arrangement with peninsular platforms allows for viewing garments' craftsmanship from nearly all sides. Museum staff selected their own images to use as wall-sized backdrops, such as one of the Paris Opera for the "Phantom" costumes. They also culled through hours of the 26 movies represented to find accompanying clips. The most effective is a scene of Keira Knightley as Georgiana, Duchess of Devonshire in "The Duchess." In it, her character mentions the ostrich plumes on her hat, popularized by the real-life Duchess.
Because the actual Duchess was both a fashion icon and political activist, Varekamp marvels at the ingenuity of her character's look in that particular scene. "It's a military-styled costume in blue and used leather, which most women's clothes would not use, and the colors were of the Whig party," Varekamp told me. It was one of the costumes she singled out for her lecture. "The foxtail clearly connects to Charles James Fox, [the Whig leader] she's introducing."
Understanding a character's interior life is vital, said Varekamp, because "the other stuff is all surface. You're bringing out how are they wearing something."
Every year Varekamp takes design students to observe the few European ateliers that still make lace by hand or can loom the same fabrics worn by Marie Antoinette. They are centuries-old practices that are being replaced by technology and what Varekamp calls a hunger for "fast fashion." When a film demands historical accuracy, Cosprop employs historically appropriate materials and practices.
"That's the thing," reflected Varekamp about what's worn in films or on the street. "It's an historical marker of who we are. Clothing really identifies people. That's not something that should be taken lightly."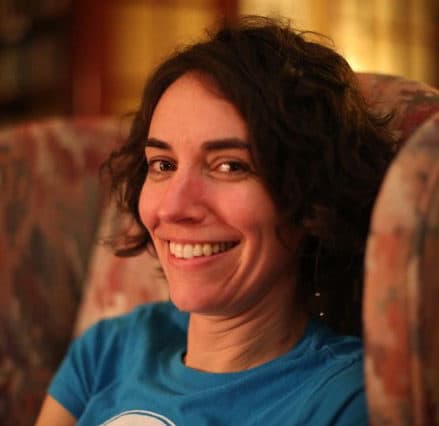 Erin Trahan Film Writer
Erin Trahan writes about film for The ARTery.