Impressions Of Downtown Doors And Windows Evoke 'Dream' Of Boston Architecture
"What I love about downtown is it's this amalgam of all these buildings from every different architectural style," Rhode Island artist Elizabeth Keithline says.
It's the last chance to see her "Downtown Dreamtown," a temporary installation of nine building facades standing atop the canopy of Macy's on Summer Street in Boston's Downtown Crossing. The public artwork, a project of the Downtown Boston Business Improvement District, is scheduled to come down Oct. 27.
Keithline, who is based in East Greenwich, directly copied doors, windows and archways from buildings around downtown Boston — the belfry three stories up at the corner of the Burnham Building at 10 Summer St., three gargoyles from The Corner Mall, windows and doors from buildings on Winter, Summer, State and Franklin streets.
To make them, she followed the signature technique that she's been using for two decades — pressing and weaving wire around, in this case, the building facades. The wire impressions were brought back to her studio, supported with poplar frames, covered with fiberglass cloth and epoxy, and backed with steel jacks (an armature often used for theatrical sets).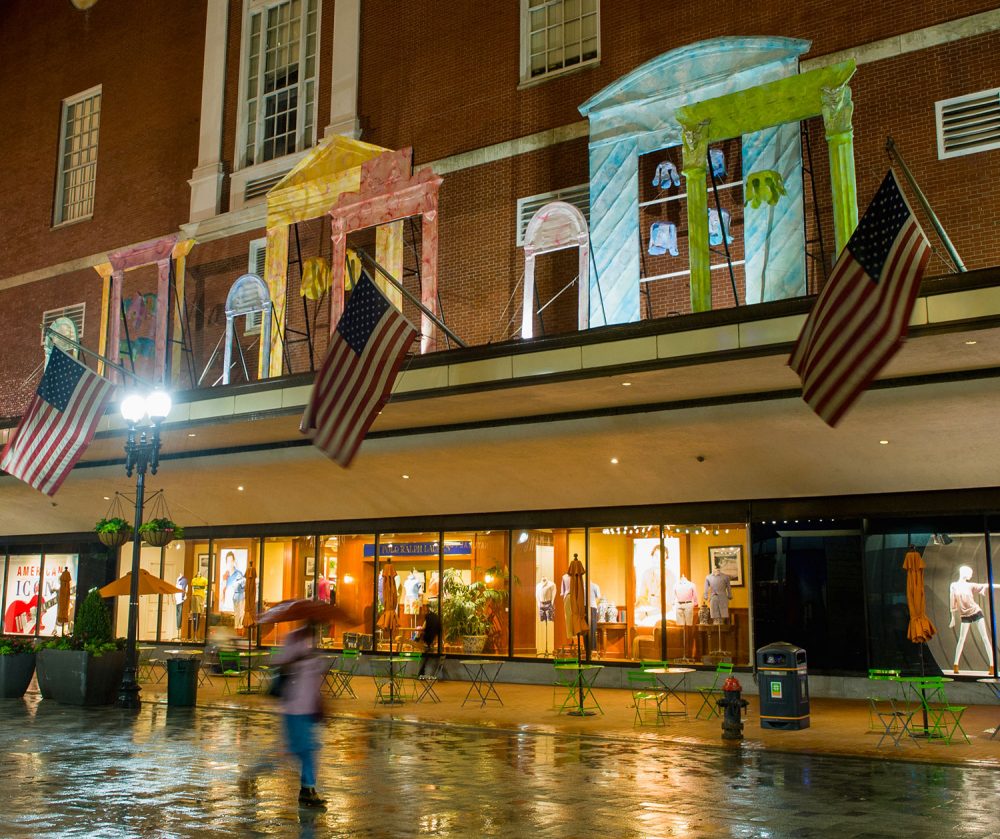 Keithline aims for her doorways and windows — colored pastel blue, yellow, red, green — to bring to mind the different styles, scales and ages of the buildings around downtown. They're meant to be stage-like — copies that draw you in, and get you thinking back to the originals. "Part of it for me was to create a map in your head, to get people to circulate downtown," she says.
She wants people to think too of the handcraft that went into creating the original buildings, to think of the people who labored so skillfully on them. Also these architectural fragments, almost flat, with nothing behind them, can feel something like ghosts.
Keithline says, "I'm creating a memory."