Hasan Minhaj, Of 'Daily Show' Fame, Tackles Islamophobia And Cost Of The American Dream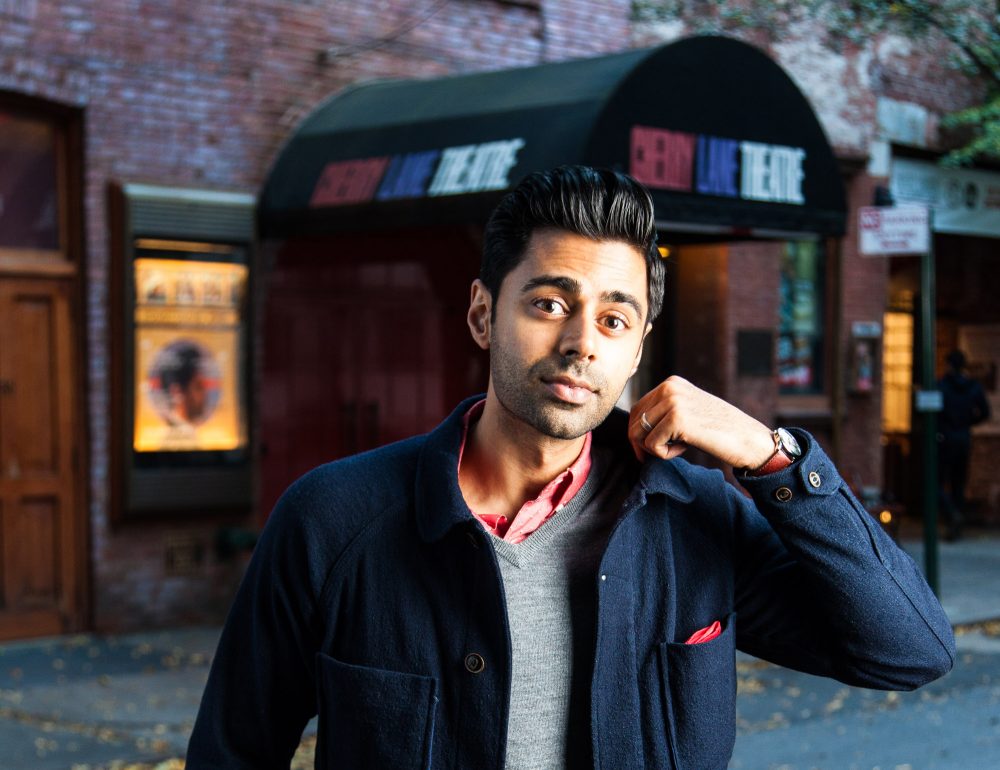 This article is more than 4 years old.
Hasan Minhaj got where he is by being funny. He deploys wicked one-liners with gleeful buoyance as a correspondent for "The Daily Show with Trevor Noah." In his stand-up acts, he punctuates fluid narratives with sly, wide-eyed asides. But Google his name, and you'll likely find him in a moment of rare seriousness: in a viral clip of his speech at the 2016 Radio and Television Correspondents' Association Dinner, eviscerating Congress for its inaction on gun control.
It is this inclination to speak truth to power, coupled with a willingness to be earnest, that informs Minhaj's one-man show, "Hasan Minhaj: Homecoming King." The show was born as an Off-Broadway production in 2015 and comes to Boston's Wilbur Theatre on Sunday, Nov. 13.
In it, Minhaj — now 31 — plumbs his boyhood growing up in Davis, California, as the overachieving, but socially struggling, son of Muslim Indian immigrants. He turns a discerning and empathetic eye toward the myriad micro (and not so micro) aggressions he endured from his white peers in high school. But he also grapples with the sometimes insurmountable chasm between his parents' perspective and his own relative privilege. What are a few racial epithets compared to hunger, war and poverty? What's the loss of a prom date when you have all the opportunity afforded by the American dream?
Minhaj, a featured performer on the acclaimed storytelling series The Moth, possesses an innate sense of narrative pace and detail. He is the same in conversation — effusive, impassioned, sharp. Minhaj spoke recently over the phone from New York City, where he had just finished filming a "Daily Show" Halloween segment, about "Homecoming King," high school and why he chose storytelling over stand-up. The interview has been condensed and lightly edited for clarity.
It's interesting to me that you decided to go with a one-man show as opposed to doing a stand-up special. Can you tell me a little bit more about this journey toward storytelling?
By me telling my own story onstage, the topics that we're getting into in the show — racism, privilege, forgiveness, the American dream — these are really, really loaded topics. … And whether you want to agree or disagree with the politics or the subject matter of what I'm saying, I don't think you can deny the experience. And I think that's a really powerful tool.
"Whether you want to agree or disagree with the politics or the subject matter of what I'm saying, I don't think you can deny the experience. And I think that's a really powerful tool."

Hasan Minhaj
Another thing I've found is, it does take longer to write and construct the show, because it's centered around a central theme or thesis. But I [have found that] the audience finds it to be significantly more rewarding.
I loved the descriptions of your dad. He sounds like he'd be really scary as a dad, except that he's funny somehow. What is your relationship with him like now?
Growing up in an immigrant household, it's like your parents, especially your father, is the arbiter of truth and justice. He is the judge and jury. I would describe growing up, he was like a firewall, like an internet firewall to our house. Basically, information from the inside world comes in, and then he disseminates it to you. And it's like, these are the rules: no fun, no friends, no girlfriends — you can have one in med school. And these are super real, for real rules.
I have gone on to become my own person and break the rules that he has told me to not break. To openly talk about LGBTQ rights, to say what I said at the [Radio and Television] Correspondents' dinner. Those are things that he has specifically told me, like, "Hey, I know these are your beliefs and your opinions, but keep them to yourself, they're going to hurt you in the long run."
So he's mostly worried about you?
Yeah, he's worried about my safety. And you got to understand — my parents come from a world where safety isn't guaranteed. My dad is a child of the Partition. That was one of the largest exoduses, mass movements, of people in history, when Pakistan was created as a country. My dad was born during that period of time. So his family made the risky decision to stay in India and not go to Pakistan. And a lot of riots and fights and really, really ugly things happened during that period of time. And you got to think about it — my grandmother is older than the context of an entire country. My grandmother is older than the country of Pakistan. Isn't that wild? So their perspective is about survival.
A lot of your material is about your high school experience. Is this a coming-of-age show?
Yeah, I would describe it as almost a brown John Hughes movie. … There's one story that I tell in the second act of the show: The night is Sept. 12, [2001] and I was sitting there at the dinner table and — just to give you the 90 second gist of what the act was — sitting there at the dinner table and my dad's like, "Look, whatever you do, Hasan, don't tell people you're Muslim, and don't talk about politics at school, OK?" Like, "Cool dad, I'll hide it." We hear these loud thuds outside. My dad runs outside. All the windows to our cars are smashed in. I run outside. I realize it's some kids who are prank calling our house. I'm running up and down the street looking to see: Are they in the bushes, are they in the trees, are they watching us? How do they know? How did they know to call our house and prank us? It was all happening in real time. I look in the middle of the street. My dad's in the middle of the road, pajamas, barefoot, sweeping glass out of the road. That way, our neighbors wouldn't notice what happened. And I run up to my dad, and I go, "Dad, why aren't you upset, why isn't this making you upset? It's so wrong. It's f----d up, this is really wrong." And my dad goes — and I translate it in Urdu — he goes, "This is the price you pay for being here. These things will happen, and these things will continue to happen. This is the price for being here."
That's when I truly did realize — beyond the cliché stuff of, "My parents thought this, but I think that" — I'm like, no. This is the way immigrants thought of America for centuries. Whether it's Polish, Irish, Catholic, Italians, Jews — the first generation always believes that you come to this country and you pay this American dream tax. Essentially, you're going to have to go through this specific amount of racism, and if it doesn't cost you your life — well, hey, you lucked out. Pay that tax. Sign the check, pay it immediately. And I'm from the generation where I'm born here. So in a weird way, I have a sense of entitlement. Like, "No, I'm in honors gov. I've read about this. Life, liberty, pursuit of happiness — it says right here on my American dream receipt. All men are created equal — I'm equal. So I don't deserve this." And I look at my dad, in this story, and he looks at me like I believe in Santa, and he just walks back in to the house with glass in his feet.
"...these themes, these stories, that night of feeling lonely and afraid on Sept. 12 -- those nights are still happening in 2016. That's the reason why I did the show."

Hasan Minhaj
Is he right, or am I right? Is the earlier generation of Jewish Americans, Polish Americans, Japanese Americans? Are you supposed to just put your head down, start that business, become a doctor, get a house in the 'burbs, let them call you whatever they want to call you, and then you laugh later? Or is it my responsibility — our responsibility — to move the needle forward, little by little? … And I'll be honest with you — there's some days where I'm like my dad. When people want to ask me, "Hey Hasan, what did you think about Donald Trump's comments?" and I just want to close my door, tell my jokes, live my life as an American citizen. I don't want to carry this burden of an entire people on my back. And then there's other days where I'm like, "No, I want to speak out and I want to say something." And if the 2016 election's direction has taught us anything — these themes, these stories, that night of feeling lonely and afraid on Sept. 12 — those nights are still happening in 2016. That's the reason why I did the show.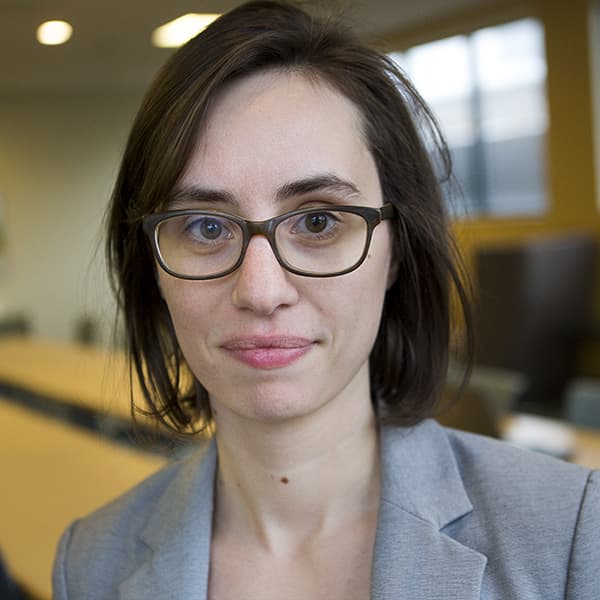 Amelia Mason Arts And Culture Reporter
Amelia Mason is an arts and culture reporter and critic for The ARTery, WBUR's arts and culture team. She covers everything from fine art to television to the inner workings of the Boston music scene.