Ryan Landry's 'Murder On The Polar Express' Slays This Holiday Season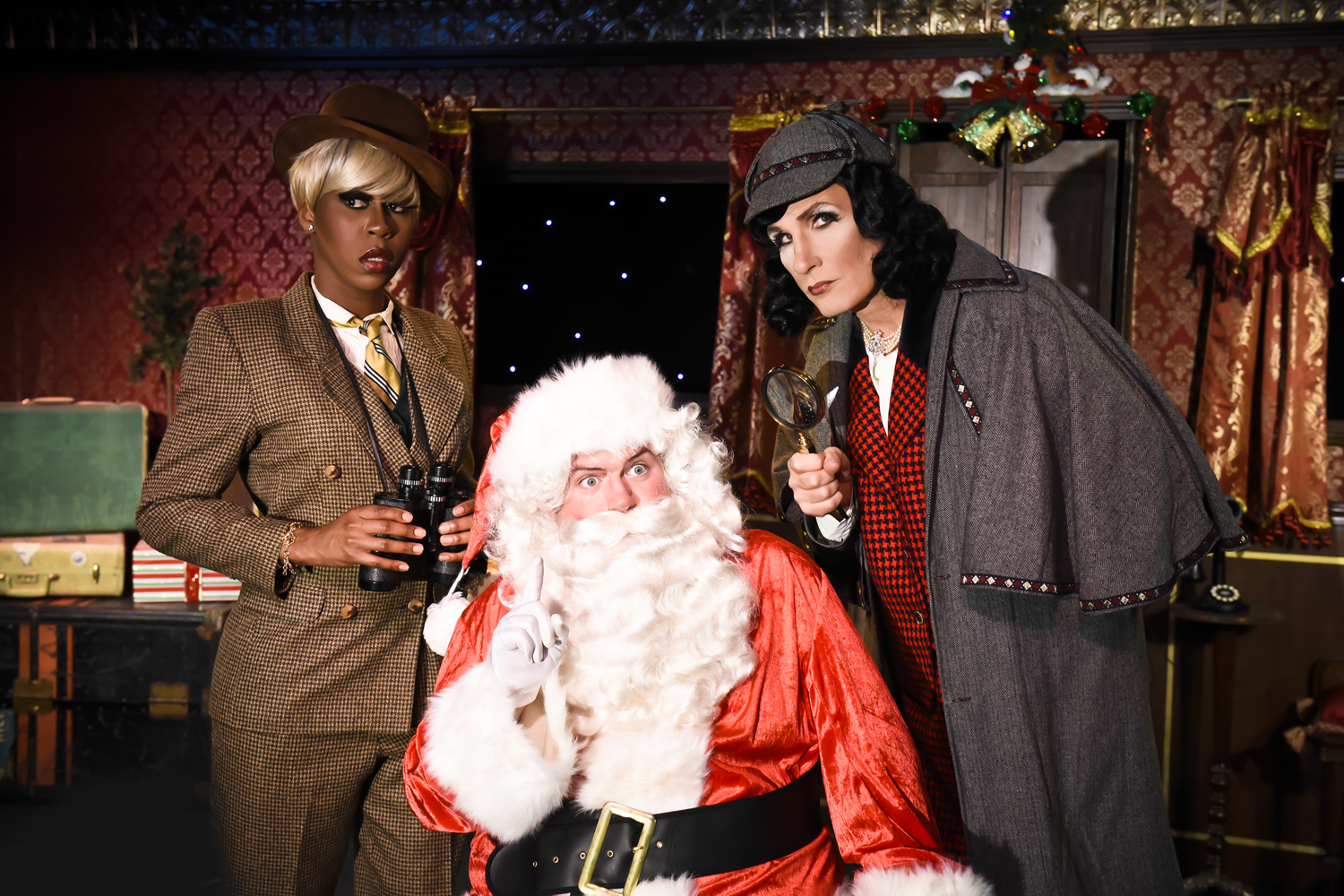 This article is more than 4 years old.
All aboard for madcap merriment and mayhem! Ryan Landry and the Gold Dust Orphans make a raucous holiday gift out of their latest parodic mash-up, "Murder on the Polar Express," continuing at Machine (formerly the Ramrod Center for the Arts) through Dec. 21.
Veterans of Landry's shows will know not to expect a G rating, even from his holiday offerings. (We are, after all, talking about the guy who gave us raunchy, hilarious fare like "All About Christmas Eve" and "Rudolph the Red Necked Reindeer" in Decembers past.) It's no surprise, then, that not all is sweetness and light for this Yuletide spectacular, and that's not entirely due to the play's criminal element. The humor is bawdy, the dialogue salty and the wintry scenic paintings that flank the handsome Pullman car set aren't all that's blue about this production.
The title alone serves as a précis to the storyline. This ride is an express line to the morgue, and there's no question who the victim will be: Santa Claus, a reprehensible predator who happens to be filthy rich. The motives are few — greed, jealousy and revenge -- but the suspects are many (10 in all), and they are drawn from all quarters of the winter holidays. Among them: the Grinch (Larry Coen) and his rockabilly boyfriend with the conspicuously red and shiny nose, Rudy (Gene Dante); Frosty the Snowman, who hovers with possessive anxiety around Suzy Snowflake (Shana Dirik); and even a Disney princess, Elsa, from "Frozen" (Jessica Barstis), who basks in the romantic attentions of a go-go boy Porter (Casey Preston).
The rest of the rascals are just as (in)famous: A perpetually drunk Mrs. Cratchit (Scott Martino); the Little Match Girl, a.k.a. Barbra "Streisandberg" (Lauren Elias); a Nazi Drummer Boy (Tad Mckitterick); a beleaguered elf (Alexander Davis); and a tough, trash-talking Virgin Mary (Sarah Jones).
But wait -- there's a diabolical twist. The cast of killers find themselves marked for death in turn by a phantom of operatic wiles and pop song accompaniment by the GlitterPuss Dancers, a lively quartet featuring Meredith Langton, Briana Scafidi, Gary Croteau and Gabriel Nesser. Like a gleeful Greek chorus of carnage, this energetic troupe takes the stage early, often and in a fantastic array of costumes.
Landry's book takes the plot of the celebrated Agatha Christie mystery (along with borrowings from other Christie novels) and sets it aboard the Polar Express (that being the magical express train to the North Pole from the 1985 children's book and 2004 animated movie). The crimes and the clues are baffling, but fear not: Landry pilfers another great mystery icon, importing into the proceedings a drag version of Sir Arthur Conan Doyle's pipe-puffing master of deduction. Shirley Holmes (Landry), "the world's greatest she-tective," happens to be aboard the train, traveling with her fierce and sarcastic sidekick, Dr. Jody Watley (Qya Marie) — who, in a steamy subplot, also shares the go-go Porter's attentions.
The book (by Landry) sizzles with vulgarity-encrusted one-liners, spicy turns of phrase and spiky double entendres. The lyrics (also by Landry) are set to instrumental versions of songs you'll recognize, and are of a piece with the show's filthy, funny gags. This funride sparks and jolts with vivacious lowbrow wit and pointed topical humor.
The snappy script is matched in all respects by the production's design, from Langton's spirited choreography to Brian Riordan's scenic art and the set design by Martino, Victoria Dowd and Ken Dowd. Martino's many costumes are a special treat, as ravishing as the play's punchlines. Coen's direction keeps this train clattering along at top speed while permitting the cast to function as they do best, in a broad, Vaudevillian mode. Don't miss this uproarious, visually extravagant slay-ride.
---
"Murder on the Polar Express" continues through Dec. 21 at Machine in Boston.