Frank And Funny: American Rep's 'Trans Scripts' Delivers Unguarded Access To Trans Women's Experiences
05:01
Play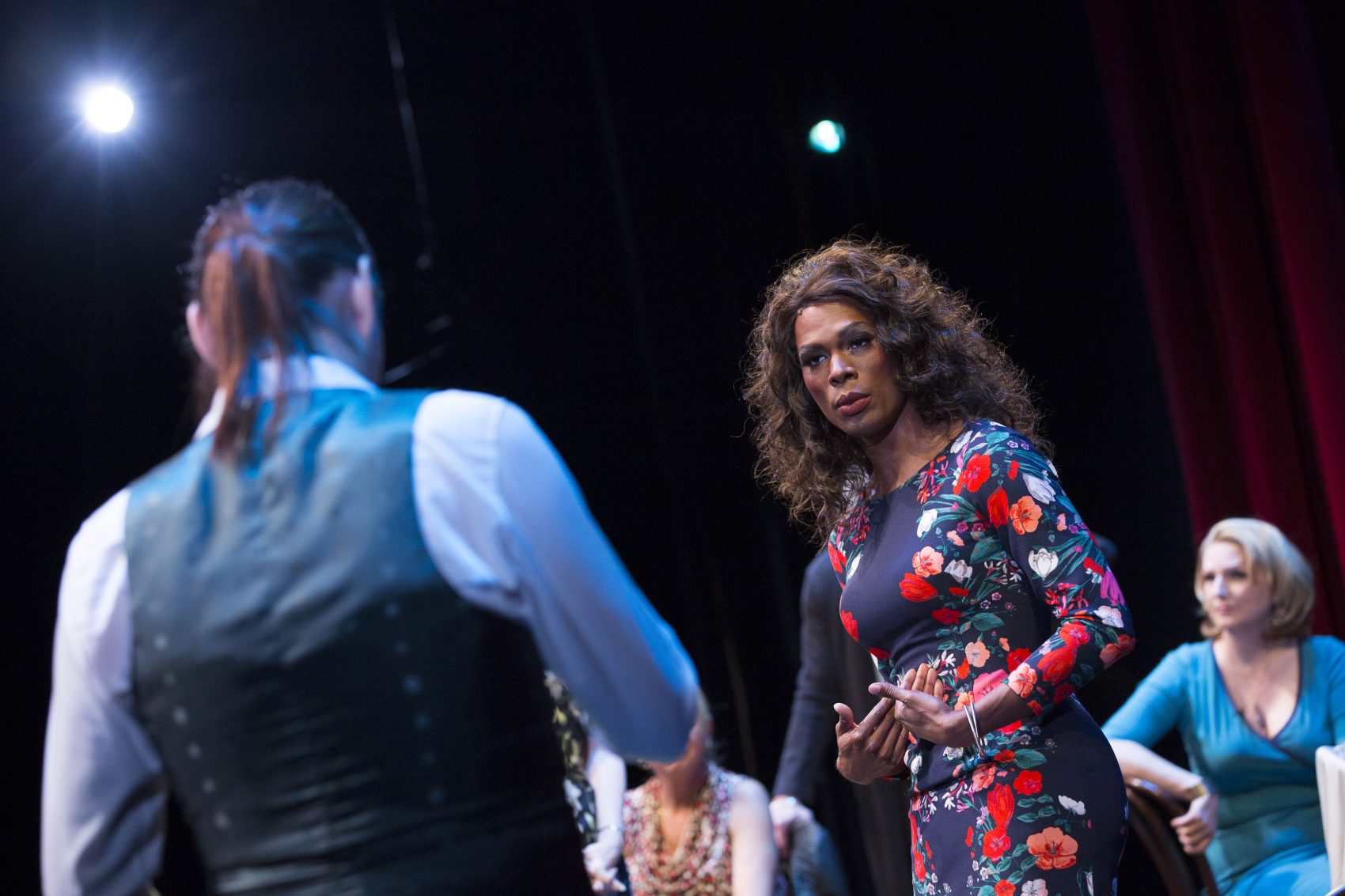 This article is more than 4 years old.
Fashioned from the very words offered to playwright Paul Lucas by the people he interviewed around the world over a four-year period, "Trans Scripts, Part I: The Women" distills hundreds of firsthand accounts into seven distinctive characters and curates authentic, from-the-heart stories that are sometimes painful, unstintingly frank and often cathartically funny.
There are shelf loads of books available to help cisgender folks better understand who trans people are, and what they are trying to say. ("Cisgender" refers to people who are born with anatomical genders that correspond to their gender identity.) But there's nothing like the words of the person living the experience, delivered with sincerity and generous accessibility to that person's beating heart.
Hearing these women's stories has given me deeper understanding of things I've heard from members of my extended family and friends who are trans. It's hard to have an unguarded, honest conversation when you're afraid of accidentally offending by asking the wrong question in the wrong way or inadvertently saying something that reinforces prejudices that can make a marginalized person's participation in the wider culture fraught. That's where this brand of theater comes in like a lifeline to those who think of themselves as allies, or simply wish to understand.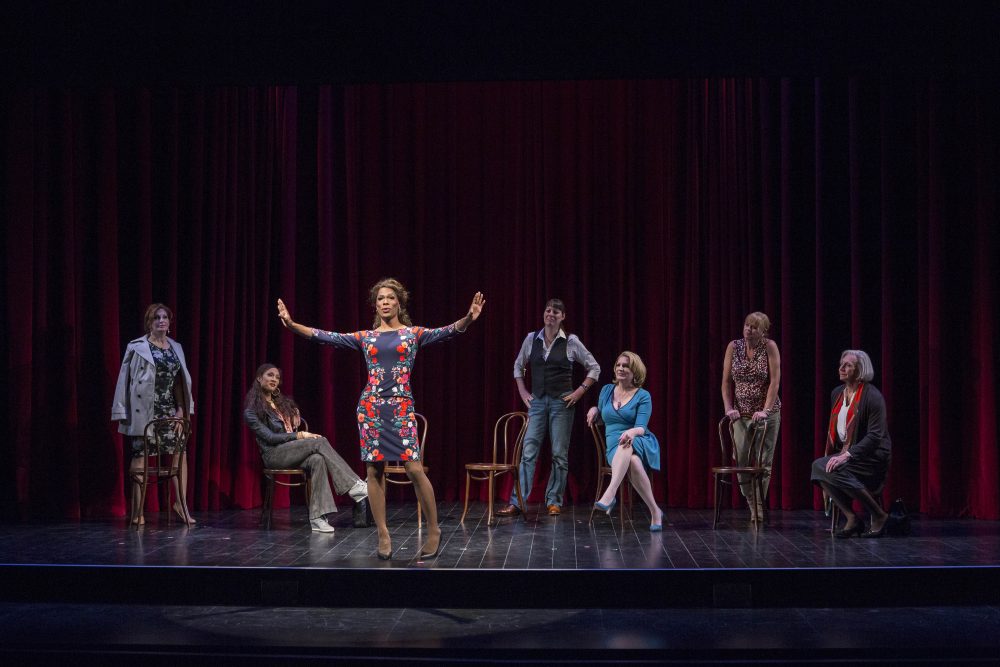 If a picture is worth a thousand words, the American Repertory Theater's production of "Trans Scripts" is a seven-sided portrait that imparts the wit and wisdom of an entire library. It also explodes myths by the score, and rejects the very idea of a one-size-fits-all approach. The myth-busting is rooted in the characters' testimonies, but it starts with the performances. The characters' femininity and essential gender comes through the cast's poise, inflections and manners. They're not imitating anyone. They are simply, and finally, setting aside artifice and presenting themselves.
That's not to say the piece offers a monolithic representation or sets out bullet points for easy reference. The seven characters presented here represent a full spectrum drawn from complex, highly variable perspectives, from a scrappy young Latina named Luna (MJ Rodriguez) to Zakia (Matthew Hancock), a self-assured African American who has survived the sometimes mean streets of Chicago, to a 60-something English gynecologist who, after a lifetime of misery and confusion, has at last found clarity and now calls herself Violet (Jack Wetherall).
Accordingly, the terminology these ladies use is as varied as they are, themselves: Eden (Rebecca Root), a tough Brit from Northern England, claims the title "hermaphrodite," while others, including Dr. Violet, use the more vintage classification "transsexual." One character recalls having once thought of herself as a "cross-dresser" — a common misapprehension — before waking up to the knowledge that by donning women's clothing, she was simply reflecting on the outside who she knew herself to be within. In other words: "I don't consider it cross dressing now." And why would she? She's a woman, wearing woman's clothing; the problem was never the clothes, but rather the body she'd been wearing.
Just as diverse are their personal journeys and their descriptions of how gender and sexuality intersect. Josephine, a middle-aged Australian, explains how she's attracted to women while also knowing deep within herself that she is a woman. Her wife — a heterosexual woman who married Josephine when she was still living and presenting as a man — accepts and loves her, post-transition, and even, Josephine says, prefers her as she is now to the way she used to be.
The women themselves echo that sentiment: having defied societal norms and familial expectations to live authentically, they have transitioned from despair and suicidal ideations to challenging, but fulfilling, lives of purpose and inner peace. As one character puts it, "It's not only a gender quest — it's a human experience." Another sums it up with the cheekier, more provocative observation that "transitioning is a confidence trick" — meaning, it takes a measure of courage and agency to summon enough belief in oneself to brave prejudice, ignorance and — all too often — violence.
Inevitably, the subject of intimate relationships arises, as does the specter of sex work. Zakia addresses the latter topic with an unapologetic zinger: "Things come out of these men's mouths that make you want to charge them," she declares. Another woman offers a gentler, though equally candid, assessment of the issue of romance by noting that couples in love can deal with whatever physical challenges they might face if they're willing to exercise some imagination — to wit, "whatever you haven't got on either side you go out and buy."
Director Jo Bonney's work here is invisible, but potent. The actors are acting, and yet you also pick up on the personal truths behind their performances. The result is a warmth and sincerity of connection that makes you willing to think and feel even when you're not quite at the point of understanding.
But don't think that means this is a touchy-feely show. "Trans Scripts" skewers privilege, calls out the gay rights movement for too often showing a willingness to leave trans people behind, and resorts to crude (if, in context, satisfying) language. By doing so, however, the show gives friends and relatives of trans people welcome insight into areas they might hesitate to venture into on their own. One priceless example: Eden describes what it's like to ride a public bus on any given day. Heterosexual couples debate as to whether she's a woman or a man; teenagers snicker uneasily behind their hands. When one youth boldly approaches her and demands to know her gender, Eden responds with delight: "I love this. She's talking to me, not about me." It's in that same spirit that these seven women talk to us, with the idea that talking serves as an invitation to listen.
And, really, I could have listened for twice as long. It feels a little ungracious to ask for more illumination when you're already being offered a lantern to dispel the shadows, but I did find myself wishing for a little more discussion of how non-binary gender identity intersects with the material at hand. When Josephine touches upon this, the question becomes especially acute. She now seems to see herself as a lesbian, but was she always a lesbian, albeit in a man's body? Is that even a constructive way of thinking about it? Does such binary gender thinking put a stranglehold on our ability to perceive an even bigger and more comprehensive picture?
It's a good thing that this show is "Part 1," because it provokes a deep hunger to know more. One automatically assumes that "Part 2" will present the experience of trans men — in itself, that proves a point about the prevalence of gender-binary thinking — but will there be a "Part 3" to delve into the equally complex and diverse world of non-binary gender, and the ways in which it relates to relationships and sexuality? To put a new spin on an old saying, newly expanded minds want to know more.
"Trans Scripts, Part 1: The Women" continues at the Loeb Drama Center through Feb. 5. Each performance is followed by an "Act II" moderated discussion with activists, medical professionals, scholars and others. A parallel series, "The I.D. Festival," also continues at the A.R.T.'s second stage, Oberon, through Feb. 4.
Kilian Melloy Theater Critic
Kilian Melloy is a contributor to WBUR's The ARTery.