As Staff Plan An 'Exit Strategy,' A Student Fights For The School's Survival At Zeitgeist Stage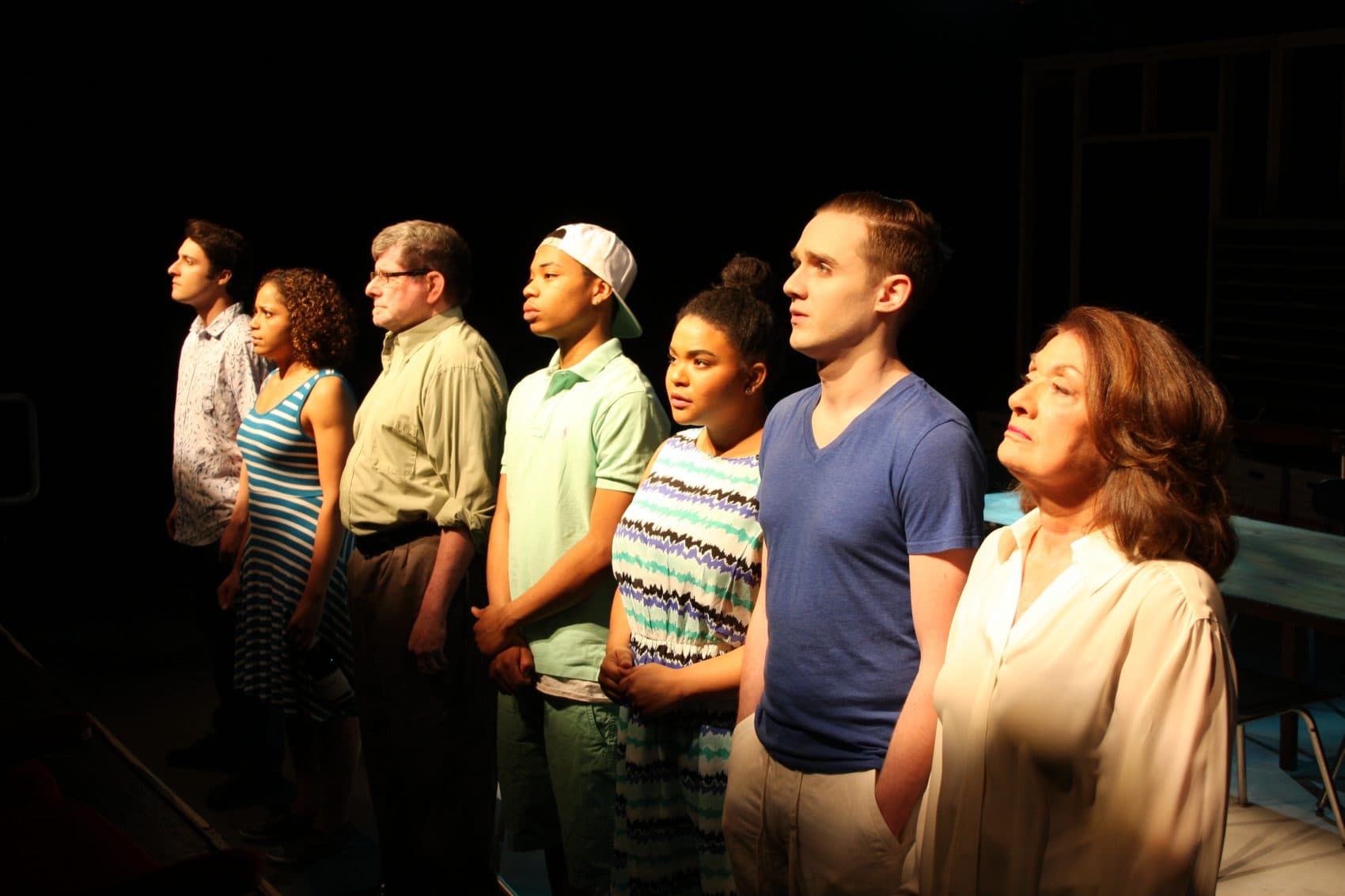 This article is more than 3 years old.
Zeitgeist Stage Company's production of Ike Holter's "Exit Strategy" brings a well-chosen assortment of characters vividly to life, offering heart and humor as a counterbalance to the playwright's grim message about the state of our educational system. It's not a perfect work, but the likable cast, spot-on humor and vibrant production design mostly succeed in papering over the play's hit-and-miss dramatic elements.
Set in the present day at a failing Chicago high school, "Exit Strategy" (at the Boston Center for the Arts through March 11) focuses on how a small group of teachers and administrators cope with the school's impending closure. It's a disheartening situation that affects everyone according to their temperament and background, and the production's cast members give their all to their respective parts. Maureen Adduci plays hard-as-nails Pam — a veteran teacher of more than 20 years — with forceful gusto; Robert Bonotto plays Arnold, Pam's closest friend and a fellow survivor of a broken system who once burned with zeal for his pedagogical mission. In Bonotto's reading, Arnold is exhausted — clinging to his dignity, but no longer capable of riding into the breach to fight for his students.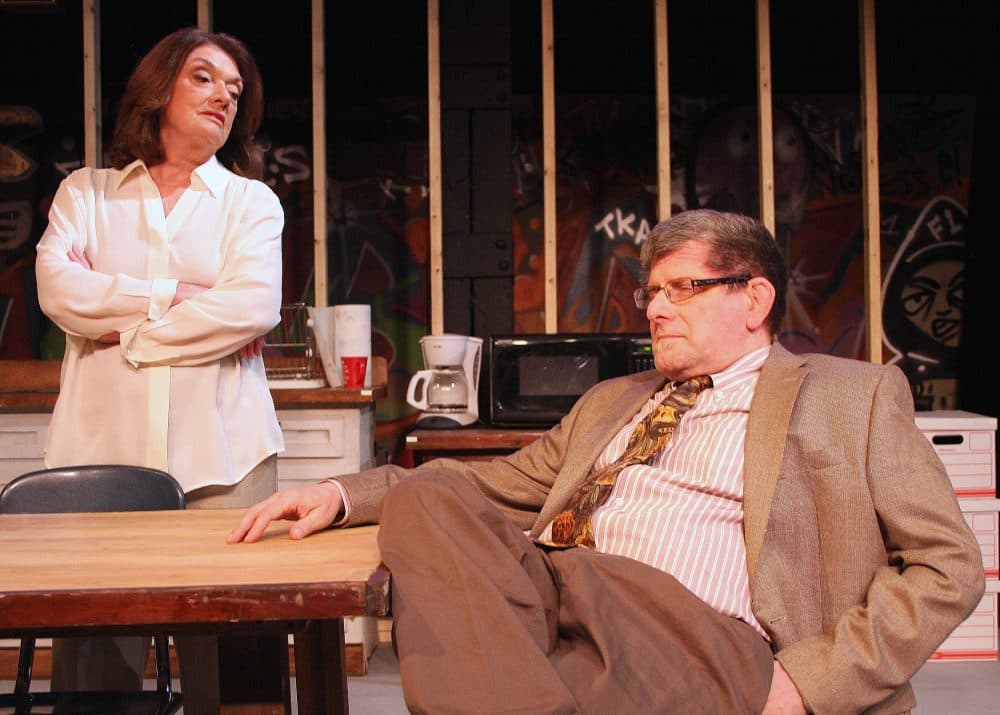 Johnny Quinones brings youthful energy to the role of Luce, a teacher not that much older than his students who manages the stresses of the job in much the same way the school's pupils might — by resorting to his bong. Victoria George is no-nonsense and object-oriented as Jania, an educator who has already been traumatized by one school closure and who may not have the resilience to get through another. Lillian Gomes plays Sadie, a complex character who spends her own money to equip her classroom and provide her students with juice boxes — and the building's rat population with poison. Gomes invests Sadie with the kind of righteous swagger that drives both her generosity and her control issues.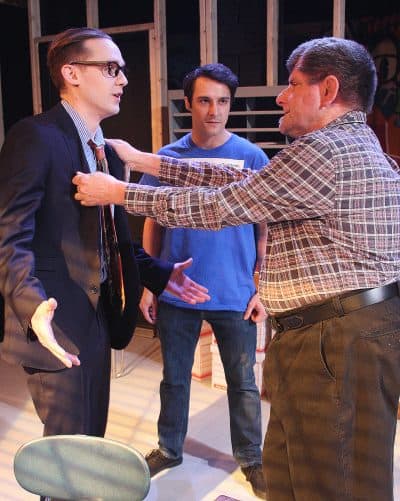 Matthew Fagerberg rounds out the cast as the vice principal, Ricky — a weak-willed and stammering bureaucrat who inspires nothing but contempt in staff and students alike. Once inspired, however, Ricky grows into himself and, wrenchingly, out of the relationship with a colleague he's been trying to keep concealed. Fagerberg achieves a complete metamorphosis.
But the plot's real motivating factor — and, in a way, its bleak punchline — lies with the final character, played by Jalani Dottin-Coye. This is a student named Donnie, a teenager who is both less privileged and yet more assured than any of the teachers. Donnie takes to social media in an attempt to whip up public support and save the school. It's a striking contrast: While the adults in the room outline their next moves — retirement, resumes, suicide — Donnie digs in his heels. He has no exit strategy. Education offers the only hope, slim as it is, to escape poverty and a life on the streets. Dottin-Coye delivers a performance that, at its high points, electrifies. It's fitting, because it's Donnie who energizes the adults to action.
Holter builds his play around the characters, mostly avoiding polemics and politics in favor of well-defined personalities and the conflicts and alliances that arise between them. Director David J. Miller, who also serves as scenic designer, underscores both cast and setting with a mix of the lavish (a brightly colored, busily kinetic graffiti mural serves as a backdrop) and the minimal (it's only through the skeletal framing of an unfinished wall that we see the mural).
The direction and performances sell us on the play's sometimes too-handy twists, while the writing takes pains to sidestep the clichés you fear are coming. Thankfully, there is no dance contest with a big cash prize; there's no eleventh-hour reprieve achieved through a rousing speech; and, the social media aspect notwithstanding, the play avoids collapsing into a magical bromide of hashtags and Facebook re-shares. (Those things play a part, but they don't save the day.) You can't predict where things are heading, and that in itself is enough to forgive the occasional misplaced element of fantasy or fuzzy plot point.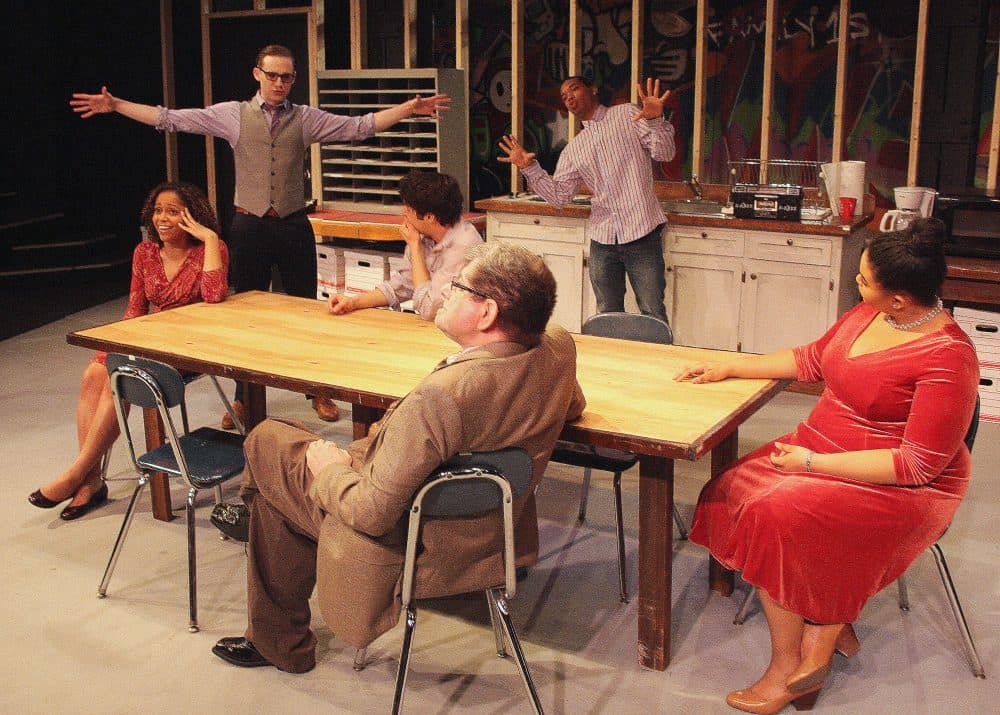 The flipside of this approach, however, is that the play sometimes wanders a little far afield, and while the humor never suffers for it, the dramatic tension tends to sag in the middle. As if in compensation, sound designer Matthew Good creates sonically complex, overwhelming musical and acoustical effects. There's a definite emotional response to be had from his work — especially when it's played at chest-thumping volume — but you come away feeling that this is a prop for the story, rather than a successfully enmeshed design element in the telling of that story.
That's not to say that the subject matter isn't of urgent importance. What could be more critical to America's future than the proper care and education of our youth? Holter doesn't shy away from the difficult and depressing news that we're failing at the task more often than is tolerable, and we're headed toward who knows what sort of disaster as a result — but neither does he offer much more here than a distraction along the way. "Exit Strategy" definitely prompts your conscience, but it doesn't quite break through into raising your consciousness.
Correction: An earlier version of this post misspelled Jalani Dottin-Coye's name. We regret the error.