Everett's Freestyle Clinic Gives Hip-Hop Enthusiasts A Chance To Hone Their Skills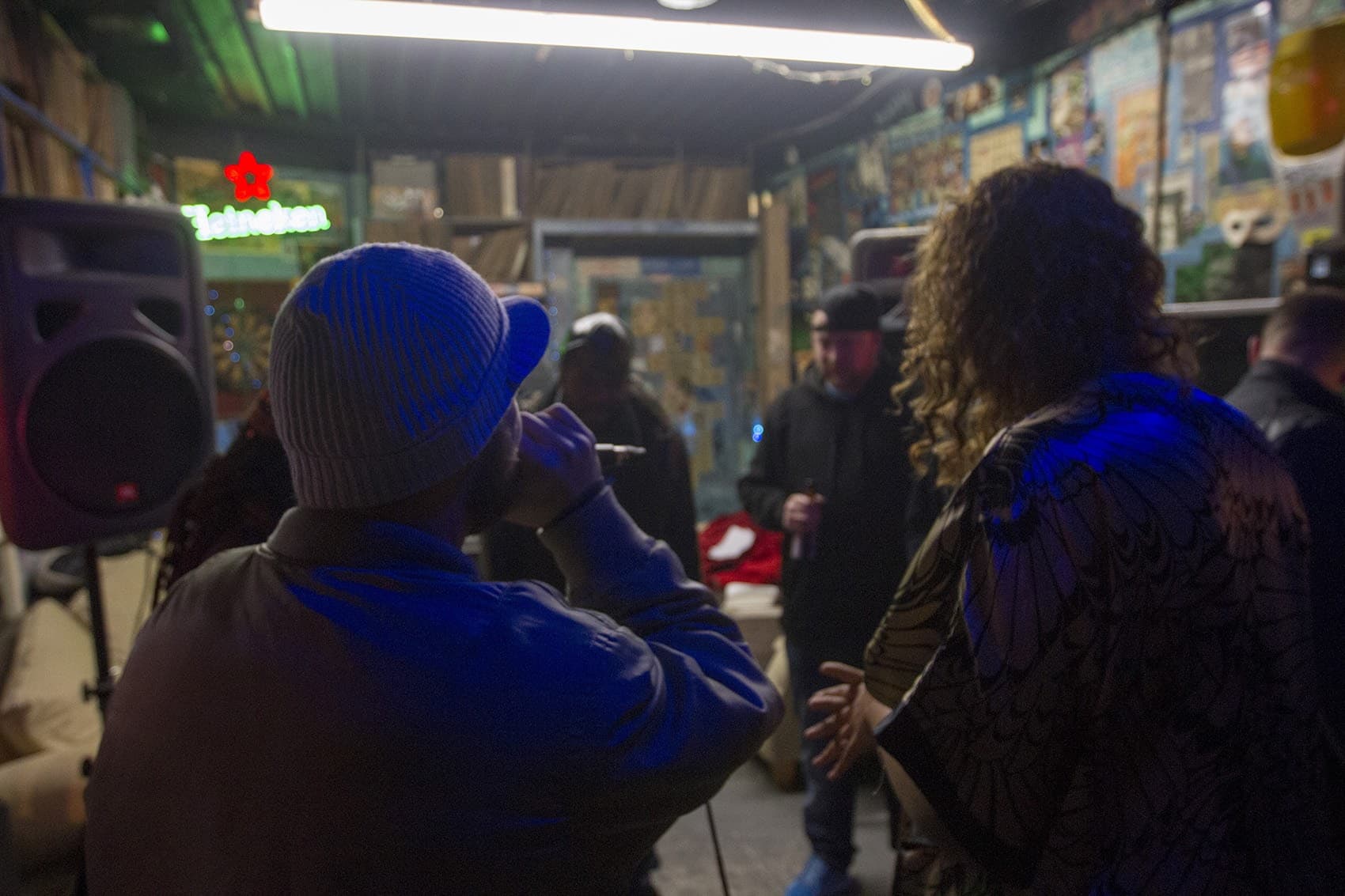 This article is more than 3 years old.
In the small and unassuming space, tucked into an industrial warehouse in Everett, MCs crowd into tight circles, while two mics are ritualistically passed around the room. Artists and enthusiasts alike, cheer each other on, as bass-heavy beats pump from the subwoofer stacks. First-timer Taylor Garcia looks on, anxiously awaiting his turn to showcase his rhymes.
Every Monday night, for four years and counting, vocalists and DJs have gathered for the Freestyle Clinic. The space, known as "The Blue Room," is heavy with smoke and graffiti. Thousands of vinyl records line the walls. It's winter, and the un-insulated area is warmed with space heaters, reaching its capacity at about 25.
The cypher — which is basically the order and structure of the unscripted song — is governed by an unspoken decorum, keeping MCs sharp and the narrative consistent.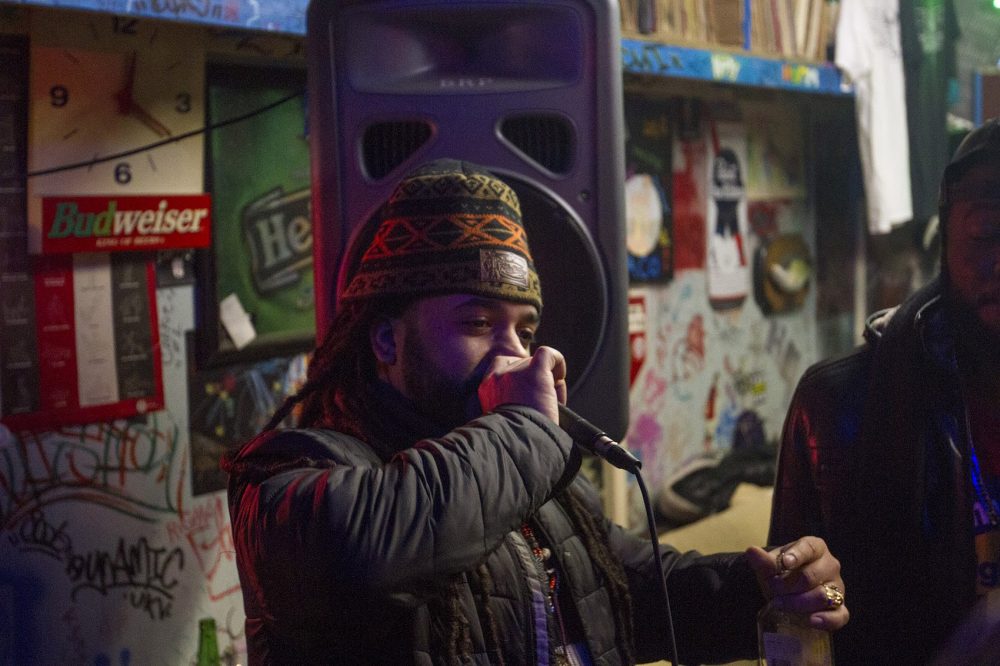 "Listen, you wanna get in the cypher, I'm not gonna give you the lane, you have to come take it. Cause if not, I'm gonna keep going and cancel you out," elaborates Freestyle Clinic co-founder Estee Nack. "I'm gonna cut you short. You have to be out there and be present in your community because this is a culture. We represent hip-hop culture."
Matt Demarco, who goes by the stage name Seti Tzu, was Estee Nack's partner in starting the gathering.
"Technically, Estee Nack coined the name of the Freestyle Clinic," he says. "We were already here every Monday to play records and freestyle in the room, and he said to me that we should get more MCs in here who want to get their skills up. It just made perfect sense."
Estee Nack, from Lynn, and Seti Tzu, from Malden, are both veterans of the underground scene, having performed extensively throughout New England over the years. Estee Nack is part of the Tragic Allies crew, while Seti Tzu is typically a solo act. Together, they hope to strengthen the local community by performing and mentoring.
"We aim for artist development and self-development," says Seti Tzu, explaining the cohesive nature of the gathering. "It's not really a competitive space. People come into a real cypher with no regulations. Before, there was a lot of battle rap in the early 2000s. Now a lot more people are collaborating, and the scene is definitely stronger."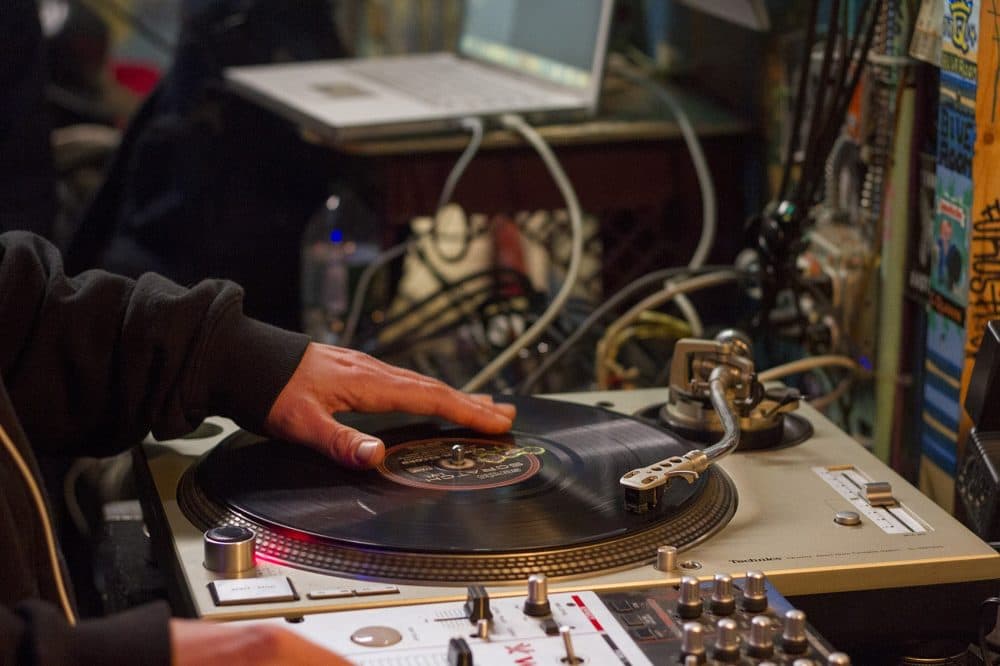 Onlookers intermingle freely with artists in between cyphers, creating a communal and welcoming atmosphere for the art to live. Years-deep stalwarts of the scene like Angelo Silva aka Relentless Tangible, work the turntables, providing live beats for journeymen MCs and newcomers like Garcia.
Situated just off the Santilli Highway, this weekly workshop has served as the proving ground to area MCs, DJs and producers, who seek to sharpen their skills through impromptu collaboration. Through its dogged longevity, there emerges a new model for artists and would be artists, who seek a home for their performances.
Without a major label or many internationally acclaimed acts, Boston area hip-hop, by and large, remains a grassroots community, poised to find its voice from the underground.
The innovation of the Freestyle Clinic has paved the way for others, like The Subway Cypher -- a weekly gathering at the Downtown Crossing T stop. For DJs and producers, The Shift, where a producer clocks in for an 8-hour shift in a Boston storefront to create a beat tape from the ground up, has emerged.
Even as the scene evolves, there remain obstacles to major growth, explains music promoter Lisa Finelli, founder of the artist development outfit, Xperience Creative. "It's becoming increasingly harder to book a straight hip-hop show — the same thing in NYC. If I book an R&B headliner, and a hip-hop opener, it becomes easier to execute."
Finelli, who has made a name for herself building musical bridges in and out of Boston, predicts a paradigm shift for artists. "I think there will be a transition into non-traditional venues, with people getting away from your typical music rooms and into spaces," she says. "I also see local artists traveling and getting themselves out there more."
Back in Everett, Seti Tzu echoes those problems. "People hear hip-hop, they want you to have police details. There aren't many venues there dedicated to helping artists."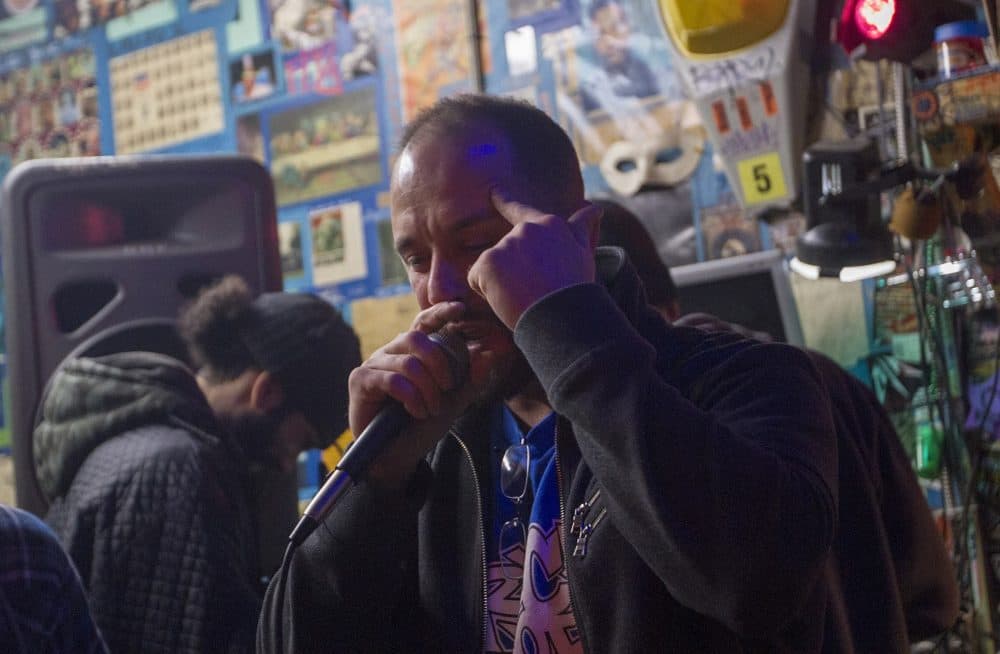 Which is where the Freestyle Clinic comes in. Taylor Garcia, the first-timer at the Freestyle Clinic, perhaps best captures the spirit of the gathering.
Garcia, who goes by the stage name T.Y. The Righteous, lives in a homeless shelter in Harvard Square. He says hip-hop gives him a sense of purpose.
"Even though it's my first time here tonight, people have been treating me like I've been here for years," he says. "They treat me like I'm one of them, I can never really say that I've been part of something because I had to bounce from group home to group home growing up as a kid. I find this so awesome, and I love the fact that I'm getting better, and that I'm with cool, genuine people."
In warehouses, subway stations, street corners or studios, the hip-hop community is all around the Boston area. The passion to perform, and love for the culture has carried the community this far. New voices, honed in settings like the Freestyle Clinic, will no doubt continue efforts to earn Boston a solid spot on the hip-hop map.