In 'Mother Land,' Novelist Paul Theroux Creates A Portrait Of Himself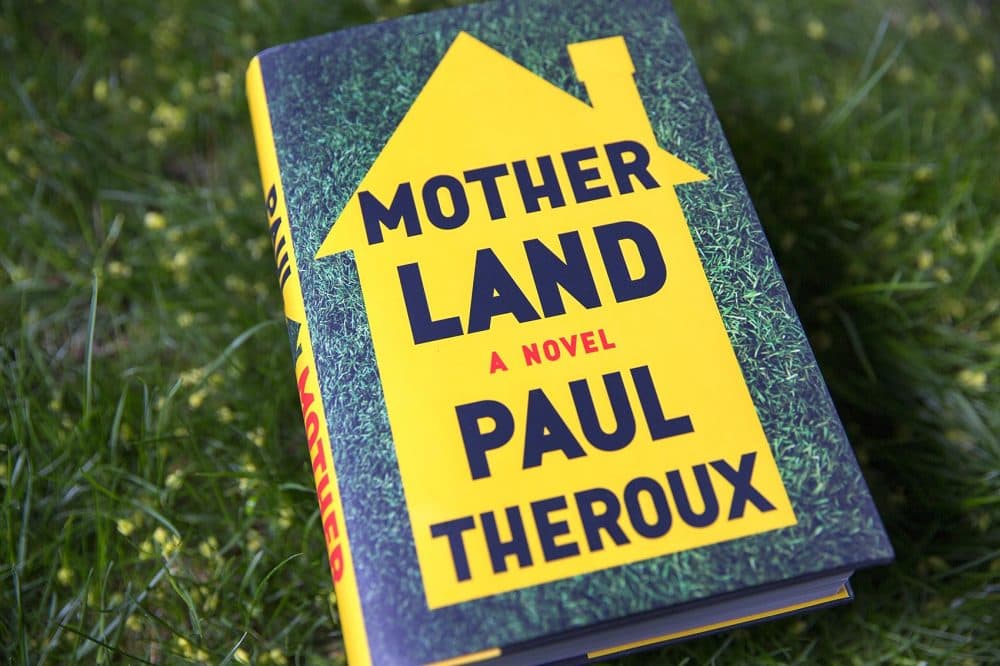 This article is more than 3 years old.
"I think the whole thing is grim, but, I hope, funny," says Paul Theroux, pondering the tone of his latest novel, "Mother Land." "It's oblique and dark, but funny and ironical, too. It's full of deflation and conflict."
The publication of "Mother Land" on Tuesday, May 9, marks a half-century after his first novel, "Waldo," hit the shops. With "Mother Land," Theroux has written a monster of a book. A monster in two ways: the length (513 pages; he cut 25,000 words, he said) and the character of the title, the mother who exerts a controlling — sometimes tyrannical — power on her offspring, well into her old age and their adulthood.
Theroux's protagonist and narrator is a novelist, Jay Justus, a man — not unlike the author — who is a travel writer/novelist of a certain age, hailing from a large Cape Cod-based family. (Every year, Theroux lives in Hawaii until the end of May, when he moves to the Cape and stays through mid-October.)
"You come from a family as from a distant land," Jay muses at the beginning of "Mother Land." "Ours was an outlier with its own customs and cruelties. … There were eight of us children, and one of us was dead." That would be Angela, who perished just after birth, and, yet, remains a shining voice in her mother's fantasy world, unblemished by sin or failure and clearly the most favored of the ever-sparring flock.
"There's an epigraph in the beginning of the book. 'Happy people have no history,' " says Theroux, on his cell phone from Oahu. "And if this was a book about a jolly family all pulling together, pulling the oar, making noodle salad and having a great time with a chorus singing together, is that a book?"
"If you're looking for a theme in the book, or a point in the book, I wrote the book because over a 10-year period there were issues in my family that I was trying to understand."

Paul Theroux
"If you're looking for a theme in the book, or a point in the book," Theroux says, "I wrote the book because over a 10-year period there were issues in my family that I was trying to understand. Then, I realized, this isn't an autobiography, this is a novel, but a book about how I became a writer — by not being supported, but by being challenged. I remember a time when writers were like outlaws — Henry Miller, James Jones, William Burroughs, so many others.
"How do you become a writer? Usually, it's resisting authority and the book talks about how Jay gets no support, but on the other hand, he doesn't really want support from the mother. What he really wants is resistance and that made him stronger in his conviction in being a writer. It gave him something to write about. In a very perverse way, mother is his muse."
The author grew up in Medford. He started college at the University of Maine, went for a year, and then transferred to the University of Massachusetts in Amherst, where he graduated with a Bachelor of Arts. He has written 31 novels, most famously, perhaps, "The Mosquito Coast," made into a 1986 film directed by Peter Weir and starring Harrison Ford. He's also written 17 travel books and one work of criticism, the latter a takedown of a contemporary literary lion, V.S. Naipaul in 1998, "Sir Vidia's Shadow: A Friendship Across Five Continents."
Theroux, 76, has previously written himself into his novels, notably, "a book called 'My Secret History' and one called 'My Other Life.' The key quote in 'Mother Land' is by V.S. Pritchett, who says a writer finds at the end of his writing career that he's used his life and that the life appears in the foliage of his work."
His travel writing has taken him to Africa, China and the American South, among other locations. Of his travels and his goals, Theroux says, "Every so often, people want to send me to a luxury hotel and they say, 'Write something about it.' Well, there's nothing to write about other than 'I had a fantastic time' or 'There was a little bit too much salt in the ratatouille.' There's nothing to report. Go to a motel in Kingman, Arizona where Tim McVeigh was planning the bombing in Oklahoma City and see the guys in there on welfare drinking beer." (Theroux did this and wrote about it in an essay for Smithsonian Magazine in 2009.)
Theroux figures that 60 percent of "Mother Land" is autobiographical and 40 percent fictional. "This is a book based, obviously, on my life and elements of my family," he says. "Some of it might be stranger than fiction. But, actually, it is a novel. I have to insist that it's fiction. I took a lot of liberties and I have to stand by the liberties. To write an autobiography, it's a different matter. In all biography and memoir, you're depending on memory and exactitude and you've got to be scrupulous with facts."
He adds: "If I wrote an autobiography, it would be very repetitive and boring. This is what I call a portrait of myself, and that's about as near to autobiography as I will ever get. This is a novel in the mode of, say, Thomas Mann who wrote a book called 'Buddenbrooks' about a family and [Charles] Dickens, who wrote 'David Copperfield,' which is kind of a novel based on his family." (One of the characters in "Mother Land" hears the name "David Copperfield" and assumes it's the present-day magician.)
One crucial area where Jay Justus and Paul Theroux part ways is success or lack thereof. Justus had some hits and achieved fame earlier in life, but peaked and finds, in his 60s, he may have nothing left to say, nor are readers much interested if he did. He lives in a fairly shabby rental on the Cape, churning out magazine stories to pay the rent.
"This is what I call a portrait of myself, and that's about as near to autobiography as I will ever get."

Paul Theroux
"The narrator of the book is kind of down on his luck," Theroux says. "His second wife left him, his kids feel sorry for him and he's kind of abused by the family. Compare that with me. I'm driving on the H-1 freeway toward my house on the north shore of Hawaii and in a month will be flying to my house in Sandwich on the Cape, and my very comfy easy chair and a library with lots of nice books in it. Not that the main character of 'Mother Land' is a loser, but he's down on his luck."
He is, though, highly articulate and often uses scathing wit in dissecting the conflicted relationships with mother and his siblings. Deprecation — self and otherwise — courses through "Mother Land." There's a rhythm of cruelty.
"Mother had succeeded in creating a family feud that put her in the middle, a guarantee that she would be paramount," Theroux writes. Later: "Mother was vain but she wasn't evil, and on a fundamental level she needed us. She would not have wanted us to destroy each other. She would have been shocked if she had known how fierce we fought — the insults, the gibes — how close we came to wrecking one another's lives, and how miserable it made us all."
"There are shifting power groups," Theroux says, about the siblings. "In a big family, if you have seven or eight children, you have at least one ally. You'll have a friend. You're not going to be isolated or frozen out by the others. You may not get total support from your parents, but, ultimately, you're boosted by siblings. Jay's brother is [Harvard professor and poet] Floyd and they are back and forth, feuding and fighting, but they end up as kind of allies and co-conspirators. It's like a tribal group, like a nation, a clan, and it has all those characteristics."
Is Jay a reliable narrator?
"Jay has got to be a reliable narrator because there are so many contending opinions," Theroux says. "In this family, each child has a different parent — they see a different parent and Jay says this at the beginning of the book. Each child is treated differently in terms of kindness or cruelty. The support is different for each child, whether the child is a boy or a girl, how old they are, the birth order. He's reliable as far as he's concerned, but it's very hard for him to tolerate the point of view of the others."
"When he's saying, 'Mother's cruel, she's giving stuff to the other children,' the sister replies by saying, 'Mother's kind, she sees that I need something and she just gives it to me, she's supporting me.'
In terms of his own life, Theroux says his mother matches the book's mother in that respect: the lack of support. "My mother wasn't interested in me as a writer," he says. "It was seen as kind of a disreputable thing And there were so many other people in the family to be interested in. She had other fish to fry, other people to deal with.
"But my mother was actually a very kind woman. The correspondence between the mother in 'Mother Land' and my mother is there in certain aspects, but with huge differences. The mother in 'Mother Land' belongs in jail! My mother was kind of sweet in her way."
Four of Theroux's novels have been made into films. He hasn't yet sold the film rights to "Mother Land," but says, "I hope that happens. The strange thing is when there's a movie made, it gets people reading. There are many books that are read solely because it was a movie. And it may be a difficult book or an obscure book or a book that fell through the cracks."
"So, I don't despise it," he adds with a laugh, about the book-to-movie process. "It would be a very good thing and I'll say a prayer that it happens."
Who would make for the ideal cinematic mother?
"Meryl Streep, of course!" exclaims Theroux. "Who else? I don't know. A serious answer would be … a little old lady."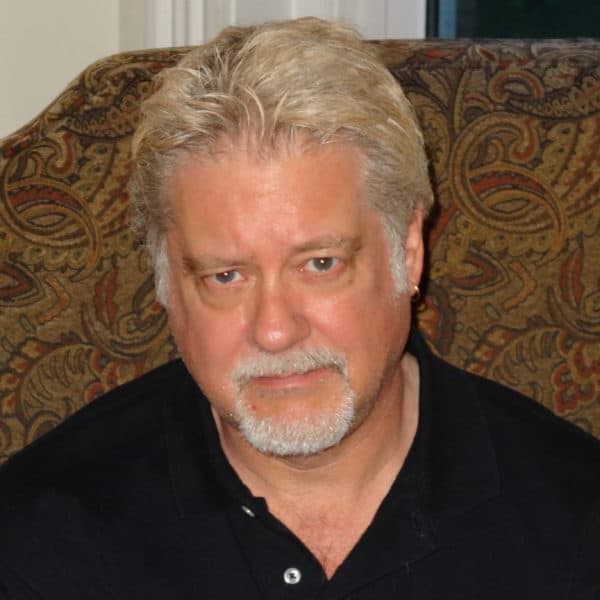 Jim Sullivan Music Writer
Jim Sullivan writes about rock 'n' roll and other music for The ARTery.