Born At Tufts, Crumb Takes Its Jazzy Psych-Rock On The Road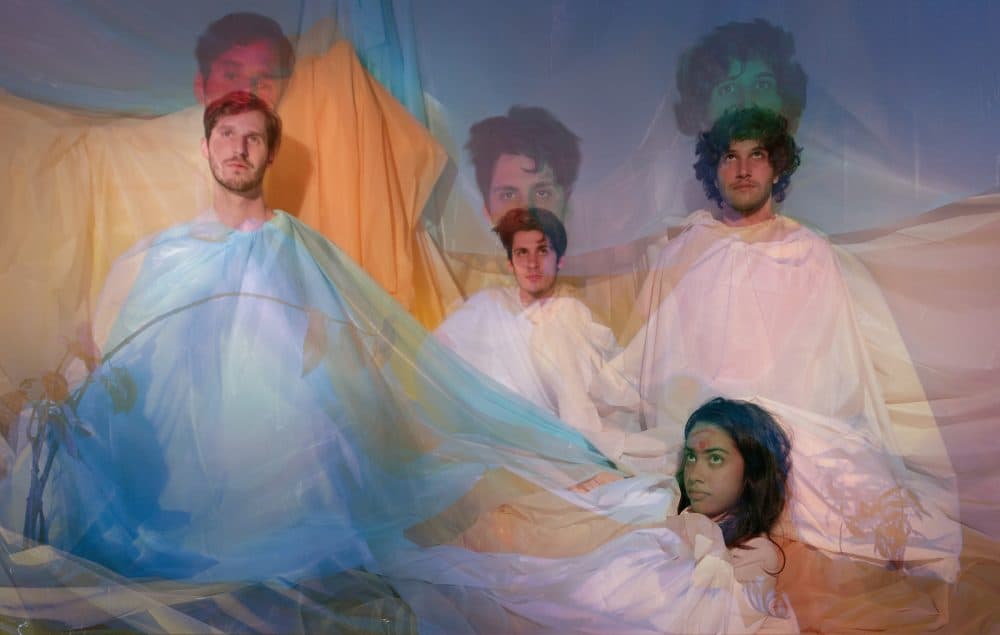 This article is more than 4 years old.
Given the penchant Tufts-bred band Crumb has for jazz-inflected psychedelia, the hazy beginning of summer seems ideal for the four-piece act to casually flow through loft parties and backyard shows around town. But lately Crumb has been anywhere but Boston.
"I graduated on Sunday, moved all my things to my parents' place on Monday, and we started tour on Thursday," synth/keyboardist Brian Aronow says, en route with the band to Florida from the Carolinas.
Aronow and drummer Jonathan Gilad are the last members of Crumb to finish their studies and leave the Boston area. They, along with singer/guitarist Lila Ramani and bassist Jesse Brotter, bonded as familiar faces in Tufts' music community, frequently sitting in on each other's one-off projects before starting their cross-pollination of jazz fusion and psychedelic rock as Crumb. The project was shaped in late 2015 around loose song ideas Ramani had as she was finishing up at Tufts.
"It was cool because at times we lived together. It was a little creative community we were lucky to surround ourselves with," Ramani says.
"It was, like, eight of us in the house and we'd always be playing, all the time," Aronow adds. "It's a small kind of music world [at Tufts], so we all played in a bunch of soul bands, hip-hop projects, and different combinations over the last four or five years. Crumb started the same kind of way: We just had stuff to work on, we'd meet up and we didn't have any plans for it."
The resulting EP, last August's "Crumb," is a debut that sounds boldly comfortable in its eccentricities, bursting with personality and undeniably tight musicianship over its breezy 11 minutes. Earnest lyrics poking at the nuances of relationships ("Bones") and finding one's artistic voice ("So Tired") mix languorously with the foursome's studious arrangements, checking influences as vast as French psychedelic pop act Melody's Echo Chamber, bossa nova organist Walter Wanderley and Brazilian psych rock act Novos Baianos.
After graduating and releasing the EP, both Brotter and Ramani decamped from Boston and headed to New York in the fall of 2016. "I'm from New York and just went to college in Boston," Ramani says. "Boston never really felt like home to me."
With the acceptance that their self-released EP probably wouldn't reach anyone beyond friends and immediate family, the members of Crumb were content just being collaborators whenever their paths crossed. The internet, of course, had other plans.
"We never intended to do shows with it," Ramani says. "People were asking us [online] if we wanted to, though ... Now we're touring! A lot of people in the middle of these Southern cities actually know the songs and are super excited, which is shocking."
Both Ramani and Aronow champion Citrus City Records, a "small but mighty tape label out of Richmond" for their initial success in the South, fostering connections "in a really organic way" first as fans, then helping them piece together their first tour outside New England. The result was a daunting tour spread over nearly three weeks, spanning New York to Texas and mixing both raucous house shows and more concrete sets at venues.
"We love doing the house shows. You need both, though," Ramani says. "You do one real venue and then relax with a house show. It's a little less pressure; you get to try stuff out."
Crumb "trying stuff out" live manifests itself in jazzy improvisation, trading between Brotter and Gilad's elastic synchronicity, Aronow interjecting with keys and saxophone, and Ramani serving as backbone on guitar.
Crumb is certainly a band that cherishes sprawling out in low-pressure atmospheres, mentioning details like "the plants and cool lighting" at a recent New York show as a highlight of the tour. But when it came time to record the band's second EP, "Locket," the band couldn't avoid a few challenges that come with their long-distance collaboration.
"Jesse and I were in New York and we'd come [to Somerville] for these long weekends and spend 72 hours in the studio," Ramani recalls.
"I feel pretty nomadic this year," Aronow adds. "We really haven't ever been together since this whole thing started [in 2015], so to actually be in the same place, write, and hang out... I think we'd all really like to feel settled and grounded in one place musically and personally."
"Plants," the first single off of "Locket," which comes out on Friday, June 23, masterfully hides any notion of rootlessness.
Opening with Ramani's warbling guitar and lounging vocals, the song spools out collegiate lust and longing with a coolness absent from most undergrads fumbling with romance ("Bake me up a treat and I can't stay away/ I don't have class, got a lot of time on my hands to sit wait around for a sign.")
Ramani says "Locket," which she wrote soon after the band's self-titled EP, benefited from the foursome's close collaboration.
"For the first EP, I feel like I was sort of toying with the songs for a really long time, brought it to the guys, and we sort of shaped it into more of a real project," Ramani says. "With this next EP, every song was a different writing process. I think everyone brings something to the table; it really depends on the song."
With music blogs like Stereogum and Pitchfork now throwing seals of approval behind the group, Aronow and Gilad are moving to New York with the intention of making Crumb a full-time effort.
In the meantime, playing well-lit shows and tripping up listeners who aren't sure whether to call them jazz or psych rock is rewarding enough.
"I think our favorite description thus far that someone either wrote or said was 'intimate, soulful and psychedelic,' " Ramani says.
"It's kind of just other people putting their words on it," Aronow adds with a laugh. "We don't really have an answer for it."
"We get weird," Ramani says, "but that's definitely our favorite."