Hare Krishna 'Festival Of Chariots' Parades Through Boston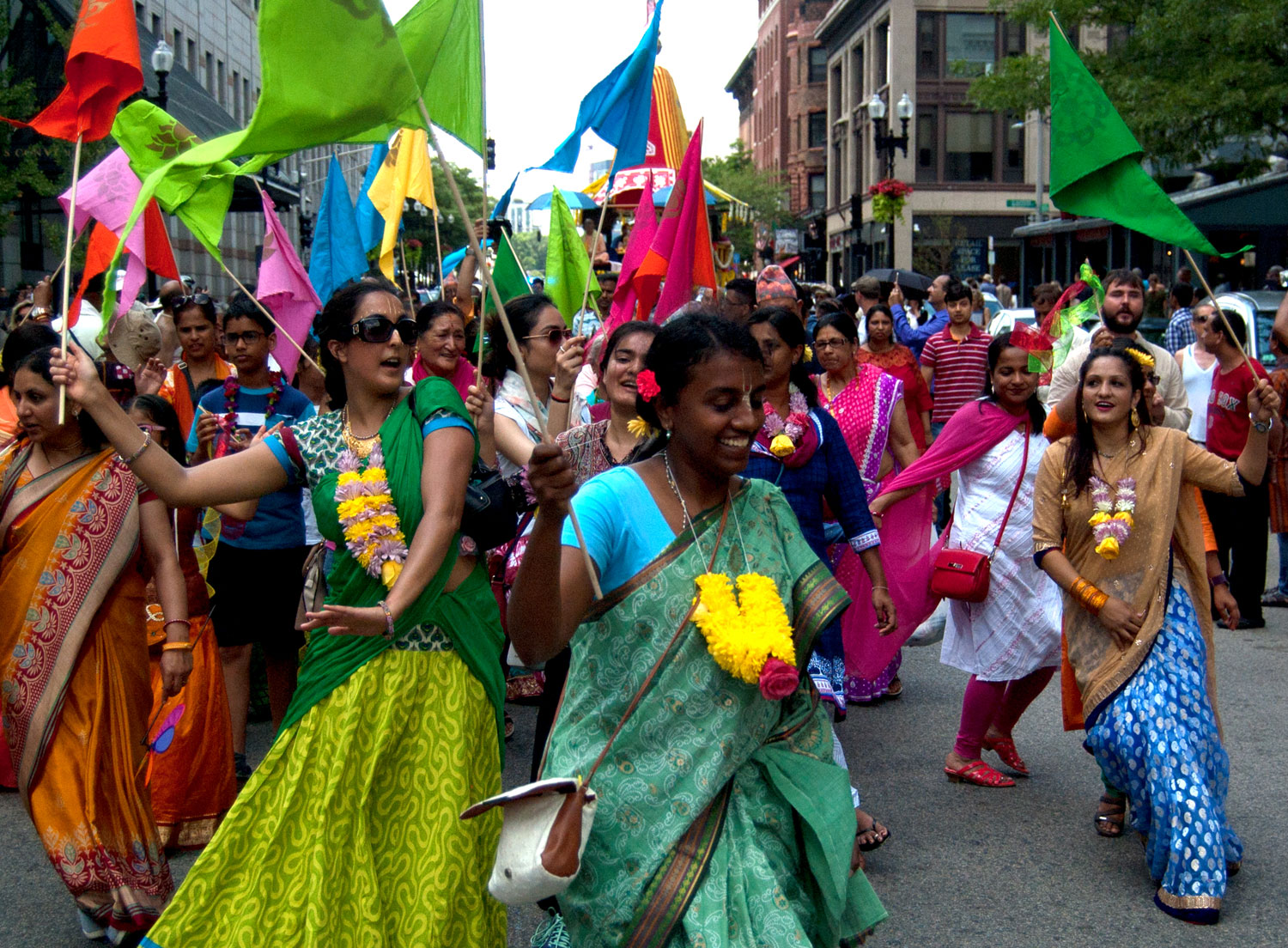 This article is more than 3 years old.
Around noon on Saturday, men wrapped in white robes gathered just off Boston's Boylston Street in the middle of a festive crowd of women dressed in bright colored saris and men in dhoti kurtas, with gopi dots and lines of color painted on their faces. The robed men lined up before the tall yellow chariot wagon, garlanded with flowers, that resembled a temple on wheels.
One man raised a coconut above his head, then smashed it on the pavement for an auspicious beginning to the annual Festival of Chariots — or Ratha Yatra (a Sanskrit phrase that roughly translates as "chariot procession") — by the International Society for Krishna Consciousness Boston or ISKCON Boston or more generally known as the Hare Krishnas.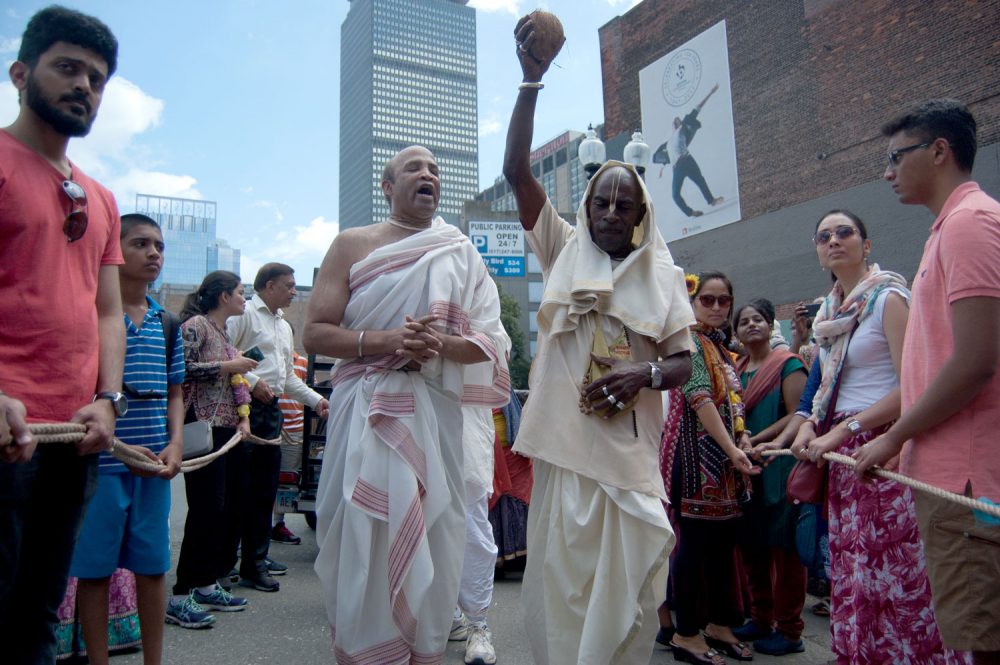 Then, the crowd of devotees sang the traditional "Hare Krishna, Krishna Krishna" and danced "a free-flow devotional dance with swami steps" down Boylston Street beginning near Massachusetts Avenue. They waved pennants. They tugged on the long ropes to pull the wagon loaded with small statues representing Jagannatha, "master of the universe, in other words he is Krishna himself," his older brother Baladeva and younger sister Subhadra. Also on board was a statue depicting A. C. Bhaktivedanta Swami Prabhupada (1896-1977), the Calcutta man who brought the Hare Krishna movement to New York in 1965, which then spread across Western countries.
"We pull the chariot with dancing, sing the glories of the lord, his holy names are chanted," temple president Vanamali Pandit Dasa says. "It is said in the scriptures whoever sees the big eyes of the lord, whoever dances in the chariot procession, whoever eats food in this procession, whoever sings, whoever pulls the rope, whoever walks in the procession, all of them will get a spiritual credit. Their sins will be completely eradicated. In other words, they'll be free from miseries and anxieties."
This relates to the Hindu belief in reincarnation. "We take birth again and again," Pandit Dasa says. "We transmigrate from one body to another body, and from one species to another species." They aspire to live good lives that will bring them closer to their ultimate, full spiritual realization. "When you're free from this cycle, that's the beginning of your spiritual migration. Once you're free, you can embark on your spiritual realization. You're free from the cycle of birth and death."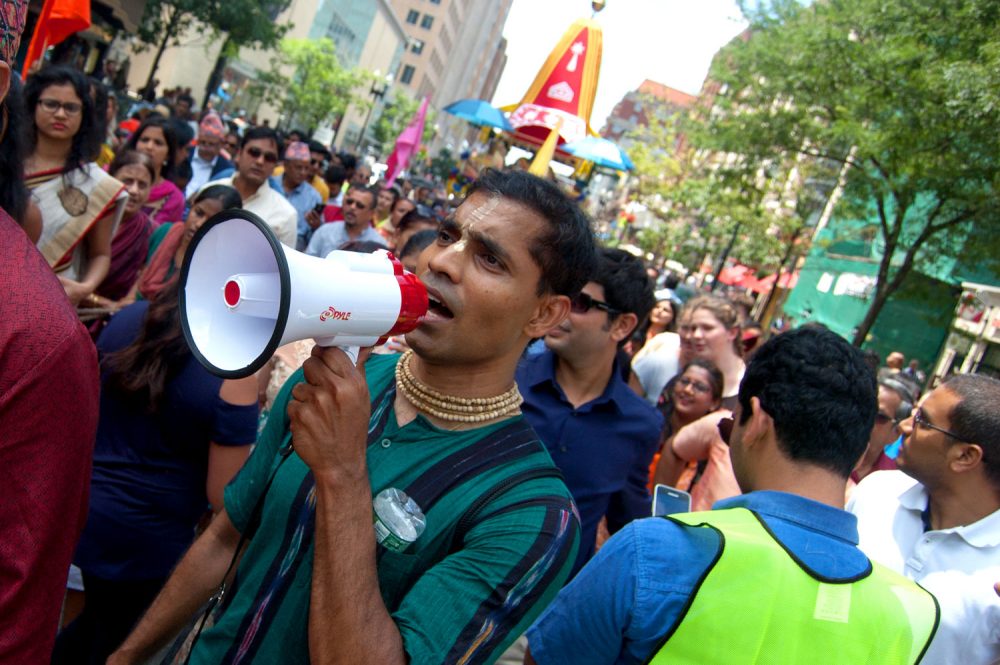 The Festival of Chariots is an annual Hindu tradition, going back hundreds of years, some say thousands, in the coastal town of Puri in eastern India that recalls a legendary visit by the Hindu diety Krishna. Last summer, the International Society for Krishna Consciousness Boston reinstated the public parade for the temple's annual Festival of Chariots. That was the first time they'd processed through city streets for nearly two decades, Pandit Dasa says.
"In Boston, we also celebrate A. C. Bhaktivedanta Swami Prabhupada. When the Hare Krishna movement started, the founder, he first landed in Boston, at Commonwealth Pier, on the first of August 1965 at 5:30 in the morning," Pandit Dasa says. "He was here for a few hours and then from here he went to New York."
On Saturday, as they processed down Boylston to the music of drums, cymbals, tambourines and shell-horns, a man in an orange turban went onto the sidewalk urging people watching the procession to join in. "Everybody, come on!" he shouted. "Chanting and dancing!"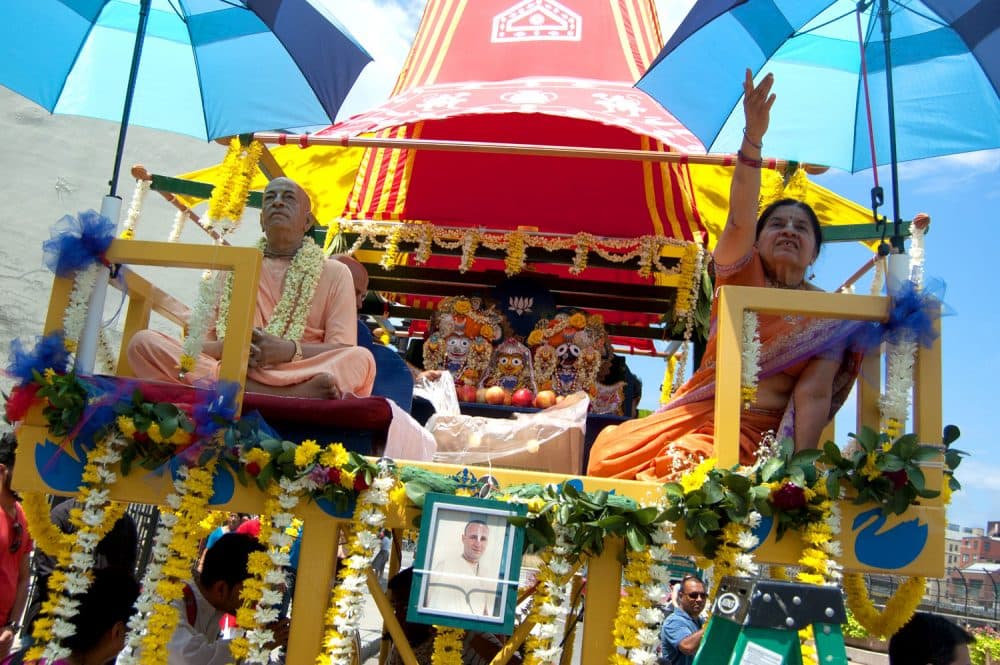 Hundreds participated in the procession toward Boston Common, the crowd growing as they went. At the park, they would pray and meditate and sing and eat vegetarian food and explain their philosophy.
Men took turns with a broom, sweeping the path before the wagon, because "the lord of the universe is coming." A woman riding aboard the wagon gave out apples and bananas and other fruit.
"It's transcendence," Pandit Dasa says. "It takes us from the material platform to the spiritual platform. When you sing the lord's name, it uplifts you. Dancing is an expression of our joy."