5 Things To Do This Weekend: A Metallica God And His Monster Collection To A Reimagined Joni Mitchell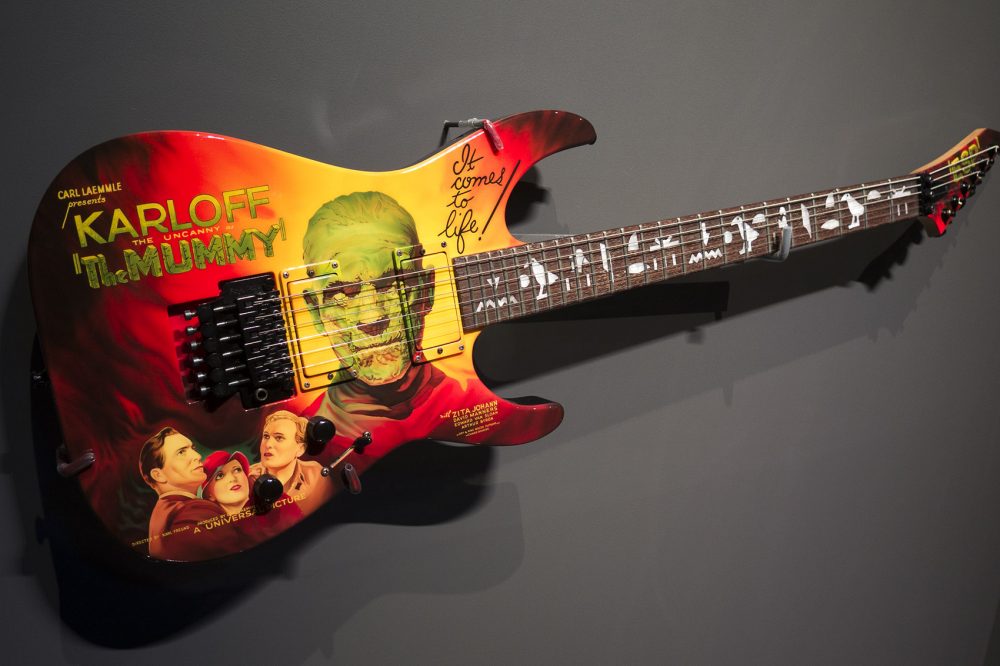 This article is more than 3 years old.
Movie posters of the 1930s or contemporary movies of today? Art rock meets "Blue" or Taj Mahal and Keb' Mo' meet up for the blues? Play in the rain or a play indoors? What to do, what to do:
"It's Alive" | Through Nov. 26 | Peabody Essex Museum, Salem
There was something special about the Universal horror films of the 1930s. The artful cinematography and wryly melodramatic writing that beckoned you into the studio's expressionistic black and white world; the lack of graphic violence; the pre-Hays Code sensuality. And, of course, Boris Karloff and Bela Lugosi. There was also something special about Universal's even more outré and colorful posters (overseen by Károly Grósz) for these great films. Metallica guitarist Kirk Hammett thought so, too, and began collecting them, as well as horror posters from other decades. They're on display now in "It's Alive" at the Peabody Essex Museum. Hammett will be on hand for autographs and a performance Saturday night. (Here's Andrea Shea's report on the exhibit. Pretty scary.)
---
(Good) Summer Movies | For A Little While Longer | Various Theaters
Speaking of movies, I'll go to any film that ARTery film critic Sean Burns recommends. So what'll it be this weekend — "Dunkirk" in 70mm, at the Somerville Theatre? Mr. Burns: "Shooting on large format film, [Christopher] Nolan foregrounds the massiveness of the rescue effort and emphasizes the smallness of these individual soldiers, to a point where sometimes the beach looks like an ant farm." "Wind River"? "[Taylor] Sheridan's assured directorial debut has a lot in common with the previous pictures he's written in that it's an engrossing, tough-minded thriller for adults that packs a political punch. It's also like Sheridan's other screenplays in that the characters annoyingly keep stopping to tell you what the story is about." "Logan Lucky" sounds awfully tempting: "It might be the most relaxed, confident crowd pleaser I've seen since [Steven] Soderbergh's own 'Ocean's Eleven' ... The film has the tossed-off, casual sophistication of an old master's late work, the kind of thing great directors make when they've already forgotten more than a lot of filmmakers will ever know."
So many movies, so little time. Why we need professional critics.
---
"Arc Iris Reimagines Joni Mitchell's 'Blue' " | Saturday, Aug. 19 | Cloud Club, Boston
While Kirk Hammett has been cavorting with monsters and graphic artists, the Providence band Arc Iris has been playing around with Joni Mitchell, or at least the singer-songwriter's legendary '70s album, "Blue." Now "Arc Iris Reimagines Joni Mitchell's 'Blue' " comes to Cloud Club in Boston Saturday night, a month after the original album garnered the top spot on NPR's list of the 150 Greatest Albums Made By Women. Folkies take note: The ARTery's Amelia Mason says, "where Mitchell's original recording is sparse, almost minimalist, with the singer's voice mixed close and warm, Arc Iris' take is sprawling and explosive."
---
TajMo' | Friday, Aug. 18 and Saturday, Aug. 19 | Cape Cod Melody Tent, Hyannis; and South Shore Music Circus, Cohasset
Folkies looking for more traditional fare might do better with TajMo': The Taj Mahal & Keb' Mo' Band Friday night at the Cape Cod Melody Tent in Hyannis and Saturday night at the South Shore Music Circus in Cohasset. The two master singer-guitarists know how to rock the blues as well as quiet things down with extended duets. Take a listen to the rockin' blues of "Don't Leave Me Here," which sounds like a collaboration between Muddy Waters and Bob Dylan:
And here are the two men prodding each other in a folk-blues duet, "Diving Duck Blues":
---
Gloucester Waterfront Festival | Saturday, Aug. 19 and Sunday, Aug. 20 | Stage Fort Park, Gloucester
The weather looks a bit dicey this weekend, but Gloucester beckons no matter what. So hit the free Gloucester Waterfront Festival at Stage Fort Park for the the food, music and family entertainment and when you've had enough there's the non-family entertainment at Gloucester Stage Company where founder Israel Horovitz' "Out of the Mouths of Babes" is being staged. Says ARTery theater critic Carolyn Clay: "If you can get by its being an old man's wet dream (and god knows I'm trying), then 'Out of the Mouths of Babes' is a droll, snappy comedy with an intoxicating whiff of 'Blithe Spirit' … in a crackling New England debut." Or just hit the rocks at the Cape Ann Museum with the delightful "Rock Bound: Painting the American Scene on Cape Ann and Along the Shore."