Artist Creates Inflatable Sculptures That Resemble Clouds Sagging To Earth — And Ponders Big Ideas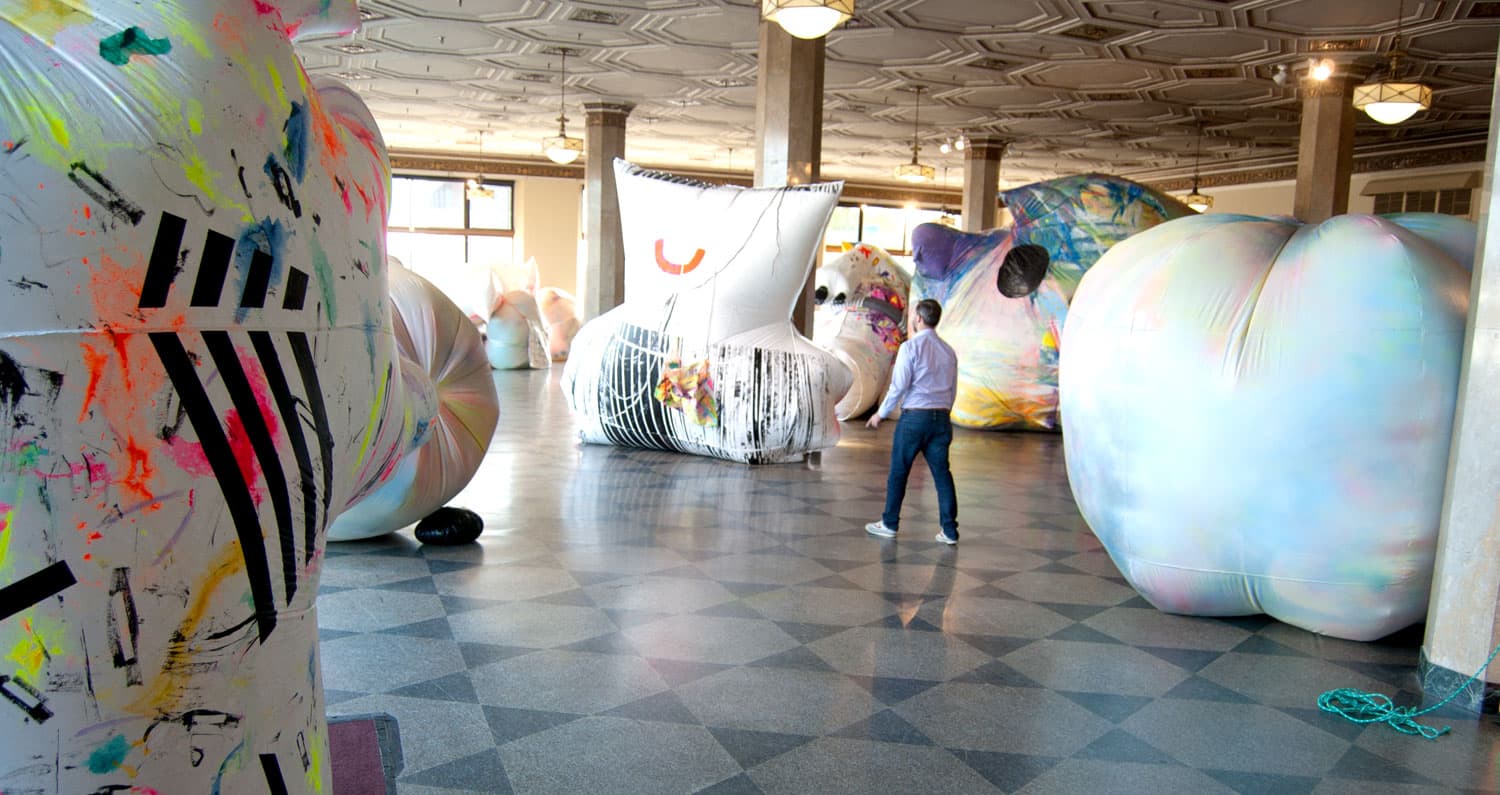 This article is more than 3 years old.
Claire Ashley's inflatable sculptures can resemble clouds that have slumped down to earth and gotten tagged with graffiti — fluorescent pink, yellow, orange, black and blue. The big blobs can bring to mind rainbows gone dingy and, somehow, at the same time clowns.
For the Scottish-raised, Chicago-based artist's exhibition "(((CRZ.F.4RNS.AAK)))" at Boston University's 808 Gallery through Dec. 3, she's filled the long hall with about 60 of them. The biggest of her hand-stitched balloons stretch 15 feet wide and 18 feet long and squeeze between the ornate 18-foot-high ceilings and the star patterns of the floor.
"The title is text lingo, code for 'Crazy Female Foreigners Alive and Kicking,' " Ashley tells me. "Because I was talking about all the governmental Trump policies, which came from a place of xenophobia. And, myself, I came from Scotland 24 years ago and I'm on a green card. It was a way to talk about the cultural zeitgeist and the things I think about. The objects I make are sort of figural. They occupy space. I think of them as aliens and me as an alien and not lying down and taking it."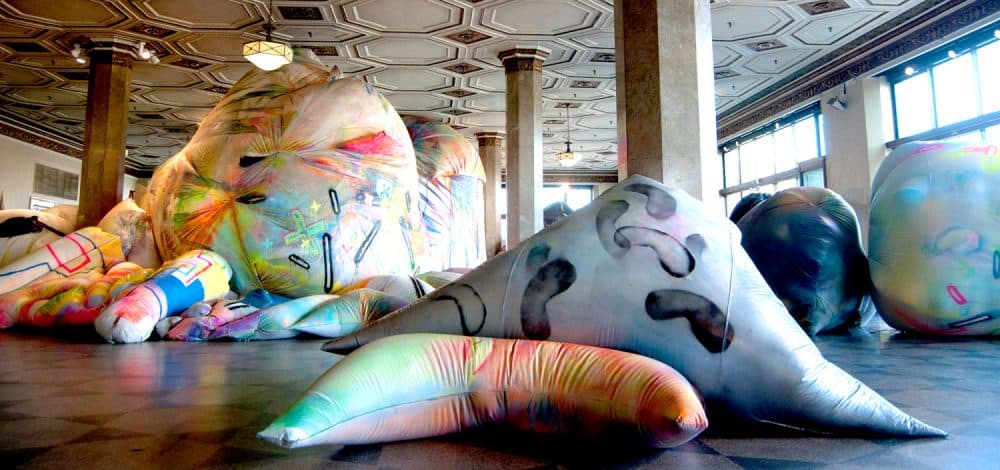 Ashley started making inflatable sculptures around 2008. She was co-teaching a class at the School of the Art Institute of Chicago and her partner teacher showed the students how to make inflatable sculptures. It got her thinking about possibilities.
"I think of the objects as obnoxious, colorful, loud, living, breathing objects in space," Ashley says. "They're constantly breathing into the room." Sometimes she has performers get inside and roll or walk them around the place.
"I sew them in the studio. I cut the shapes from drawings. I make the drawings while thinking about ways I can find an uncanny relationship between figuration and abstraction," Ashley says. "I don't usually know what I'm going to get before they inflate."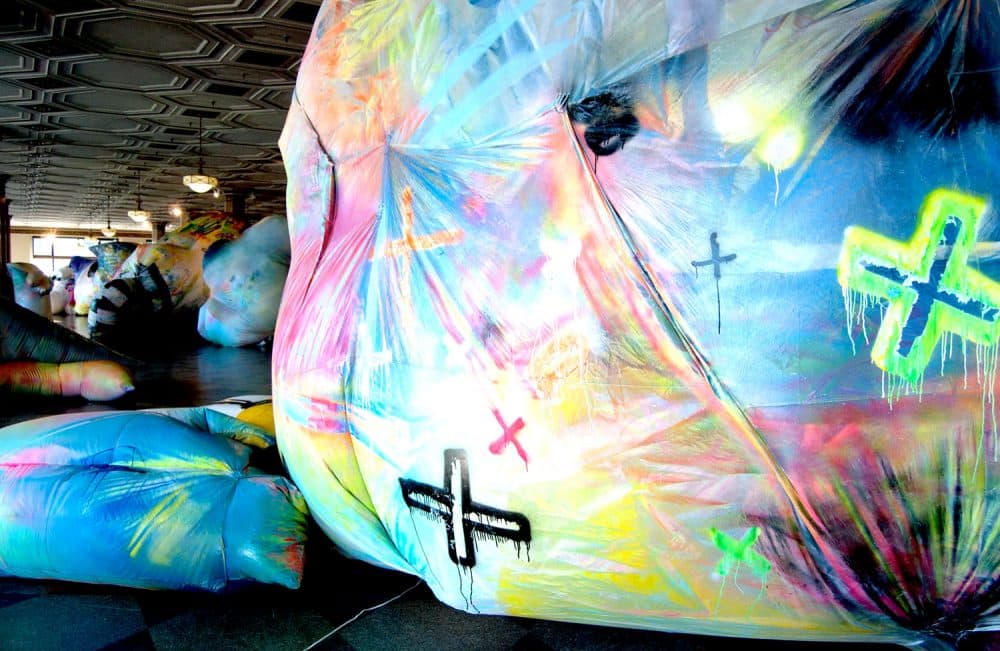 Made with PVC-coated cotton painter's drop cloths or ripstop nylon or Tyvek and inflated by fans, her sculptures have become objects onto which she can project what's on her mind — politics of the moment, the shape of real women's bodies, the white male-dominated history of Western abstract painting.
"I want to be irreverent and I want to kill the father of painting at all times," Ashley says. "I want to be super critical about the traditions of painting.
"I also wanted to be able to take up space," she says. "The other thing about inflatables is it's this gigantic body that's taking up this obnoxious amount of space." And they were a way to make monumental abstract paintings that were a bit absurd, funny even, so as to catch the attention of folks not necessarily interested in contemporary fine art hermeneutics.
"As a Scot," she notes, "I'm super interested in humor. … Rather than taking myself super seriously as an artist, I have to take it sort of tongue-in-cheek."

Ashley adds, "Life is complicated. I like that things are not always what they seem. I like that things are complicated. The way we go through life is filled with absurdities. … All that kind of playfulness and boisterousness and not feeling that you have control over the world at all times.
"There's also the relationship to the female body," she says of her inflatable sculptures. "The idea of body and beauty. I don't want to hit people over the head with the female body necessarily. I am interested in lumpy. I am interested in the extrusions, love handles, the muffin top, as opposed to the perfect body. I'm just interested in the imperfect body rather than the perfect body. I'm just interested in reality, I guess. It comes through the idea that we artists make self-portraits all the time whether we consciously understand that or not. … That imperfect body is what I'm in. It's partly related to the political moment as well. I wanted to talk more explicitly as well about the idea that women should have control over their bodies as opposed to being told what to do with them."
---
Claire Ashley's "(((CRZ.F.4RNS.AAK)))" is at Boston University's 808 Gallery through Dec. 3.