America's Test Kitchen Moves From Its Homey, Brookline Digs To Snazzier Seaport Studios
05:07
Play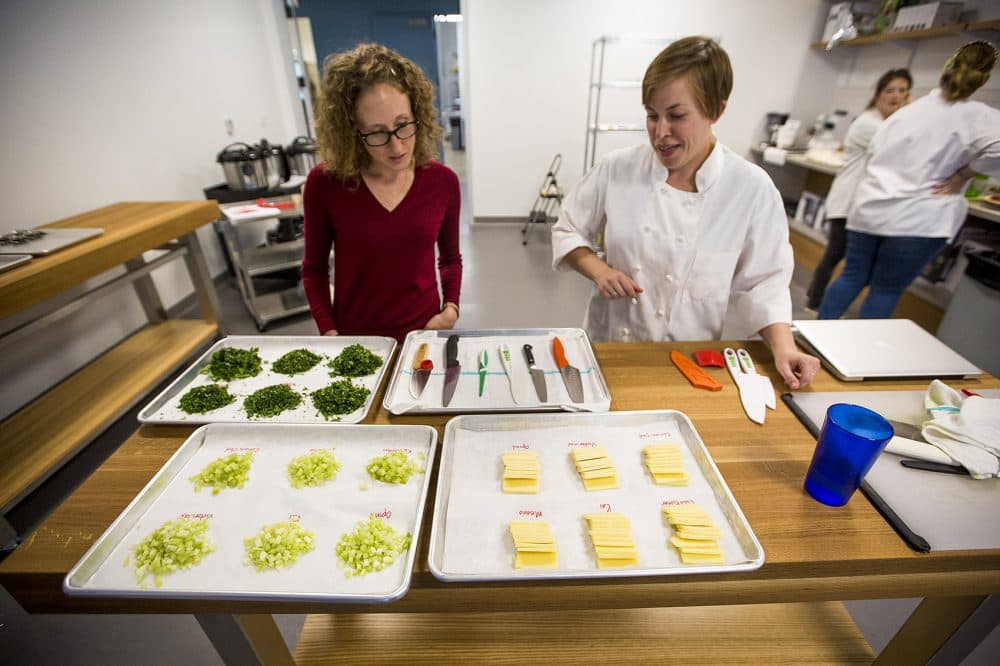 This article is more than 3 years old.
The recipe for happiness includes cooking at home, according to America's Test Kitchen (ATK). The multimedia company started in Brookline Village 25 years ago as the no-frills magazine Cook's Illustrated and later branched into TV, radio and publishing.
But all that uses space, and now ATK is moving from its quirky, cramped old home to a vast, snazzy new spot in Boston's booming Seaport. We visited both locations to find out more about its evolution and how it plans to hold on to its old-school, geeky identity.
Foodies, Before It Was Cool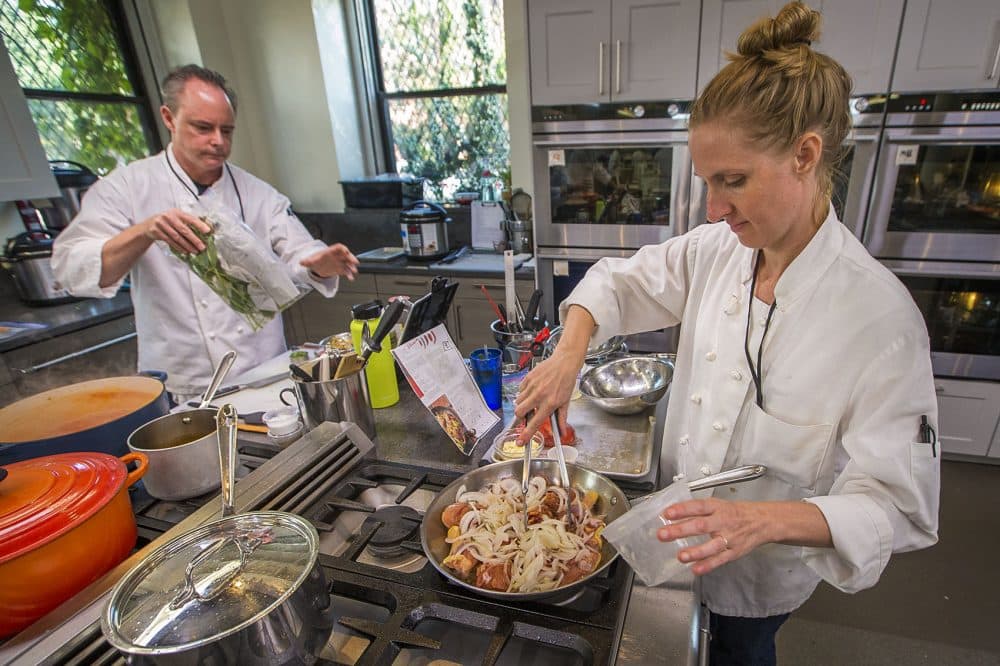 Before foodie culture became cool and went bonkers viral there was America's Test Kitchen — a science-infused, research-and-development-style TV show geared toward the home cook. For going on 18 seasons, its cast of chefs have long been digging deep to uncover not just the "hows" of making delicious dishes, but also the chemical "whys" behind fool-proofing your sticky buns or choosing which almond butter or pungent fish sauce you should use.
Chief Creative Officer Jack Bishop is one of the longtime personalities on the company's flagship TV program. Twenty-five years ago he helped develop what would become ATK on the second floor of a funky, former broom factory in Brookline.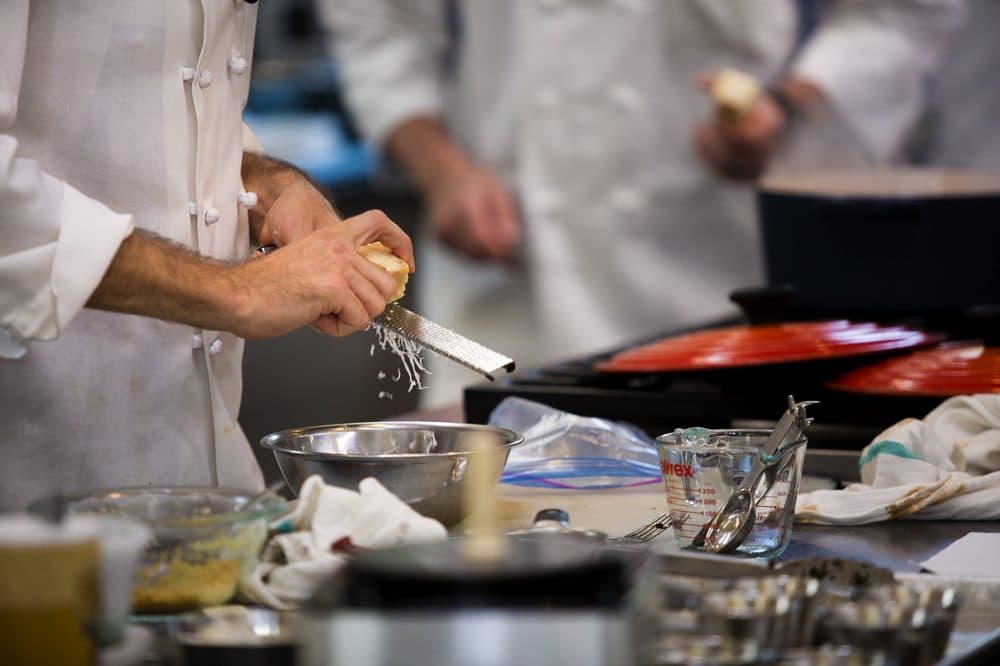 These days Bishop says the team tests 1,000 recipes a year, along with hundreds of ingredients and pieces of culinary equipment to demystify home cooking.
"We think a happy life includes some time spent in the kitchen — but the biggest deterrent to cooking is not time, it's lack of success," Bishop explained. "So our job every day is to come here and develop recipes that we know will work."
ATK's 50 cooks will make the same recipe 30, even 50 times to get it just right. Bishop said this rigorous methodology was born on the pages of their austere, technical food magazine more than two decades ago.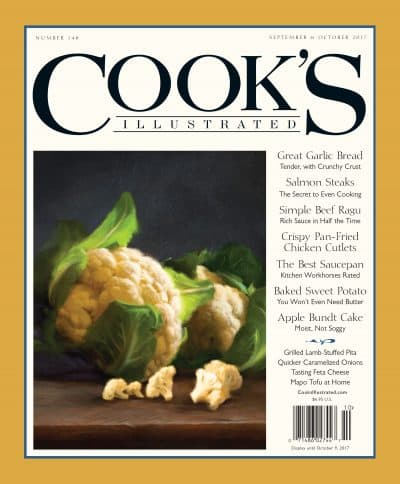 "Cook's Illustrated magazine is a 32-page, black-and-white magazine with no advertising and with an oil painting of a still life that looks like it came from, you know, the Netherlands in the 18th century — with some radishes on the cover," he described. "And so it basically breaks every rule of food publishing."
The magazine still stands out, delivering that simple aesthetic in the age of food porn and glossy magazines like Bon Appétit that are filled with shots of beautifully styled dishes.
But Bishop says ATK's staff has grown with the brand -- from 20 to 200 — and they've crammed into the 2,500-square-foot kitchen we've seen on TV, online, in cookbooks and magazines. It doubles as the set for filming and still photography. Tastings and storage have bubbled over into the adjacent research library. The cooks, designers, photographers, writers and editors have been working on top of each other — three to four per office — and use every nook and cranny for publications and programs.
Bishop said they needed a new home with room to grow and found it in Boston's Seaport at the Innovation and Design building.
"We're scrappy. If we're in a bigger space, we're still going to be that way," he said. "You know we're an independent company — we're not part of a large media conglomerate — but that also means we need to be nimble, and so those things are going to remain the same."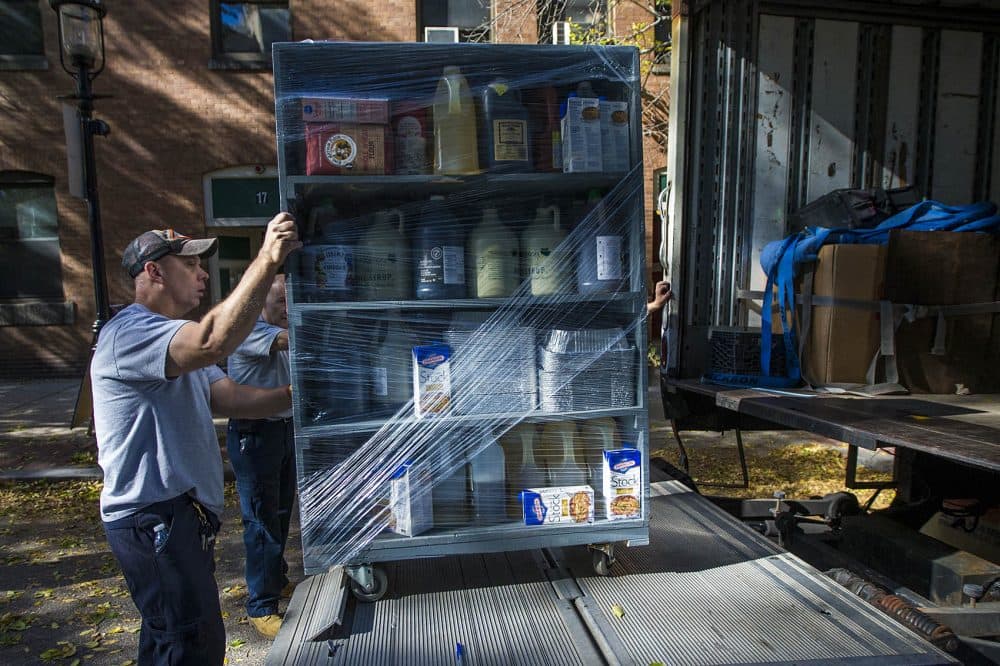 The company's relocation is part of a larger, ongoing transformation. Mark Bittman, former New York Times food columnist, advocate and author of the "How to Cook Everything" book series, was on the original Cook's Illustrated crew.
"I think what's clear is that some people do like that Consumer Reports kind of thing," Bittman mused about ATK's popularity and evolution. "Other people find it ridiculous."
Back in the day Bittman worked with Bishop and also Christopher Kimball, who became the radio voice and TV face of ATK with his round glasses and signature bow tie. But, amid accusations and controversy, Kimball and the company parted ways in 2015, causing a major shakeup in the ATK universe. He's gone on to found a new multimedia food venture named Milk Street.
When asked about the company's expansion Bittman said he'd be worried about Kimball's absence because the concept was his.
"As eccentric as Chris is — and I think that's the right word, and I don't think that would particularly bother him — he did single-handedly create that magazine, at least at the beginning," Bittman said, "and he kept it running for years, and he made it profitable, and it was his vision and it was his personality that drove that. The question is, do they hold their audience without Chris? So far, I think they have."
A New Space To Test Out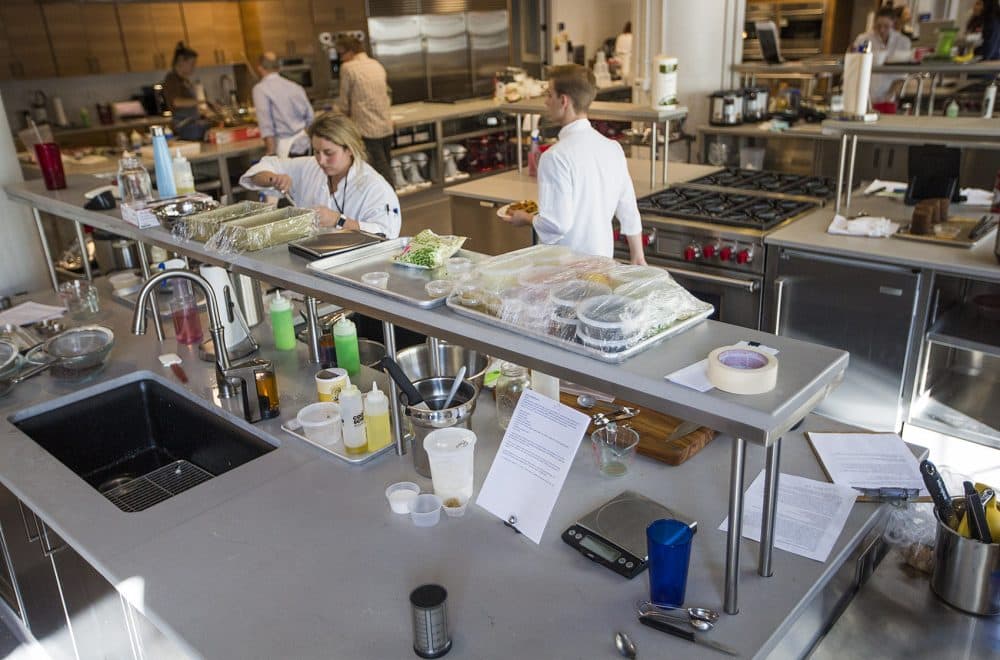 Bridget Lancaster and Julia Collin Davison now host the shows America's Test Kitchen and Cook's Country. A cast of ATK chefs still rotate through the on-camera kitchen scenes, including science guy Dan Souza. He's also the current Cook's Illustrated editor-in-chief and took me on a tour of the new 55,000-square-foot space (with six times the kitchen space of their old home) as construction was still being completed.
"This is only our second week here, so I don't even know my way around totally yet," he said, smiling.
In the shiny, much larger test kitchen, a half-dozen cooks hover around a dish of steak pizzaiola debating how to make the meat more tender. The walls are lined with Wolf and Sub-Zero appliances, two of ATK's sponsors. There's plenty of functional workspace to go around.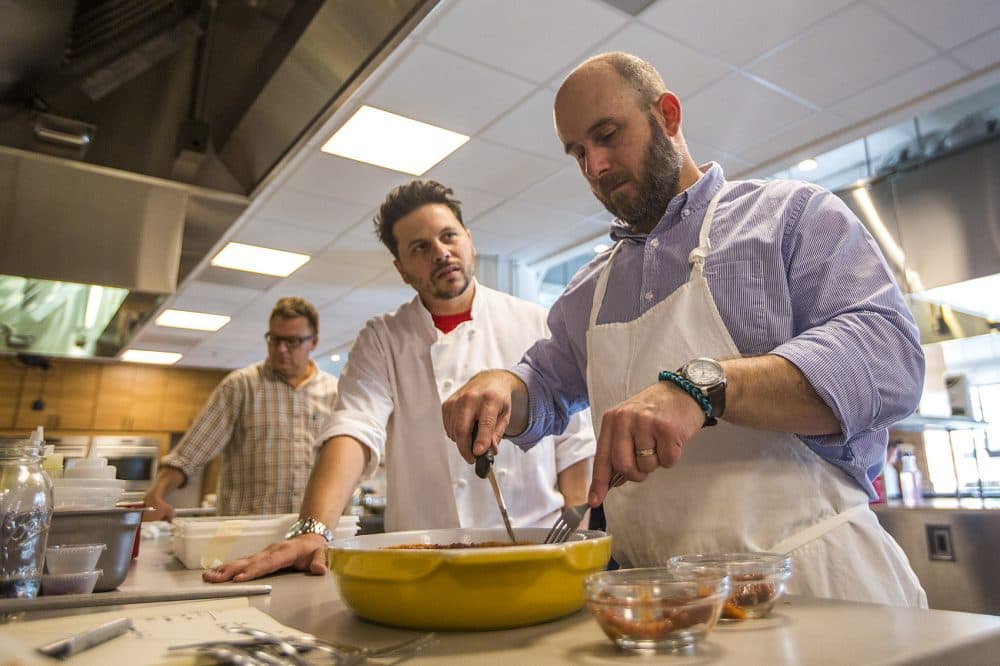 Then Souza takes me to see "Gadget Guru" Lisa McManus in the Tastings and Testings room as she was preparing to gather feedback to rate coffee made from two different machines. She gave a resounding thumbs up to ATK's new space.
"We loved the old building, but we were totally on top of each other and there was no room for anything," the 11-year employee said, "I'm sure we'll fill this up too, but for the moment if feels airy and lovely."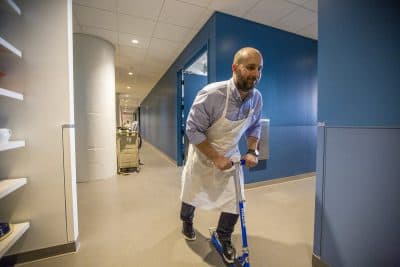 ATK's corridors are long, so long that Cook's Country executive food editor Bryan Roof uses a Razor scooter to zip around. On our way to the America's Test Kitchen TV studio we passed huge equipment storerooms, a walk-in cooler and a state-of-the-art photography suite where the team is shooting pumpkin and apple pies for their Thanksgiving content.
"We're not in Brookline anymore," Souza acknowledged. "We're in the Seaport here in Boston and it feels bigger — and kind of grander — but it's still very much part of our DNA."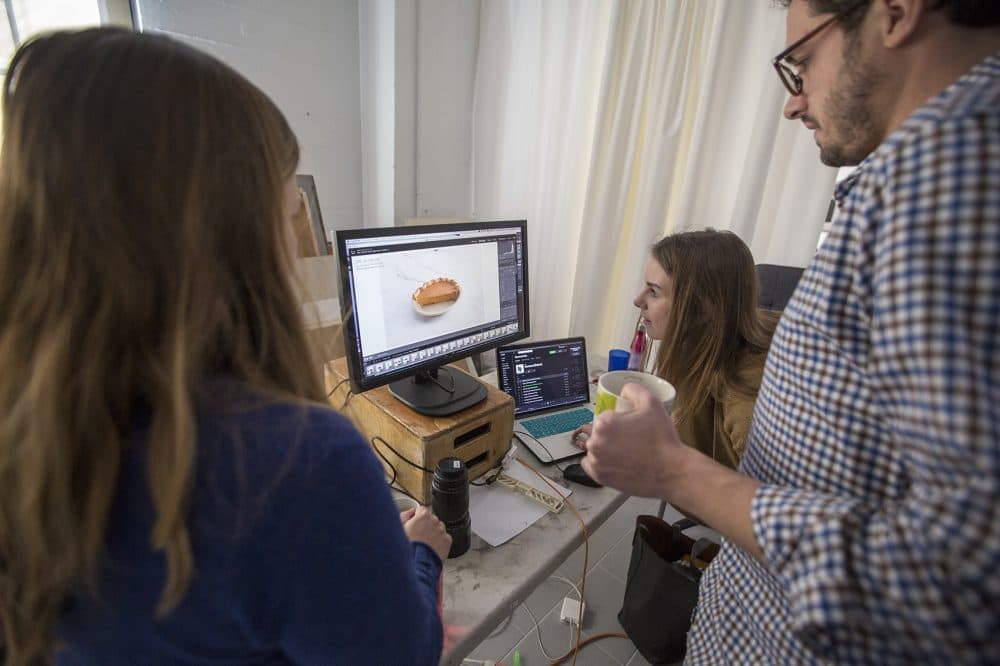 According to ATK, its monthly audience is about 60 million across all platforms. The folks at the company won't talk about Kimball because they're in litigation. He didn't respond to an interview request.
Despite all the changes — including a new drive to focus on producing daily videos and live streaming — Souza says the ATK staff remains committed to the indie company's roots.
"We started in a small black-and-white magazine that's definitely grown, and then we put it in a TV show, you know, then we put it in cookbooks, we have a cooking school that's online," he ran down. "It looks like we've evolved a lot, but in a lot of ways we were doing this core thing that we spend the time doing. We spend eight weeks developing a recipe for Cook's Illustrated."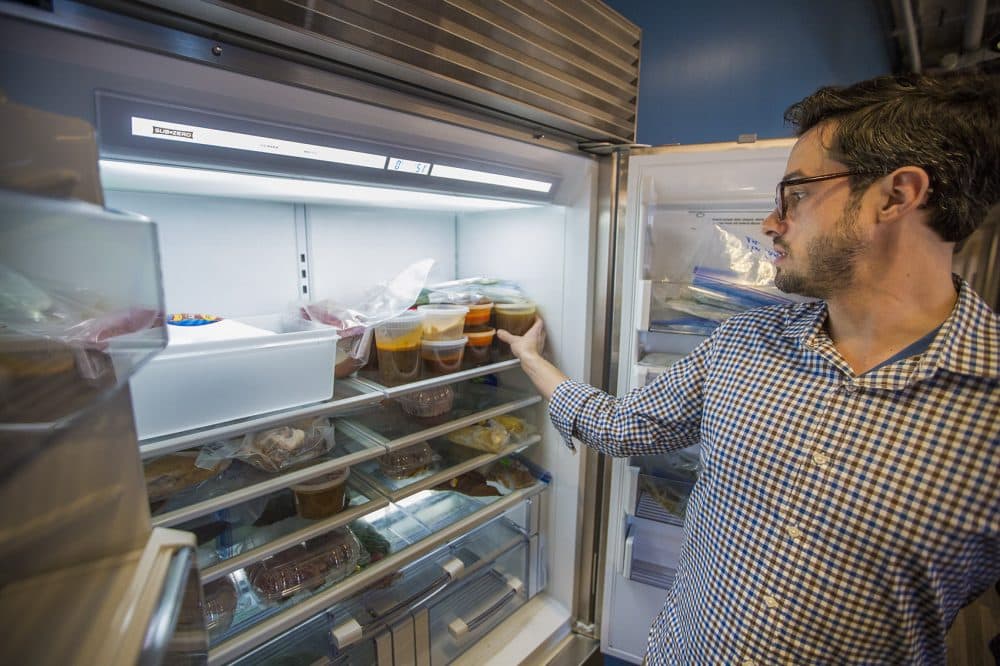 Souza and the staff hold nostalgic affection for their homey, old space and neighborhood, but now they've got room to open their doors to the public. Tours were pretty much impossible in the Bookline Village location, and this weekend ATK is hosting its first cooking, food and wine festival dubbed Boston EATS.
---
America's Test Kitchen's hosts Boston EATS festival Friday, Oct. 27 and Saturday, Oct. 28 at its new home in Boston's Innovation and Design Building.
---
Correction: An earlier version of this story inaccurately stated America's Test Kitchen's monthly audience. We regret the error.
This article was originally published on October 27, 2017.
This segment aired on October 27, 2017.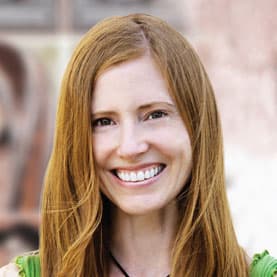 Andrea Shea Senior Arts Reporter
Andrea Shea is WBUR's arts reporter.