Sandra Bernhard Gives Boston A Comedic Pause From The Pandemonium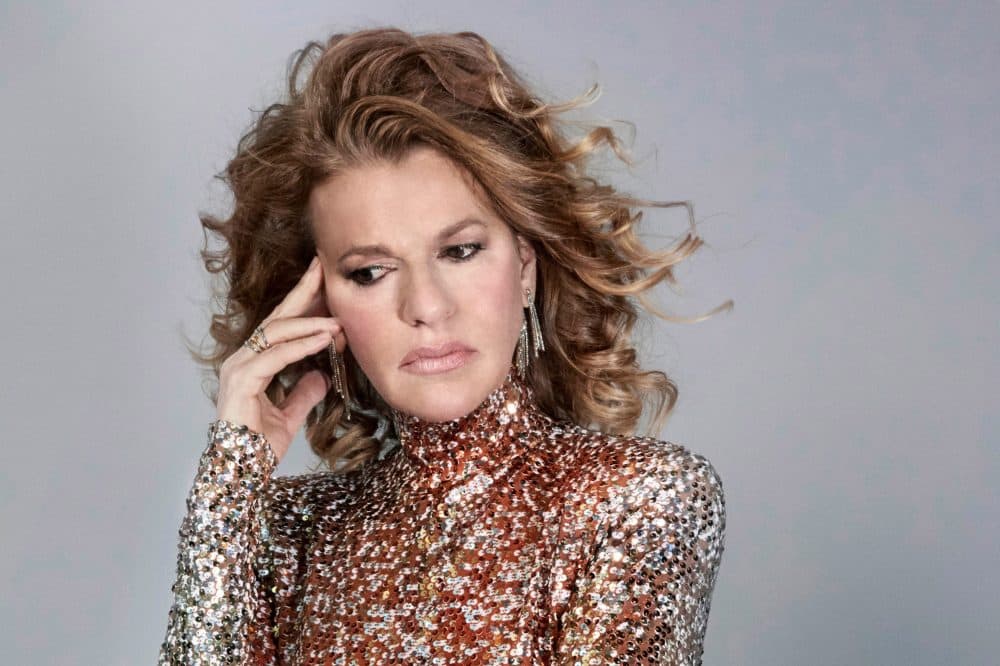 This article is more than 3 years old.
To say that Sandra Bernhard has never been a particularly shy performer is an understatement.
She came up in the '70s alongside the likes of Robin Williams, her castmate on the ill-fated "Richard Pryor Show," was famously pals with Madonna, never let anyone steal a single lumen of her spotlight — and has definite political opinions. But those who see her at Boston's City Winery on Friday, Jan. 19 won't hear her talk a lot about current events.
You may hear her comment directly on politics on her daily SiriusXM program, "Sandyland," though she says she tries to avoid it even there. And in her live show, a mix of stand-up, storytelling and music, she is shooting for something more positive and more lasting.
"All of my material is fresh and evergreen because I try not to talk about things that are too topical," says Bernhard, speaking by phone on a snowy New York morning. "You turn the news on, you see everything you need to see about what's going on... I tend to try to stay away from the obvious and go into the more obscure, funny, offbeat, personal stuff. And I think people are really enjoying that now more than ever because they just feel so drained and beat up by the obvious stuff."
Every year, Bernhard develops a new show to play a string of dates between Christmas and New Year's Eve at Joe's Pub in New York City.
She did 12 shows over six nights there this time around, gathering material from her daily life and from notes she took on "Sandyland" about things that struck her funny. The show she brings to Boston will start with the material from her run at Joe's, and include some "best of" material from previous shows she hasn't done here. And while it might not be explicitly topical, it was born from the last year of experience, and bears its imprint.
"Every show has its own personality," she says. "Every new show. It's like it's reflective of something that you've gone through that year. This year was sort of a national crisis. Like I said, I don't talk about it verbatim, but it takes on a certain urgency or personality every year that makes it unique. I don't think there's any real way of describing it without sounding pretentious. It just happens naturally."
Even so, Bernhard wants to concentrate on more positive material. "I talk about my life and the things I love and things that have excited me or confounded me but inspire me," she says. "I'm on a different setting than a lot of people. I try not to get caught up and swallowed up by the changing tides because they're gonna keep changing."
Bernhard doesn't see a challenge in finding positive inspiration. She has a long list to draw from.
"Just going out on the street every day and riding the subway and going to the radio show and the people I get to meet and the music I get to listen to," she says. "The restaurants I get to go to and the plays I get to see. Films and great television. I mean, there's so much great stuff happening right now. It's like a Renaissance. And also people being so engaged in what's going on and really trying to make a difference. That's very exciting and inspiring. The people have been awakened and are involved. And I think sometimes during really quote-unquote good times people get a little complacent."
She keeps a busy schedule between the daily radio show, live performances and frequent acting jobs (on shows like "Broad City" and "Brooklyn Nine-Nine").
It's a natural culmination of her influences. She says she knew from age 5 she would be a performer and grew up studying a diverse set of luminaries. She names Carol Channing, Carol Burnett, Julie Christie, Mary Tyler Moore and Tina Turner as influences.
"I grew up in a time when things were much more specific," she says. "So I've drawn from everything. We could talk for three hours about it. It all sort of became part of my personality. That was the great thing growing up when I did. You could listen to classical music, you could listen to Broadway musicals and then you could jump to popular music and popular entertainment and watch late night talk shows. And you just kept layering on who you were and becoming more of a complex performer."
Bernhard will also be back as Nancy on the reboot of "Roseanne," which premieres March 27 on ABC. She says her appearance was a happy accident, as she happened to be in Los Angeles working on a project when the show added an extra episode. That allowed the show to write Nancy back in. "It was really great to be around everybody again," she says. "Especially Estelle Parsons, who is amazing."
She says this doesn't feel like a one-and-done season, and thinks they'd like for it to continue, but she doesn't have much news to share about what the Conners are up to these days. "I honestly don't know what the arc of the season will be," she says, "so we'll have to just wait until March to see it."
Of everything Bernhard does, she is most drawn to the unpredictability of performing live.
"I think anybody would like to do that," she says. "Because it's immediate and every night you're connecting with a new bunch of people. It's like tightrope walking. You just kind of go out there, and although you may be prepared, you kind of never really know completely what's going to happen."
---
Sandra Bernhard brings "Sandemonium" to City Winery in Boston on Friday, Jan. 19.