France's Compagnie Accrorap Troupe Explores 'The Roots' Of Hip-Hop — And Itself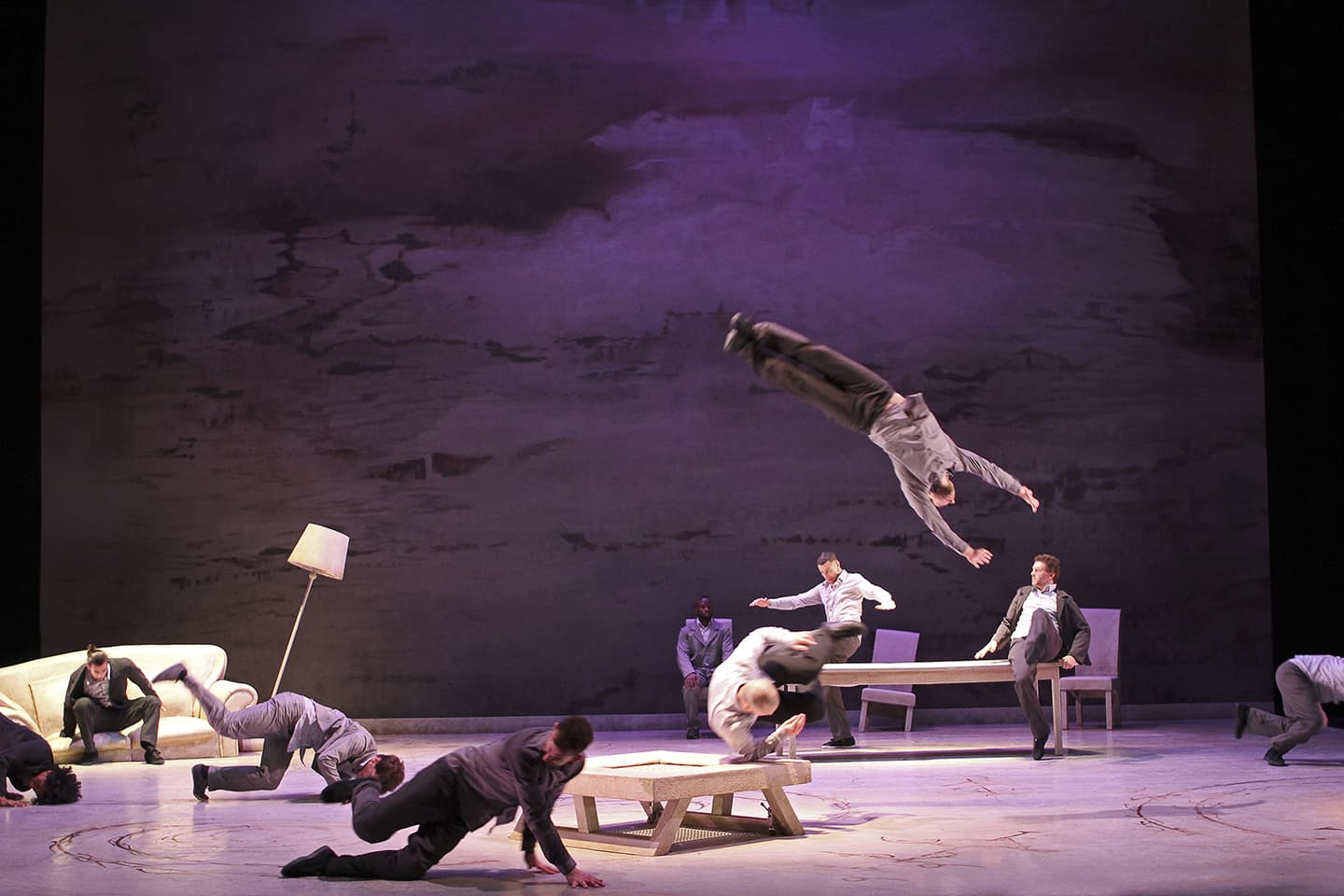 This article is more than 3 years old.
A single light rises to the unexpected classical music of Brahms, revealing a lone man slouched in a chair. He moves about restlessly, gripping his head as if a migraine were piercing his skull. Behind, an ominous line of silhouettes appears, frozen against the backdrop before fading to darkness.
The end of the waltz transitions into a modern, electronic sound, and the man, dressed in business attire, slowly stands. Instinct seems to take precedent, overriding his consciousness. His body appears compelled to move, but in the most effortless way possible.
The 11 male dancers in the French troupe, Compagnie Accrorap, will make their Boston debut this weekend at the Boch Center's Shubert Theatre in artistic director and choreographer Kader Attou's "The Roots." The performance, presented by the Celebrity Series of Boston on Friday, Feb. 2 and Saturday, Feb. 3, is representative of the company's humanistic nature and culturally inclusive aesthetic.
Featuring an assortment of everyday objects in ordinary settings, "The Roots," created in 2013, is an expressive work that explores and unearths pieces of history — the evolution of hip-hop, the progression of Attou's company and the journey of its dancers and their strengths.
"Hip-hop is not only a spectacular dance art, as you can see in competitions and battles," Attou said. "Hip-hop enhances a poetic, burlesque and receptive universe. This universe is part of my identity, and I claim it in this piece."
Born in France to Algerian parents, Attou was raised with a keen awareness of cultural diversity, and throughout his life, he has remained connected with his roots not only as an individual, but also as an artist.
"Dance has always been omnipresent in my family culture," he said. Dance consumed their celebrations, inspiring closeness with each other and in a way, cementing unforgettable moments and milestones into the family's heritage. Attou's relationship with movement was a natural result of his culture and lifestyle, but his formal training actually began in the circus arts in his hometown of Saint-Priest.
His interest in choreography developed later, following the advent of a hip-hop television program, which aired every Sunday in the mid-'80s, he said. The show finished with a lesson, and immediately after, Attou and his friends would meet down the block to practice. "Hip-hop was at first a passion," he said, "but it became, thanks to luck, but also hard work, a real-life project."
This project would come to be known as Accrorap, and since it was founded in 1989, the company has continued to be recognized for its unique style: a combination of hip-hop, circus arts, Indian kathak and contemporary dance.
Since the troupe is composed of independent artists, the number of dancers is not consistent, but depends on the context of the choreographer's creation. Regardless of each work's magnitude, the purpose lies in creating dialogue with one another and with audiences worldwide, and in building bridges between the technicality of the movement and the emotion it evokes.
Although "The Roots" doesn't follow a specific storyline, it moves from one artistic window to another, from one chapter in a book to the next. In a sense, the piece, featuring a soundtrack by composer Régis Baillet, time travels from the past and into the present, Attou explained.
"Hip-hop, for me, is an art nourished by the culture of its dancers, making it an exciting choreographic form, but I'm open to every kind of dance," he said. "All the dance experiences that I'm lucky enough to witness inspire me and play a part in my signature, and often, blend in with my background."
---
Compagnie Accrorap performs "The Roots" on Friday, Feb. 2 and Saturday, Feb. 3 at the Boch Center's Shubert Theatre. 
Lawrence Elizabeth Knox Contributor, The ARTery
Lawrence Elizabeth Knox, a recent graduate of Boston University, is a freelance photojournalist in Houston, Texas, and a contributor to The ARTery.