Goggles In The Gallery: Mass. Art Museums Venture Into Virtual Reality
05:52
Play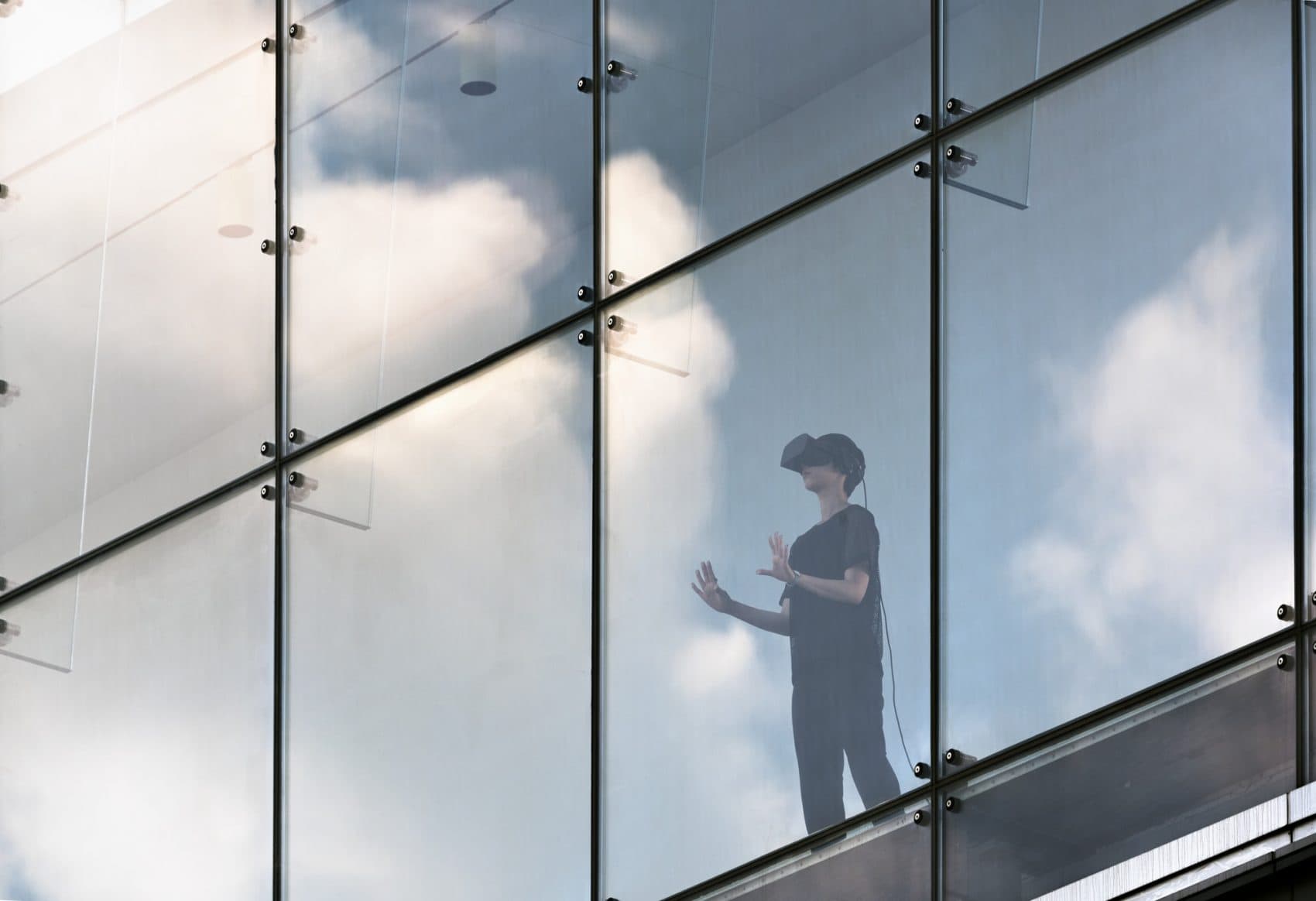 This article is more than 3 years old.
Virtual reality isn't just for video games, film festivals, amusement parks and malls. Now it's entering art museums. As VR technology has gotten better and cheaper, more artists and curators are experimenting with it as a new medium for expression.
How Virtual Reality 'Engages All Senses'
The Institute of Contemporary Art in Boston is ushering in VR's arrival. Its site-specific virtual reality piece, "View of Harbor," takes you on an immersive, apocalyptic journey. You begin on the museum's fourth floor, standing in front of a long glass wall perched on the edge of Boston Harbor.
But the building and landscape transform into darker versions of themselves after you slip on the Oculus Rift goggles. In the distance, a wave is moving toward you. Seagulls flee. Then a massive wall of water crests over your head.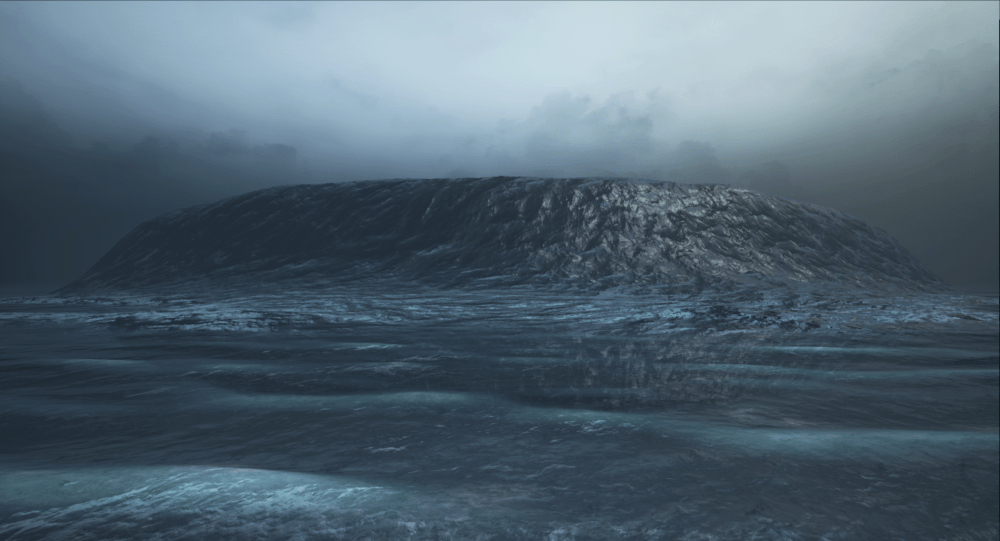 The tsunami smashes the museum to pieces and plunges you beneath the surf with artworks, shards of glass and contorted bodies. Steven Griswald, 24, has tried VR before but said this artist's rendering was different.
"It almost felt like it was out of body because you can't see your legs, can't see your arms, you're kind of just like floating in like this digital void," he explained, "so it's like a very surreal experience."
Griswald was a little wobbly after experiencing the 8-minute nightmare-scape and aftermath of a climate change disaster.
"It's kind of scary a little bit. But it's also like really cool," he said, "and it is slightly unsettling. I did get a little nervous." But Griswald stuck with the frightening and strange sci-fi inspired work to the end.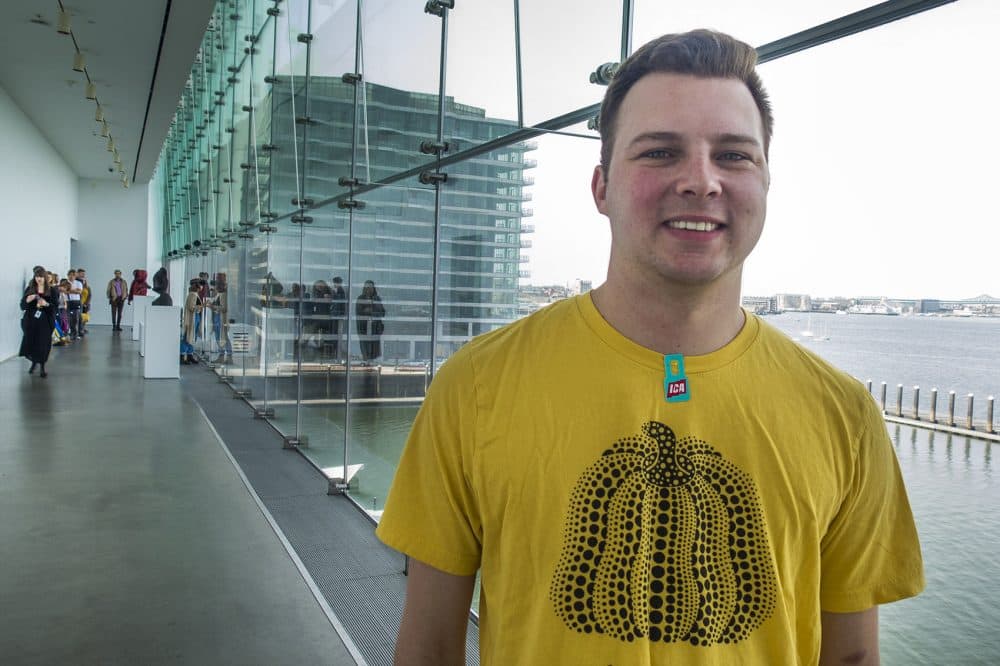 ICA chief curator Eva Respini commissioned "View of Harbor" — a first for the ICA.
"What I love about the piece is that you start grounded in the real — and you end up in the virtual in a way that, you know, only artists can imagine," she said, standing in the museum's Founders Gallery. She's seen other VR experiences at institutions like the Whitney and New Museum in New York and the MIT Museum in Cambridge.
"It's new territory for museums. I think it's really new territory for us," Respini said. "Most of the visitors have never done a VR piece, period. And if they have done it maybe it's been in the context of gaming or another kind of context that's not a museum context. So certainly our viewers are learning — as are we."
Respini sees VR as an introduction to new ways of seeing — and feeling — art.
"It leaves a physical sensation that your whole body experiences it — as opposed to just a cerebral or visual experience, the way that we might think about a painting or a sculpture," she said. "So in that sense, it really engages all senses in a way that no other work does."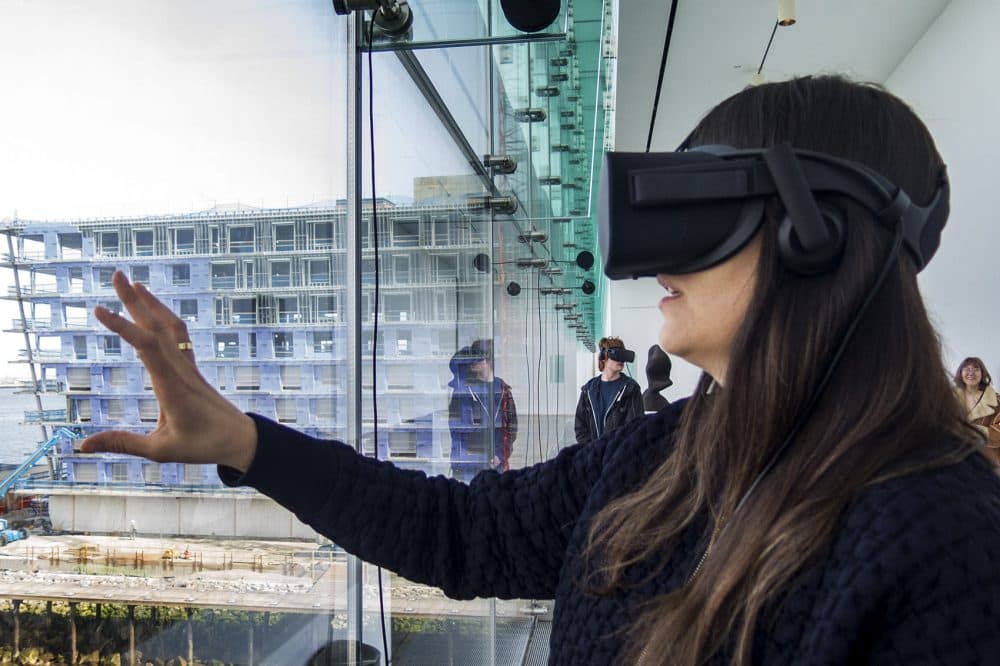 Experimenting With A New Medium
But it's taken time for other museum folks to warm up to the idea of VR in their galleries. Joe Thompson remembers being skeptical about the prospect of bringing it to the Massachusetts Museum of Contemporary of Art (MASS MoCA) in North Adams, where he's director.
"Why in a museum?" he asked, "Why here?"
Thompson has long been wary of high tech devices and "gizmos" getting in between viewers and artworks. VR is discombobulating, for some nauseating, and it's cumbersome, he said, requiring people to "suit up" with goggles and gloves.
But musician and multimedia artist-in-residence Laurie Anderson won Thompson over with her ambitious creations that went up at MASS MoCA last year. One places visitors in a commercial airplane that slowly disintegrates in mid-air. The other, called "The Chalk Room" allows participants to walk, or float, through the architecture of a story.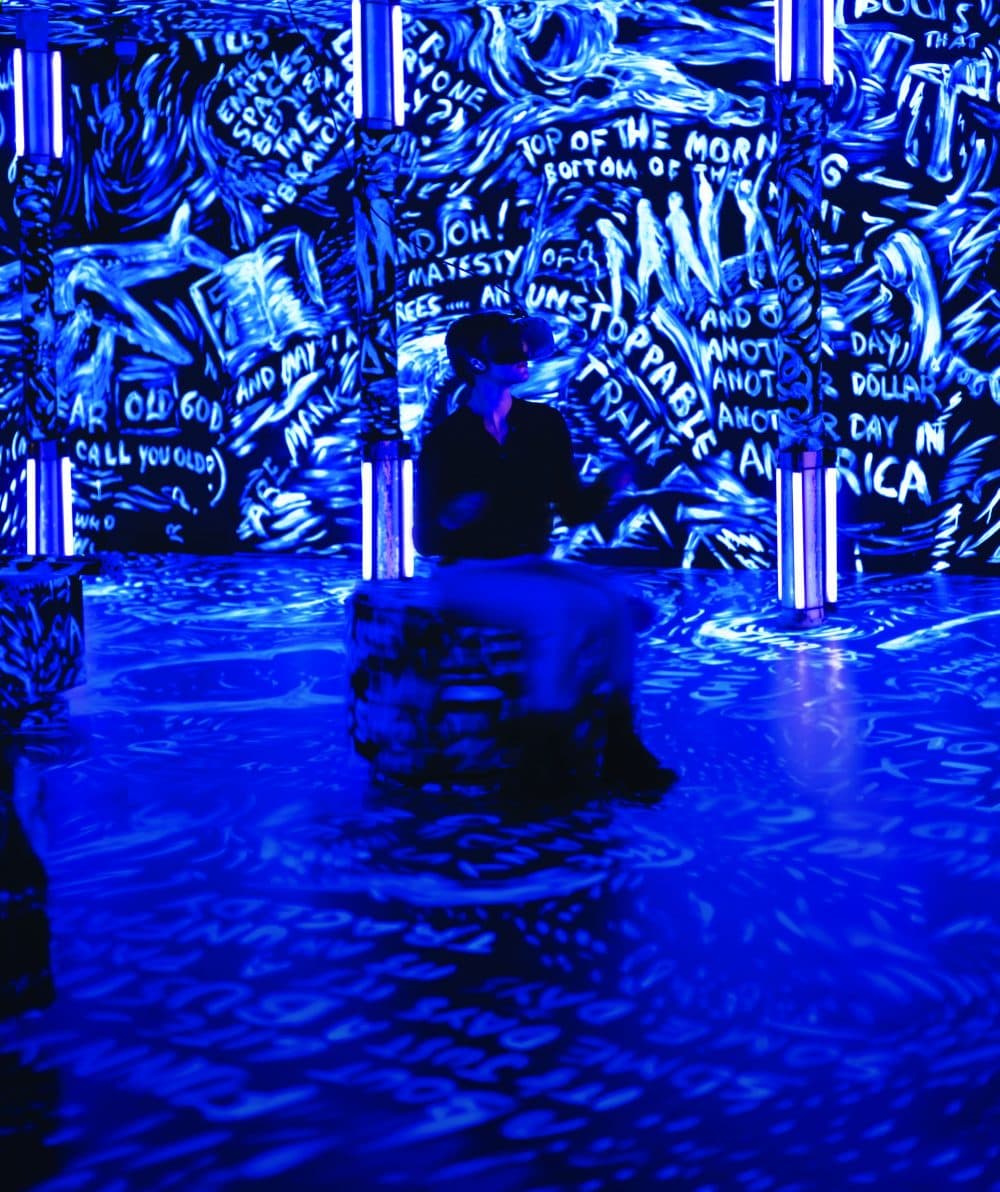 Thompson said Anderson's pieces are probing, thought-provoking and break down barriers between the adept artist and her viewers.
"There's nothing wrong with spectacle, I'm a big fan," he mused. "But in an art museum you expect your spectacle to come laden with more layers of meaning, and to tell you something about the world we live in, and if it stops at gloss and glitter it's probably in the wrong place."
Plenty of people are asking the big question: Is virtual reality art?
Jon Rafman, the Canadian artist behind the new VR piece at the ICA, doesn't know if it's been answered yet.
"I mean, I think one has to be critical of it as a medium," he told me. "And I'm trying to explore how it can be elevated to that status."
The 36-year-old artist has been examining online communities through his practice, and I don't think he was joking when he said he's been preparing for VR most of his life. He recalled how throughout history new mediums like photography and film have been scorned, and operas had the power to cause riots in the streets. Rafman said maybe art today needs to find ways to pull in and engage intimately — almost aggressively — with modern viewers.
"It needs to wrestle to get your attention so much now, because there's so many distractions, there's so much informational overload," he said. "And in a way, VR is like a technology that does that because it violently traps you within its world."
Rafman said unlike other art forms, here the viewer is stuck inside the headset — unless they opt to remove it. To escape.
In this moment, as he's getting more commissions, Rafman feels like a VR art pioneer.
"On one level, it's exciting because the art institutions are giving opportunities for artists to explore and understand the meaning and the possibilities — and how it can be used as a critical media," he shared. "And on another level it's great because it attracts, you know, maybe some people who wouldn't otherwise be enthusiastic museum-goers."
Rafman thinks VR could be one of the most important mediums of our era.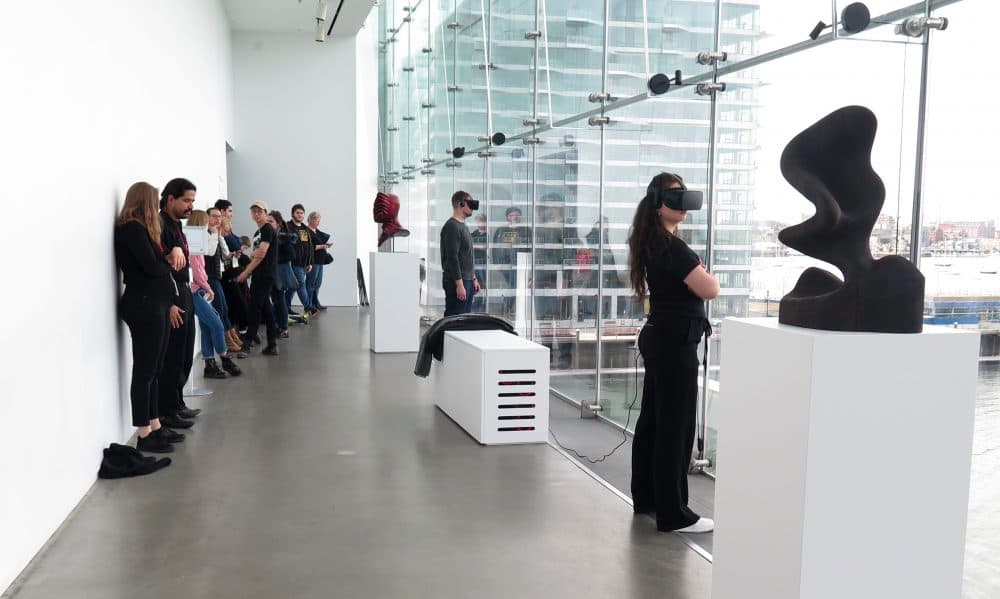 Predicting The Future Of VR
At the ICA, 17-year-old visitor Pablo Robin joins his mother after they each experienced Rafman's work. The teenager goes to a lot of art museums with his family and said the VR is pretty cool. Then he made his own prediction.
"I think it will wear out, or like the gimmick won't be there anymore," he said. "Nobody is going to want to come to the Louvre just to put a mask on their head."
Christine Klaehn, of Jamaica Plain, waited in line with her 9-year-old son, Morgan, and said VR should be part of a contemporary art museum's evolution.
"Museums shouldn't be stagnant paintings, they should be forums for discussion, for thought," Klaehn said. "But this is taking it to a whole new level and in a fascinating way."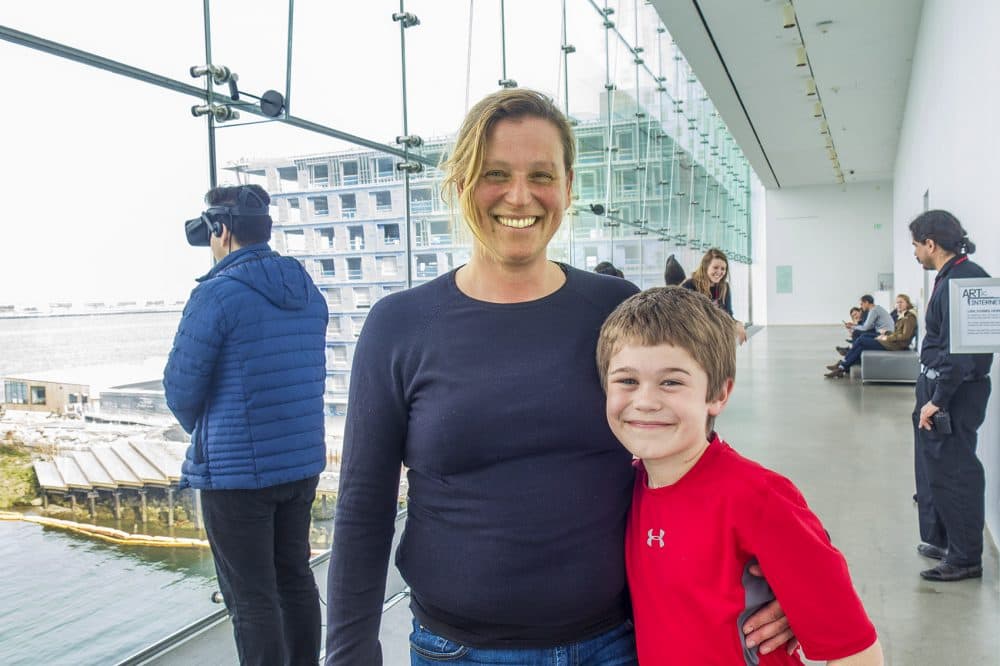 Even so, adapting to technological change is challenging. Some museums are in no rush to bring in VR — not knowing if it'll be novelty or new frontier.
But ICA curator Eva Respini likens the new medium to a mirror, reflecting society, whether we choose to look ... or not.
---
Jon Rafman's "View of Harbor" is part of the ICA's "Art in the Age of the Internet" exhibit, up through May 20. 
This segment aired on April 9, 2018.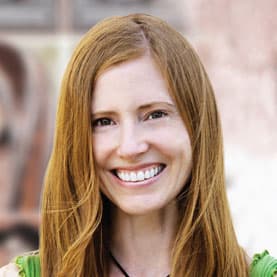 Andrea Shea Senior Arts Reporter
Andrea Shea is WBUR's arts reporter.