With A 'British Grammy' In Tow, Blue Heron Kicks Off Its Season With An Ear To The Future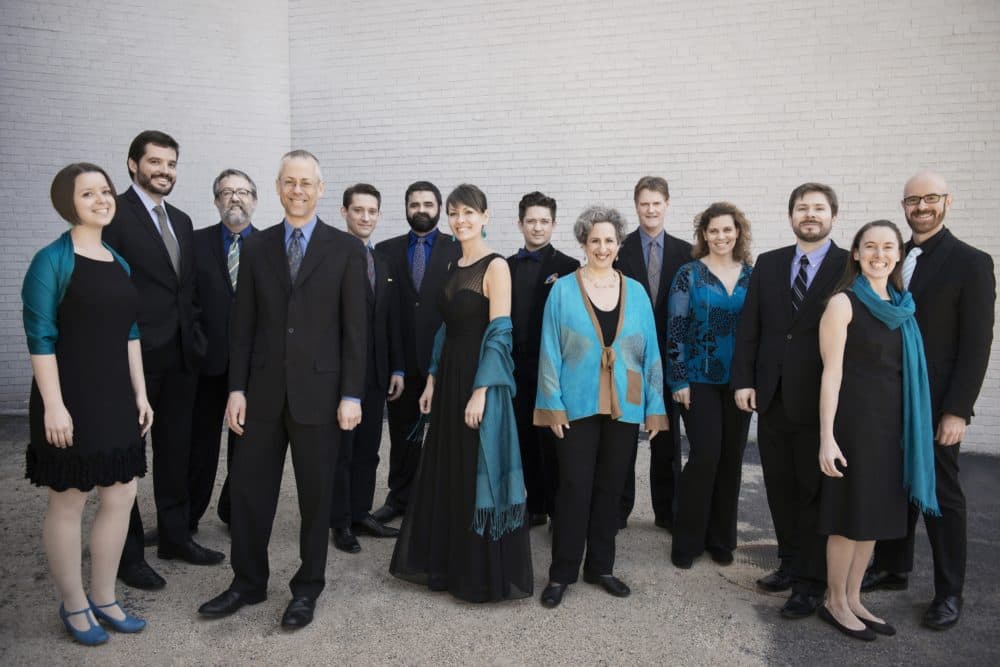 This article is more than 2 years old.
You are forgiven if you've never heard of the Peterhouse Partbooks. Few outside of early music circles have.
But for Scott Metcalfe, unearthing the collections of 16th and 17th century music at the Von Huene Workshop in Brookline back in 1999 kicked off years of work for his Renaissance vocal ensemble Blue Heron.
Partbooks are collections of music in which the various vocal ranges were printed separately. In the Peterhouse Partbooks, the tenor part was lost long ago — rendering the music unsingable. Until British scholar and composer Nick Sandon began restoring the missing parts back in the 1980s.
"I wrote a letter to Nick, and told him we were interested in doing more," Metcalfe said. "He had reconstructed the tenor part in most of the collection, and he said he didn't know anyone else who was singing it."
The Partbooks document compositions from the heyday of vocal music. Every church and cathedral had a choir, and a music director, and religious settings for singers were the principal task for every composer. Investigating that music now turns up fascinating possibilities for performance — music with adventurous rhythmic ideas, challenging pitches and styles, and thrilling climaxes.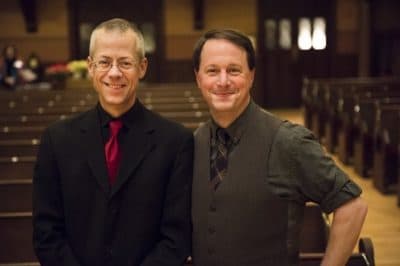 Over the years, Blue Heron has explored many of the settings found in the Peterhouse Partbooks, and gradually recorded some of them. Those recordings have culminated in a box set, "The Lost Music of Canterbury," just released on the group's own label.
Blue Heron was subsequently awarded the Gramophone Classical Music Award for the last disc of the set. The Gramophone Awards are known in the music industry as the "British Grammys." Blue Heron is the first North American group to win in the 41-year history of the awards. Given the pervasiveness of early music performance and recording in Europe, compared to the United States, it's a remarkable confirmation of Metcalfe's work, and the ensemble's realization of it.
The group has come a long way over the years.
"We felt it was a miracle that we even got the first [Peterhouse Partbooks] recording done, back in 2009," says Blue Heron's general manager John Yannis. "It was a pipe dream. Then we had the shock of Alex Ross writing about us in The New Yorker."
Yannis refers to the esteemed music critic and MacArthur fellow, whose opinion sets taste in many musical areas. His lengthy article, "Many Voices," in a January 2011 New Yorker article analyzed several ensembles exploring Renaissance music, and pointed to Blue Heron as one of the groups who are transforming that music into a living entity, and not "a higher species of Muzak," as he put it.
"...it is good to feel a hint of turbulence, of mortal fear, in performances such as Blue Heron's," Ross concluded. High praise, and a true insight into what the possibilities of this music really are.
Such notable distinctions make a difference for a small group like Blue Heron.
"I think we are waiting to see what the real impact will be," Metcalfe says, referring to the Gramophone Award. "CD sales in Europe will definitely improve... It's not a huge market, but we're not a huge operation."
Metcalfe says the award has gotten the ensemble noticed in ways they wouldn't have otherwise.
"This shows that we are as good as the Europeans," Yannis adds, "that there's no reason that Boston can't have a group that's just as accomplished."
He hopes that the momentum could build the group's subscription base in the Boston area, result in a residency, or give more touring opportunities.
"It's been growing," Yannis says of the group's touring. "The last five or six years, we've done 20 to 25 performances a year. We like Burlington, and we do trips to Washington, or New York, and Seattle. They have the most prominent venues and [largest] audiences. And in Providence we are building up our own following."
No matter what happens in the future, Blue Heron has begun exploring its next recording and performing project. In 2020, the early music world celebrates the 600th anniversary of the birth of French composer Johannes Ockeghem. Blue Heron is already well into a set of a dozen performances of his music. The group's season opening concerts, Thursday, Oct. 11 through Saturday, Oct. 13, will be the eighth of their series Ockeghem@600.
"In the next five years, we'll be wrapping up the Ockeghem@600 Project," Yannis says. "The idea is to do three recordings. I'd love to see that culminate in a trip to France for the Ockeghem anniversary.
Yannis says ultimately, the ensemble is focused on putting out exceptional early music.
The awards is "not going to change the way we work," Metcalfe insists. "Not our repertoire, or our focus."
"What we really want to continue to allow Scott to explore whatever he's interested in," Yannis says. "We don't feel like we have to go for the greatest hits."
---
Blue Heron opens its season on Thursday, Oct. 11 at St. Cecilia Parish in Boston. The program repeats Friday, Oct. 12 in Chestnut Hill, and Saturday, Oct. 13 at First Church Cambridge.
---
Correction: An earlier version of this post indicated Blue Heron released their music on a different label, while in fact they released the record on their own label. The post has been updated. 
This article was originally published on October 10, 2018.
Keith Powers Classical Music Writer
Keith Powers is a classical music critic for The ARTery.