In Lyric Stage's 'The Roommate,' Comedy Cohabits With Reinvention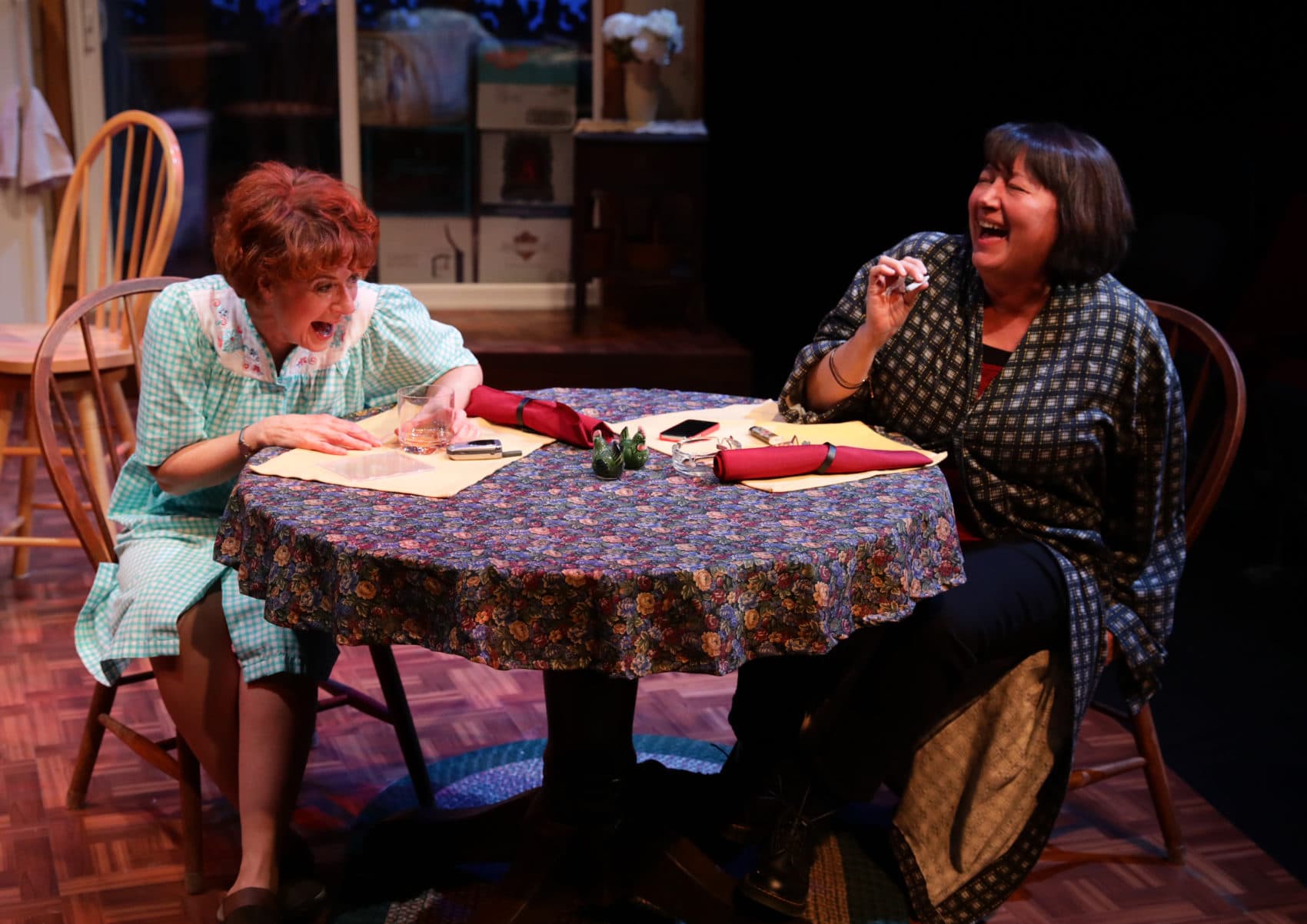 This article is more than 2 years old.
Jen Silverman's "The Roommate" proves that, as you don't judge a book by its cover, you don't judge a play by its premise. Given a one-sentence description, the subversive comedy, which is in its area premiere by the Lyric Stage Company of Boston (through Nov. 18), sounds like a riff on Neil Simon's lame 1985 remake of "The Odd Couple" for a pair of mismatched, cohabiting women.
But if "The Roommate" starts out like that, it turns into the love child of "Thelma and Louise" and "The Grifters." Here's the setup: Recently divorced housewife Sharon has been shopping for a roommate, another woman in her 50s, to share her cheery digs in the heart of Iowa (land of "corn and space," familiar to the playwright from her grad-school days at the prestigious Iowa Writers' Workshop). And who turns up but Bronx-bred lesbian vegan slam-poet, potter and pot smoker Robyn, on the lamb from numerous earlier, shadier lives. Snooping in her new roomie's stuff, Sharon, having first tried on Robyn's leathers and struck a few Brando-esque poses, comes upon a veritable deck of drivers' licenses, each with Robyn's photo and a different alias.
Not that the play — which premiered in 2015 at Actors Theatre of Louisville and was produced last year by Williamstown Theatre Festival starring S. Epatha Merkerson and Jane Kaczmarek — is as insurgent as one might wish: Simon's odd-coupling fingerprints remain visible if saucily smeared with feminist agenda and a credo of radical reinvention. As in other works, Silverman (who has said she wanted to write a play that put women of a certain age at center stage and let them rip) asserts here that female people can crawl out of the neatly labeled, passive ruts of their lives. But the play promises more than it delivers. In particular, as a colleague pointed out as we were exiting, it defies Chekhov's counsel that, if you bring a gun on stage, you can't just return it to Walmart. (Well, Chekhov didn't mention Walmart, but he did say the thing has to go off.)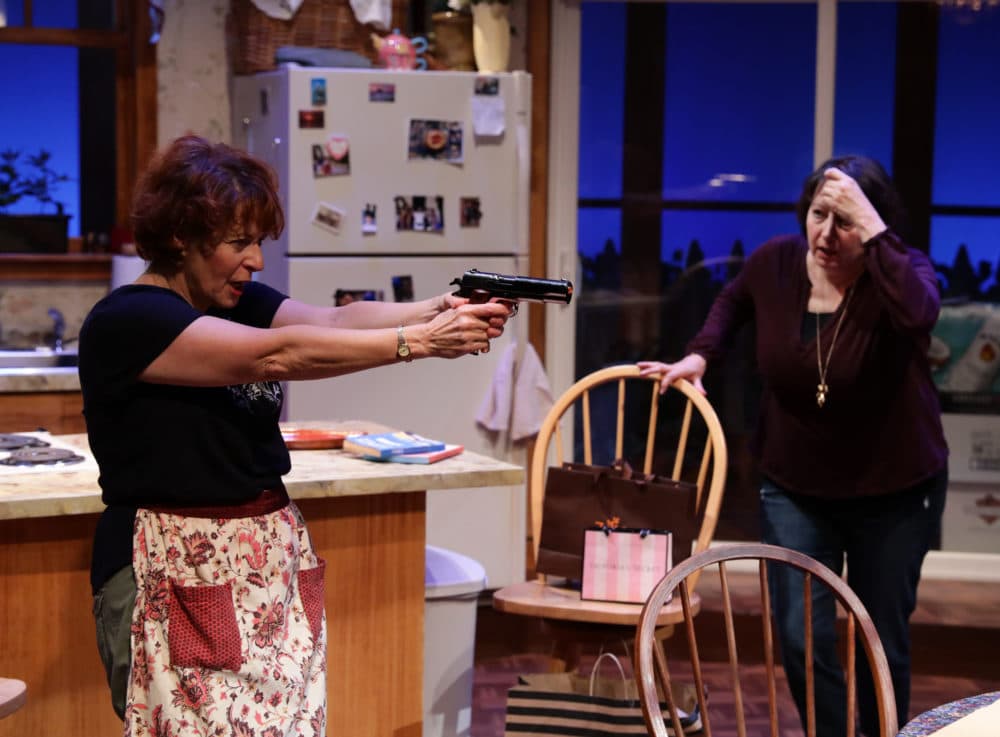 Still, Silverman intrigues me. The prolific, peripatetic, much-produced 30-something scribe — whose works include the deliriously titled "Collective Rage: A Play in Five Boops; In Essence, a Queer and Occasionally Hazardous Exploration; Do You Remember When You Were in Middle School and You Read About Shackleton and How He Explored the Antarctic?; Imagine the Antarctic as a Pussy and It's Sort of Like That" — is obviously smart and free-spirited enough that her work could prove addictive. If so, consider "The Roommate" a gateway drug — one dispensed here by an irresistible pair of pushers in veteran actresses Paula Plum and Adrianne Krstansky.
Plum, whose Sharon moves from sagging apron to décolletage and mega-baubles, marries a goofy adventurousness to profound loneliness as a character who has "retired" from her marriage to a man who spent his time assembling miniature models rather than attending to their "normal-sized life" and who has spent much of her life hovering over a coop-flown son who isn't very interested (though it's Robyn who has the last word in that department, pronouncing that "our kids don't have to like us, they just have to survive long enough to become us"). For her part, Krstansky captures both the deep sadness and the deep kindness at the root of the mysterious and flamboyant, if also euphemistic, Robyn (who applies a business vocabulary to her past career as a scammer, referring to her targeted chumps as a "client base").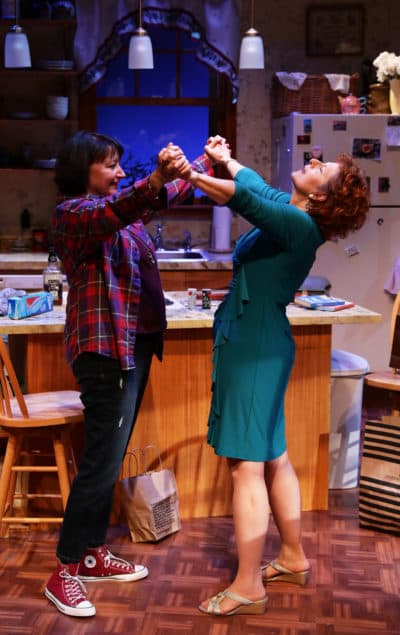 In short, there is much to like about both the roommates and "The Roommate," which moves quickly if quirkily along, helmed by Lyric producing artistic director Spiro Veloudos. Speaking to American Theatre magazine in 2016, Silverman described "The Roommate" as "naturalism on speed." And Veloudos' staging, set in a busily trimmed Midwestern kitchen designed by Jenna McFarland Lord and abetted by Dewey Dellay's droll sound design, deftly engineers that collision of everyday and over-the-top, with Plum's Sharon seizing on a more dangerous life with all the endearing gusto of a disillusioned Donna Reed discovering her inner Ma Barker as Krstansky sounds more conflicted, enigmatic depths.
Of course, "The Roommate" clangs its theme early and often, with Plum's Sharon pertly remarking near the top that "I guess everybody wants to start over. Just burn it down and start over." To which Krstansky's Robyn, endeavoring to describe the emboldenment she found in poetry slams, replies: "All first poems are bad, but there is a great liberty in being bad." It's the mantra of the play, twisted at the end into something both bittersweet and definitely badass.
---
Lyric Stage Company's production of "The Roommate" runs through Nov. 18.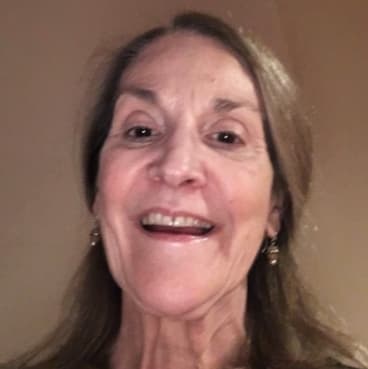 Carolyn Clay Theater Critic
Carolyn Clay, a theater critic for The ARTery, was for many years theater editor and chief drama critic for the Boston Phoenix.