The MFA Puts 'Batman Returns' In Its Rightful Place Among Indie Darlings From The '90s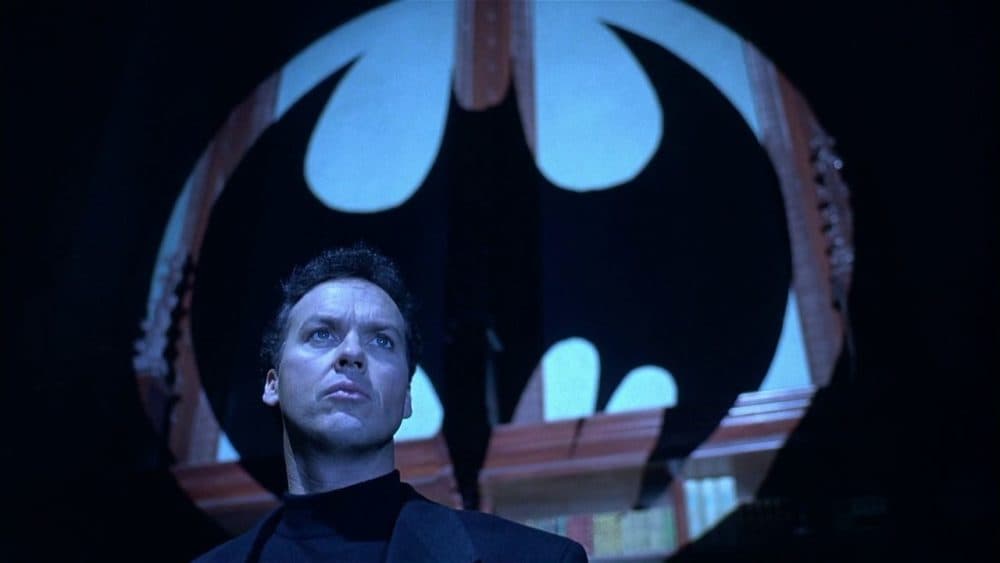 This article is more than 2 years old.
It may sound strange to close out a series celebrating oddball independent films with an $80 million superhero sequel, but the Museum of Fine Arts' marvelous "On the Fringe: Indie Film in the 90s" retrospective wraps up this weekend with a 35mm screening of 1992's notorious "Batman Returns."
It's an inspired choice, as Tim Burton's kinky, costumed psychodrama represents perhaps that decade's grandest act of cinematic subversion, smuggling a peculiar and deeply personal tale of trauma into a franchise marketed via McDonald's Happy Meals. The bat, the cat and the penguin now take their places at the MFA alongside "Gummo," "Welcome to the Dollhouse" and "Being John Malkovich." And I'll tell you, the movie feels a heck of a lot more comfortable in such company than it ever did at shopping mall multiplexes.
The story goes that Warner Bros. was so hell-bent on getting a follow-up to their 1989 blockbuster "Batman" that they allowed Burton a degree of creative freedom unheard of for such an expensive tent-pole property. Riding high from his surprise 1990 smash "Edward Scissorhands," the idiosyncratic director initially had no interest in helming a sequel, confessing years later that he found the original film "a little boring." Indeed, the wildly uneven "Batman" was the first movie I can recall becoming a massive cultural event months before it was even released, so by the time people finally saw the picture it hardly mattered that nobody seemed to like it very much.
The studio eventually signed Burton by telling him not to think of this as a sequel, but rather as "a Tim Burton movie," and for their sins he gave them one. Scrapping an action-oriented script by the first film's co-writer Sam Hamm, the director brought in screenwriter Daniel Waters, who penned the screamingly funny 1988 teenage suicide comedy "Heathers" — a cult hit that brought my normally mellow eighth grade English teacher to the edge of apoplexy when I told him how much I'd loved it.
For a brief but glorious run in the early '90s, Waters was allowed to unleash his irreverent, meta-wisenheimer sensibility on a string of studio pictures, from the fourth-wall breaking Andrew Dice Clay detective comedy "The Adventures of Ford Fairlane" to the slyly self-parodying Stallone vehicle "Demolition Man." (After a few drinks I have been known to insist that his "Hudson Hawk" — a madcap 1991 mega-bomb starring Bruce Willis and Danny Aiello as singing cat burglars — is secretly one of the great comedies of our time.)
Waters' knowing, acerbic dialogue proved a perfect foil for Burton's moody, outsider empathy, lending "Batman Returns" a saucy sizzle of camp missing from the director's mopier efforts. This admittedly overstuffed sequel pits Michael Keaton's Bruce Wayne against two distorted mirror images of himself. The first, Christopher Walken's sociopathic department store magnate Max Schreck, is Wayne without a conscience — a creature of pure capitalism suggesting what billionaire Bruce's life might have been like without his parents' murder driving his obsession with justice.
The other, Danny DeVito's Oswald Cobblepot, was, like Wayne, an only child born into Gotham aristocracy, only to be tossed in the sewer by monstrous parents ashamed of his deformities. At heart both Batman and the Penguin are wounded, violent kids who grew up without a mom and dad, Cobblepot at the climax pointedly hissing to Wayne, "I think you're jealous that I'm a genuine freak and you have to wear a mask."
The film is stolen outright, however, by Michelle Pfeiffer's Catwoman. The actress gives the performance of her career as Selina Kyle, a mousy secretary shoved out a window by her creepy boss Schreck, mysteriously resurrected by alley cats and looking for revenge. "Life's a bitch, now so am I," Pfeiffer purrs in one of the lines that made her an unlikely feminist icon. Literally vacuum-packed into a skin-tight latex catsuit, her rooftop tussles with Batman have a decidedly BDSM bent. There's an adult perversity to the picture that feels even more startling today, given the neutered nature of contemporary multiplex offerings.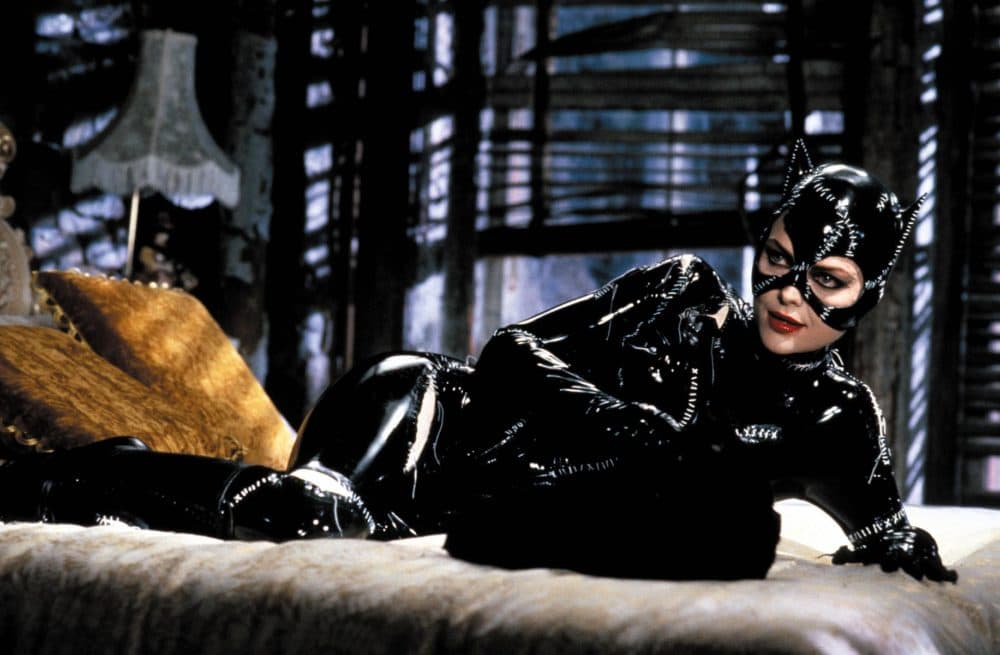 The film's finest, most symbolically loaded scene finds Keaton and Pfeiffer sharing a kiss under the mistletoe at a masked ball where they're the only guests to arrive without costumes — playfully implying that their Bruce Wayne and Selina Kyle personas are merely disguises, while their real personalities can be found clad in black fetish-wear every night, getting all freaky-deaky with each other atop the roofs of Gotham City.
I went to see "Batman Returns" twice on opening weekend, both times enthralled with the movie and amused to no end by mass walkouts, weeping children and parents so pissed they ended up launching a much-ballyhooed boycott of McDonald's over those darned Happy Meal tie-ins. In Roger Ebert's two-star review he bemoaned this "dark and brooding film filled with hurt and fear, childhood wounds and festering adult resentments." My dad told me the movie was "sick" and that "there's something wrong with that Tim Burton guy."
In the 2005 documentary "Shadow of the Bat," Waters describes the amazing experience of watching the film with an unsuspecting audience, "The lights come up and kids are crying. People are acting like they've been punched in the stomach, like they've been mugged. Part of me relished that reaction, and part of me to this day is like, 'Oops.' " Despite satisfactory box office grosses, Burton was politely encouraged by Warner Bros. not to return for a third installment.
Seen today, "Batman Returns" feels radical not as much for it's perversions but rather the enormous depths of feeling the filmmaker brings to his gallery of grotesques. The large-scale action sequences remain flat and uninspired — Burton's never been any good at those and Keaton can barely move in that suit — but the one-on-one confrontations have an electric intimacy unheard of in this genre. Most superhero movies end with saving the world, this one builds to a soul-bearing emotional showdown between three deeply damaged people and a poignant funeral march by some very sad penguins.
Even the Christmastime setting feels like a deliberate affront, with not one but two tree-lighting ceremonies degenerating into bloodbaths. Holiday movies typically celebrate hearth and home, so here's one about alienated loners with no families. "Batman Returns" is a perfect Christmas movie for people who hate the holidays, and exactly the kind of film that modern studio executives are paid a small fortune to make sure you will never see the likes of again.