'Marcos Doesn't Live Here Anymore' Shows What Deportation Does To Families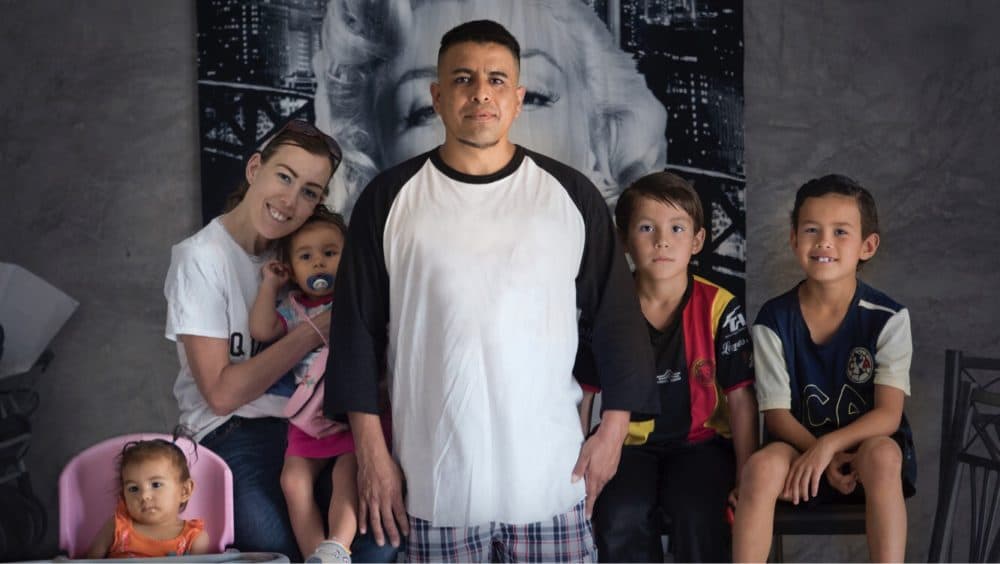 Marine Corps veteran Elizabeth Perez used to chalk up immigration to politics about other people. But all that changed when her undocumented husband, Marcos Perez, was deported to Mexico in 2010. Ever since, Perez has been on a mission to bring him back to the United States.
If sharing her family's fractured story helps reunite them, or improves the situation for other separated families, she's game. That's why she agreed to let Boston-based filmmaker David Sutherland follow her with a camera into lawyer consultations, strategy sessions with the Ohio immigration advocacy group Hola, protest marches, and encounters with elected officials — all while raising her young children as a single parent in Cleveland. The camera reveals a family life in which sweet good night video chats can dissolve into meltdowns over the kids missing dad.
In one scene, the Catholic Elizabeth Perez visits the nearby synagogue for the first time ever. She realizes, "I'm your neighbor," and asks for their support. It doesn't take long in "Marcos Doesn't Live Here Anymore," the documentary premiering on PBS' Independent Lens on Monday, April 15 at 9 p.m. (check your local listings), to realize that Perez sees a neighbor in most people she encounters. She also doesn't take no for an answer.
These qualities drew in Sutherland.
With this film, Sutherland said in a phone interview, "You can say you know someone who has dealt with deportation." He shot Perez and her husband over four years, with Perez mostly searching out new ways to advocate for her husband's return and with Marcos Perez building a provisional life in Mexico City. It's hard not to root for their happiness, yet what exactly might lead them there shifts as the years wear on.
For that reason, Sutherland asserts that his film is not an advocacy piece. "I'm not saying he deserves to come back," he said. Plus, Marcos Perez's case involves past brushes with the law and nearly all scenes take place during the Obama administration.
In the film, Perez describes how they tried (unsuccessfully) to live as a family in Mexico City. But the stress also mounts when the family lives separately. The camera catches Perez harshly scolding her children. In another scene, she openly prays to Mary to intervene.
Sutherland is known for bringing dimensional portrayals like Perez's to screen. Perez is diligent ("The Farmer's Wife," 1998), relatable ("Country Boys," 2006), and strives against complicated systems that seem even tougher on women ("Kind Hearted Woman," 2013). Sutherland's films also take time, both on the ground during production and in watchable hours. ("The Farmer's Wife" runs in two parts and the latter two clock in over six hours.) "I've made 21 hours of television over the last 20 years," he joked after a New England premiere screening at Salem Film Fest last week.
And while "Marcos" runs relatively shorter at 104 minutes, it still counts as a portrait to both Sutherland and his subject. "He uses the phrase portraitist [to describe himself] and I really believe that," said Perez. She expressed confidence in the final film she'd seen once about three weeks prior to our phone interview. "He captured that this is a never ending wheel that just keeps spinning and spinning, maybe not through all the words, but by the end."
When Marcos Perez appears in the film, he often keeps quiet. The camera follows him to get a haircut from his deaf, gay brother — another family member he feels like he can't protect — and onto the soccer field where he works as a referee. As he and his wife contemplate their future while walking hand in hand down a Mexico City sidewalk, she tries to convey the demands and chaos of parenting their children, that the longer they live apart the more difficult it might be to live together. Marcos nods distractedly as Elizabeth keeps talking.
In another scene of just Marcos Perez shot via video chat, he breaks down — he doesn't want to live so far from his kids. Later, his wife will ask him point blank if he still wants to live with her. These are the painfully intimate moments of a marriage, and family, under compounded stress. Sutherland calls his films "warts and all" portraits.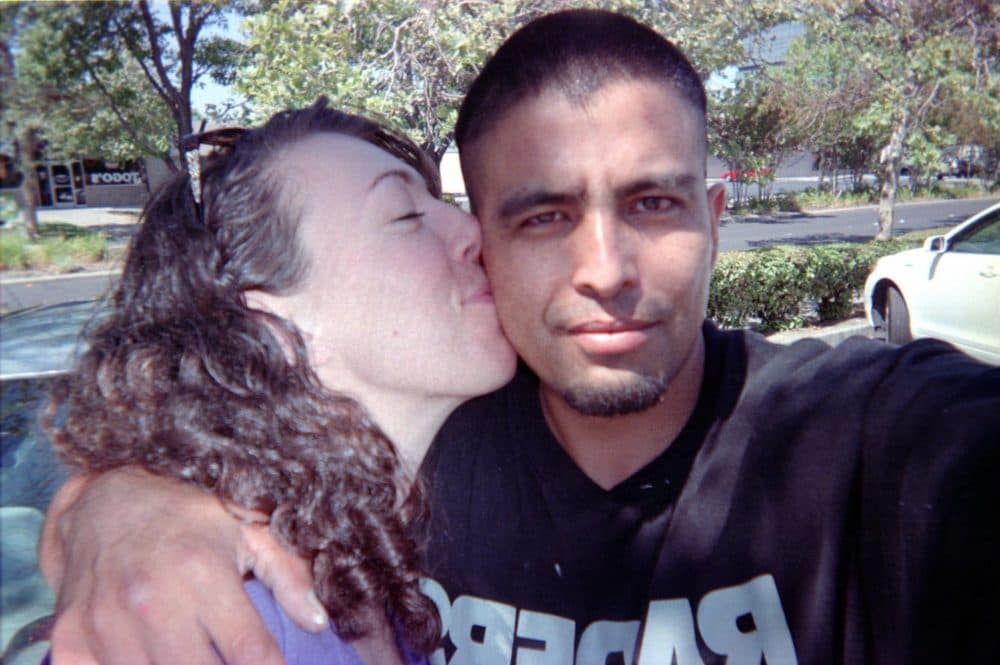 Perez said that if anything is left out, it's the myriad other things she and others have tried to bring her husband home. She mentioned Veronica Dahlberg, who appears in the film and runs Hola, as someone who has sacrificed much for the Perez case and immigration reform. But their work is part of a much broader effort yet, most of which goes unseen. "There have been hundreds of thousands of people fighting for immigration change for decades now," said Perez.
For Perez, the political climate for immigrants and undocumented workers has gone from bad to "even more horrible than it was before." She worries that if a white, American veteran with a college degree can struggle for a decade without success, what about someone who has had less opportunity? "I have the privilege to openly fight for my husband and a lot of people don't," she said.
While she wants her own family's situation to resolve, even more, she wants people to have a better understanding of how current policies play out in real life. "Hopefully this film will bring about more energy to change these laws," she said.