The Powerful Whimsy Of 'Salt Fat Acid Heat' Star Samin Nosrat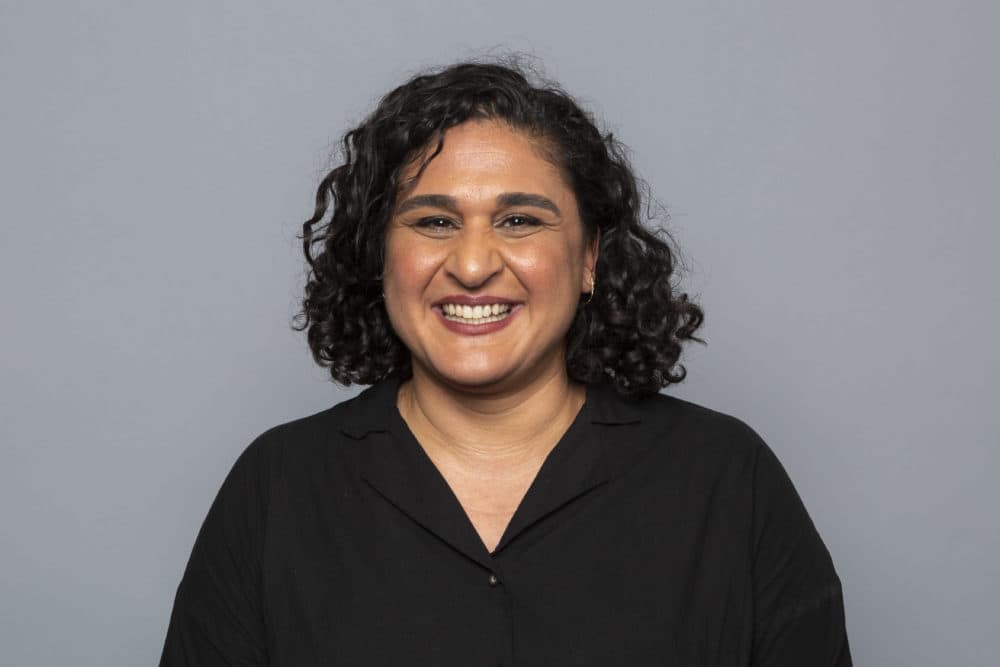 Back when Samin Nosrat was still working in restaurants, a long-time friend made an observation that she found fascinating: "Wow, you really identify with your Persian-ness." For Nosrat, her Persian identity and her deep connection to the culture had always felt highly apparent, even when she might have preferred otherwise. "That was so surprising to me," she explains, "that I had reached a point where [being Persian] wasn't the most obvious thing about me --that it might take years for someone to realize it was part of my identity. I've never considered myself anything other than Iranian."
These days, Nosrat carries a slew of other very salient identities: James Beard Award-winning cookbook author, New York Times food columnist and culinary educator, and widely adored Netflix docu-series star for "Salt Fat Acid Heat." She'll tell her story and discuss her work on May 1 at the Emerson Colonial Theater.
Notably, her work and her subsequent success are not centered around her ethnic background; many online profiles, including her own, make no explicit mention of her family heritage. As Soleil Ho writes, she's "the brown girl who bypassed the Ethnic Cuisine shelf and found a home in General Cookery." Nosrat is neither a token nor a symbol of a post-racial society. Her success is not centered on her social identities but on the insightful and warm-hearted voice she has become as a result.
"Salt Fat Acid Heat" is not a Persian cooking show, but its unique focus — honoring the wisdom of home cooks, especially women — is deeply informed by her heritage and life experiences as a woman of color. With the show, Nosrat deftly breaks new ground, on the one hand making few explicit references to feminism or social justice, and on the other hand demonstrating just how magical the world is when those who are typically marginalized are treated with dignity and respect.
Humble work, from salt-making in Japan to bee-keeping in the Yucatan, truly shines, as do the many people who make their living by it.
Growing up in San Diego, Nosrat lived in a home saturated with Persian culture. "My mom was so committed to creating a rich cultural environment for us. We had Persian rugs, Persian calligraphy, it was all traditional art and music, and that was what really filled our home, along with the smells and tastes of our food."
Her mother, whose graduate degree was interrupted by the Iranian revolution, did not grow up in the kitchen. "There were people in her home who did the cooking. So when she came here, she had to make a really conscious step in to the kitchen and double down on that as cultural education for me and my brothers… she had a couple cookbooks, but in a lot of ways, she had to figure it out for herself." Tortillas filled in for lavash. Spaghetti with meat sauce revisited the stove to create a version of tahdig, the beautifully crispy layer found at the bottom of Persian rice.
Yet Nosrat also did not grow up in the kitchen. She "went straight from college to [working at] Chez Panisse and never truly learned what home cooking was." Even when cooking at home, she explains, she was mimicking restaurant cooking. Her time at Chez Panisse was formative — her four tenets of salt, fat, acid and heat were distilled from that community's approach to food. Long before any books or TV shows bore that name, that framework was institutionalized in Chez Panisse's training curriculum.
She followed a mentor from that restaurant to Eccolo, where early on, the owners and investors wrestled over their differing priorities. The more money the restaurant lost, the more their disagreements spiraled outwards. "It was just really challenging and painful, every day, all day," Nosrat recalls. When the restaurant ultimately closed in 2009, it was a relief.
In retrospect, she says, the restaurant suffered from the same systemic issues that all restaurants face. She still thinks about "how restaurants are expected to exist and serve lots of people for low prices. It creates a cycle of undervaluing people, and frankly, abusing them. I definitely had a distaste for that," she remembers, "when I left, I never wanted to have employees again."
Nosrat still pays attention to the restaurant world. "When I do come across young people working in food," she says, "I'm really struck by how much more angry and vocal they are. They're so much more active and so much less willing to 'just take it.' Twenty years ago when I started cooking, there wasn't even a vocabulary for these injustices … now there are words, and organizations, and people who speak this truth about their experiences and call for change. I'm heartened by it" But, she notes, "there are a lot of people who work at Applebee's, Olive Garden and Red Lobster, not glossy-magazine type restaurants , who are less able to speak up for themselves. Until the changes reach everyone, including those workers, they're not real changes."
Nosrat says many challenges in the food industry start way upstream from Applebee's. "Like government subsidies for corn, and minimum wage laws, and our cultural expectations around food… We need a deep look at how we as a country feel about the people who grow and make our food."
Nosrat's work isn't traditional activism or advocacy, but it's all about bringing more attention to food, especially the kind that most readers and viewers actually engage with: home cooking. Nosrat is aware of the wave she's riding: "I tell people all the time, my show couldn't exist without "Chef's Table" It brought a kind of dignity to being a chef that didn't exist in our culture. And then I got the opportunity to tell my story, and the kind of stories I love most." She also knows that her work is different from what's come before. "Chef's Table" is a way to put a chef on a pedestal so that we can appreciate his or her work and legacy," she explains, "and with "Salt Fat Acid Heat," the ultimate goal is for people to get up and cook. Every decision we've made was with that goal in mind."
There were other key priorities in the show's decision-making process. Nosrat made that clear to the production team at Netflix, explaining that "we have go to extraordinary lengths to make sure we are representing these places and people as they are, instead of how we want to use them in our narrative." Representation — of women, of people of color, of formerly colonized peoples — is something Nosrat takes very seriously. "Who is profiting here? Who is getting the credit? Who has historically been powerless or powerful? Those are the questions I'm drawn to."