How Conductor Jameson Marvin Transformed Choral Music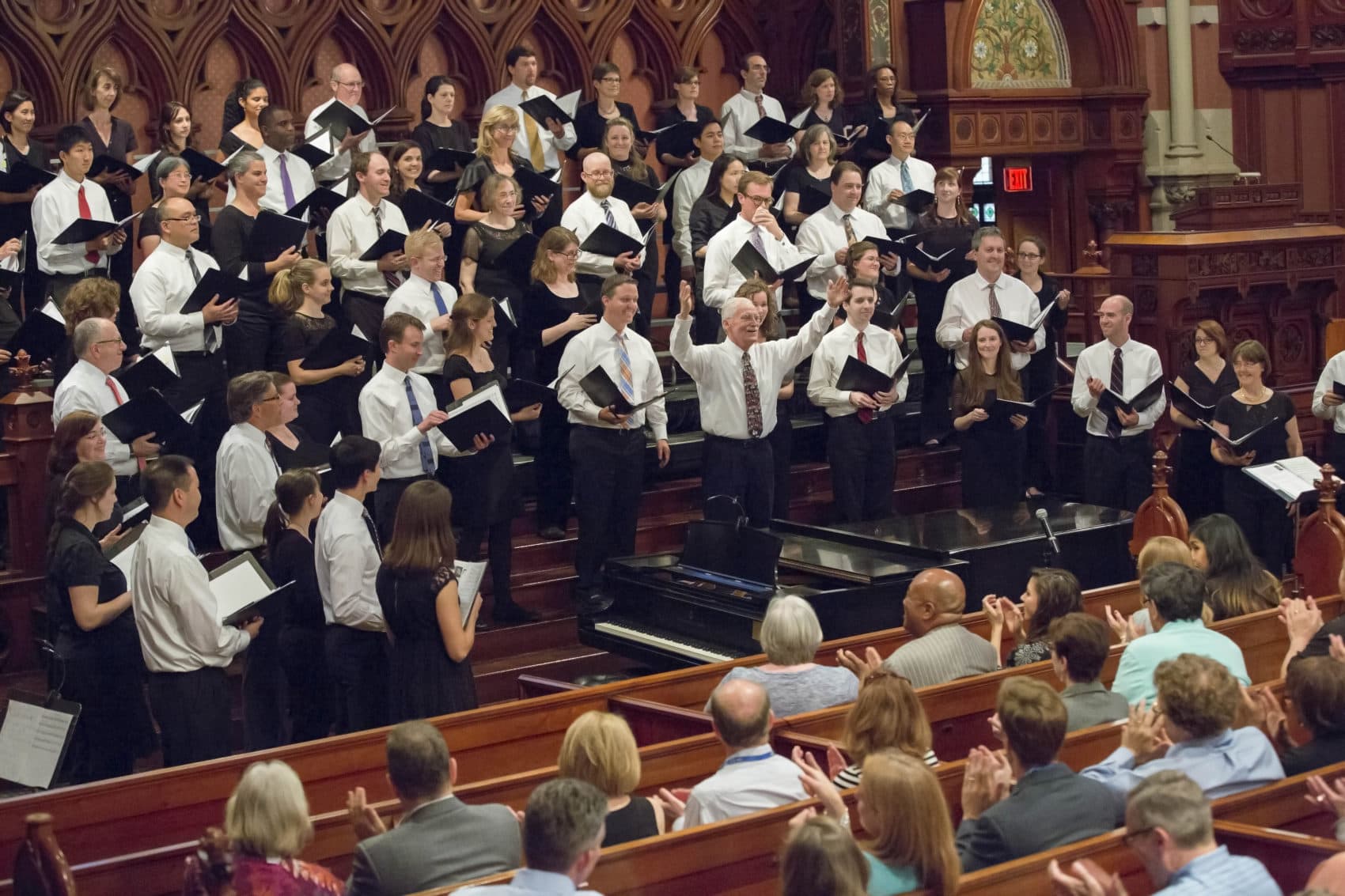 For half a century, conductor Jameson Marvin's singers have been "stepping into the circle of light" — the space where music happens at the highest level. Concerts of the Jameson Singers, the ensemble he founded in 2010, have become much anticipated events of each musical season. In fact, the planned venue for their spring concert quickly sold out, triggering a move to New England Conservatory's Jordan Hall. But following their performance of the Brahms Requiem on Friday, May 10, Marvin will hand the reins of the chorus to his colleague, friend and former student, Kevin Leong.
"After 50 years of conducting, the Requiem is a pretty poignant choice right now," says Marvin. "There's a sense of 'and their works shall follow them' in this piece, which resonates with me personally."
Visiting Marvin in his modest Lexington home, there's little sense you're in the presence of one of the most influential choral musicians in America today. (Full disclosure: I'm a member of the Jameson Singers.) The wiry, white-haired man in casual, slightly rumpled clothes greets you warmly and takes you to the living room dominated by his grand piano and bookcases filled with musical scores and treatises.
Harvard's Director of Choral Activities for more than three decades, Marvin built a national reputation for the university's Holden Choruses: Harvard Glee Club, Radcliffe Choral Society and Collegium Musicum. At an American Choral Directors Association (ACDA) national conference in San Antonio, before an audience of 1,000 musicians, the Glee Club gave a performance that is still being discussed in conducting circles today — and that performance was in 1993. Michael McGaghie, now head of choral activities at Macalester College, remembers, "We were just a group of guys, mostly non-music majors. It was a revelation to those listening that an amateur male chorus could achieve that kind of virtuosic sonority."
"Revelation" is a word often used when talking about Marvin's music-making. Simon Carrington, founding director of the King's Singers, upon reading the manuscript of Marvin's new book ("Emotion in Choral Singing") during a train ride to a choir rehearsal, notes "I was so excited and stimulated by what I was reading that, by the time I arrived that evening… I had changed my entire rehearsal plan and reevaluated my approach to choir training!"
Leong explains that Marvin creates a signature sound, which is both beautiful and compelling. For Rob Opdycke, another former student and now director of music at the Roxbury Latin School, "Jim's method of building a choral sound at first seems almost magical, something supernatural. Then you realize there's an absolute method to it." Leong agrees: "He takes each of the components of choral sound — pitch, duration, timbre, intensity — breaks them down in an almost scientific way, analyzes what he's hearing, and then unifies everyone within each of these components." Opdycke adds that "usually conductors wait until the final rehearsals to add these refinements. But with Jim, all this is happening as the repertoire is being learned, he's re-balancing at every moment of every rehearsal."
However, creating the most beautiful sound in the world is not enough; music must also communicate emotion. Understanding the expressive gestures and intention behind the notation is key to achieving — for both singers and their audience — the state of euphoria and transcendence that Marvin strives for in each performance. "When I think about Jim's music-making, it always comes back to joy," says McGaghie.
Perhaps it's not surprising there's an element of the winemaker in this California native. Creating the best wine, top vintners will tell you, is like composing a "chemical symphony," requiring a chain of hundreds of decisions all along the way. Winemakers must possess not only sensory skills but a host of other aptitudes from microbiology to basic mechanics.
Like them, Marvin seeks to create a perfectly tuned and responsive choral instrument by combining art and science, and with meticulous attention to a multitude of details. The result is an organic, flexible performance, where the conductor is able to make artistic choices in the moment. "It is the kind of conducting," the Boston Globe's Richard Buell once observed, "that has a lot of 'there' to it but somehow disappears, egolessly, into the music."
Marvin came to Harvard in the late '70s, only the fifth choral conductor since the Glee Club's founding in 1858. After the administration's initial candidates were roundly rejected by chorus members, the dean of students created a student committee to make the selection. Marvin was their choice, the first non-Harvard appointee to the position.
Traditionally, collegiate choral programs had three tiers: the "best" chamber choir, the "second best" concert choir, and "feeder groups" — usually women's, men's, and community choruses. One of Marvin's most significant accomplishments was to develop the three Holden Choruses into choirs of equal excellence. Bringing them to perform at ACDA conferences across the country earned national recognition for the ensembles.
Leong remembers a concert of Monteverdi and Schütz at the Kennedy Center in the '90s. Marvin brought his student choristers down to D.C., complete with professional Baroque musicians and soloists. It caused a sensation: "no one was doing that with college choruses," says Leong. Marvin, a tireless champion of polyphony, was showing music educators the possibilities for adding sophisticated Renaissance and Baroque music to their repertoire.
But Marvin wanted to further democratize singing at Harvard. He started a Choir-in-Progress which provided vocal training and reading skills. With Beverly Taylor he created the Harvard-Radcliffe Chorus, welcoming singers both from the university and outside. "I wanted to create a community of kindred spirits, I believe in that so strongly," he says today.
Students expecting to enjoy some recreational singing while pursuing studies in engineering and pre-med, soon found choral music had become the most important aspect of their education and the heart of their social life. "One of the things he teaches is that the whole is greater than the sum of its parts," writes Collegium alum Isabel Draves. "It's really about the team effort and not the individual at all."
A new generation of choral conductors and music educators have emerged from this rich mix. Some 50 singers, like McGaghie, spent further years under Marvin's mentorship as assistant conductors at Harvard. And Marvin's critical editions of renaissance works, folksong and carol arrangements, and original compositions — more than 80 in all — have made a significant contribution to today's choral repertoire.
And what of his choice of the Brahms Requiem as a swan song? After performing it four times, is there anything new to discover? Yes, he says. "I have a greater appreciation of the compositional elements which are coming from his heart, emotional connections with the text on every level. There's a quality of blessedness throughout the piece."
Laura Jeppesen, a prominent member of Boston's early music community, has played with Marvin often over the past 30 years. "Jim has truly been a force of nature in our musical community and we are all immensely grateful for the unforgettable musical journey we have had together."
---
Jennifer Farley Smith is a music educator and a former editor and writer at The Christian Science Monitor. You could email her at jenniferfarley.smith@jamesonsingers.org.