The Huntington Presents A Don Quixote For Our Times, Muchas Gracias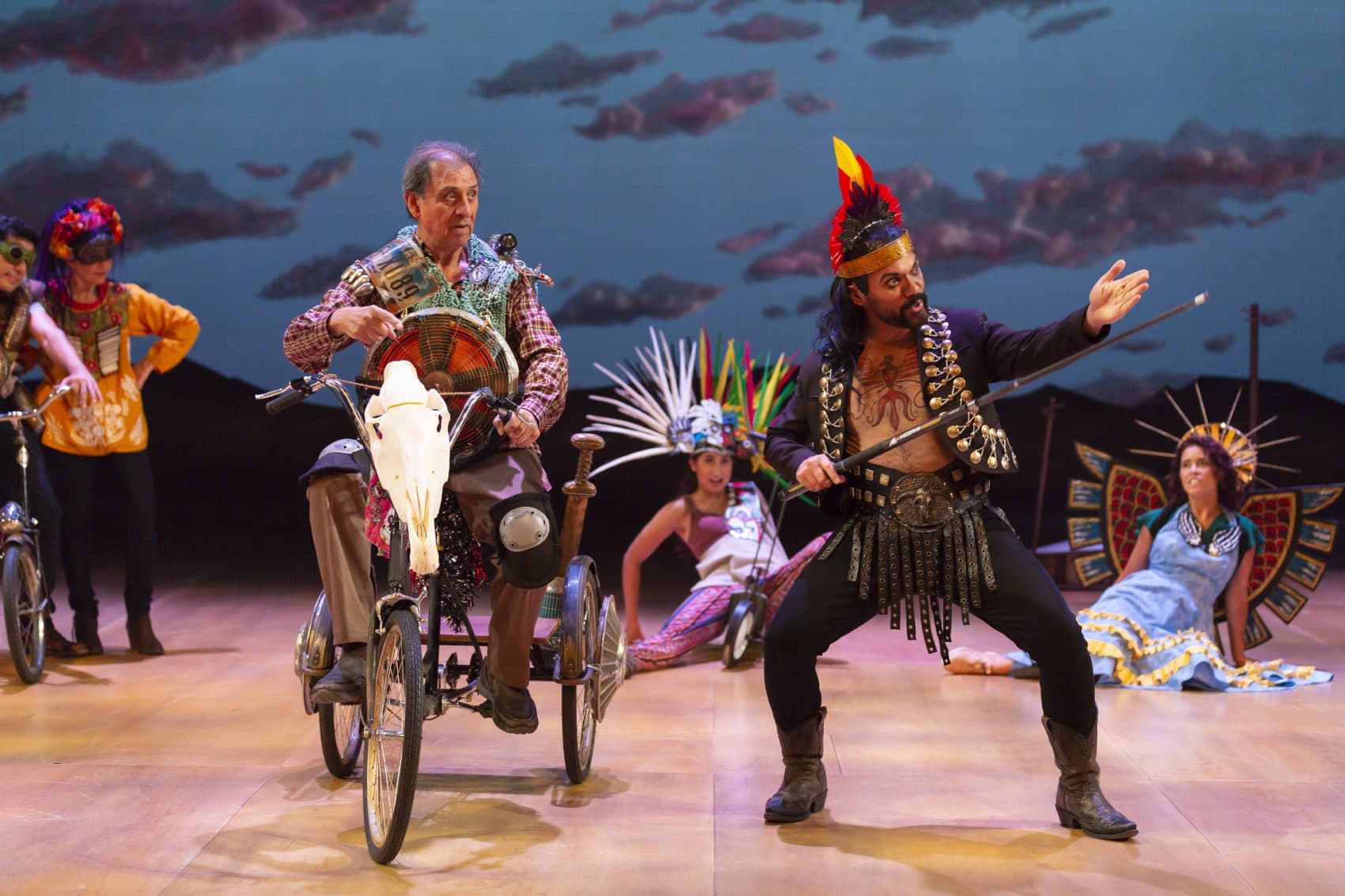 "To dream the impossible dream…"
Oh shut up.
This isn't that "Don Quixote." This is "Quixote Nuevo," Octavio Solis' highly entertaining modern adaptation of the Cervantes classic. New because it's set in modern times. Nuevo because he set out "to claim the saga as a Latino story, not as a European one."
That he succeeds as well as he does is a tribute not only to his writing skills, but to the lively production now on the Huntington Theatre Company mainstage (through Dec. 8), which the Huntington is producing in association with Hartford Stage and Alley Theatre in Houston, a city that shares statehood with the play's setting, La Plancha, Texas.
This man of La Plancha is teetering on dementia, which could have given the play a literal-minded somberness. Today's focus on Alzheimers-related diseases can be the bane of many a latter-day "King Lear" production, along with other plays about aging. Solis avoids that cliché here; there's too much else going on. There's also the fact that Emilio Delgado's charismatic and intelligent performance fleshes out our contemporary Quixote, who's actually named Jose Quijano, in ways that never let us forget his illness but also never strait-jackets the story in that illness.
"Quixote Nuevo" is a pastiche and its episodic nature keeps the show's head above water whenever it starts to descend into silliness or sentimentality. There are times that Quixote's concerned circle of sister, niece, shrink and priest become stick figures as they battle for his well-being, the niece trying to keep him out of an assisted living facility that the other three are trying to usher him into. I also never quite bought into  Manny Diaz, an ice cream vendor, who becomes a latter-day Sancho Panza, despite Juan Manuel Amador's humorous, spirited acting.
But when one scene starts to feel too sitcommy the next almost always rights itself with a reminder of Quijano's mental frailty or with a political poke — immigration is an ever-present issue and for some of the characters, namely Dulcinea, an ever-present danger.
That there are scenes that don't work as well as others doesn't detract from the over-all spirit of the show, which uses simple but imaginative stagecraft to create a multi-layered setting. Brian J. Lillienthal's lighting makes Takeshi Kata's unfussy set seem almost opulent as beautiful sunsets morph into more ominous shapes and tones. Meanwhile, KJ Sanchez' direction fills the Huntington stage as Quixote is visited by spirits dancing ecstatically to David R Molina's electric mix of genres like Tex-Mex, Mariachi, Cumbia and other border music. Heading up this merry band of specters is Death himself, in the form of Papà Calaca, played by the excellent Hugo E. Carrabal. Gisela Chípe, who also plays the psychiatrist, is a lustrous Dulcinea when she steps out of the ensemble.
It's Delgado, of  "Sesame Street" fame, who is the heart and soul of the production, however. Often seen in a half-crouch with his fingers raised to the sky, his eyes a-twinkle and his voice full of romantic aspiration, his Quixote is a retired Cervantes scholar who's not only escaping institutionalization, but a crushing conformity — represented by his psychiatrist and priest — that has plagued him his whole life, not just his last years. It's not just dementia that makes him decide to break bad, even if he thinks he's breaking good with a tricycle for a steed, a hubcap for armor and a beadpan for a helmet. (He actually cuts a believable figure.)
For all its contemporary allusions, the story embraces the original's concerns with reality and escapism, but with a bit of a twist. Cervantes' Don was in part a satire of 17th-Century attitudes toward chivalry and nobility. Given today's boorishness, Solis' Don has a more admirable texture. Nevertheless, Solis reminds us that there's a price to pay for not living in reality. His Don often makes things worse for those he's trying to help. The performance is a very delicate balancing act, but Solis and Delgado pull it off. Again, whenever it feels like "Quixote Nuevo" is slipping into Forrest Gump-like sentimentalizing of mental illness, the writer and actor swerve away.
There's also a heightened reality when it comes to Dulcinea. She is more than a mythic beauty over-romanticized by both the 17th and 21st Century Dons. It would give too much away to spell out exactly what she represents to him, but it's not too much to say that the immigration issues of the day factor into it. Solis also deserves credit for the way the characters slip from English to Spanish unapologetically and without translation, except for a glossary in the program. Even when I didn't fully understand what they were saying, it gave the play a strong sense of identity and authenticity.
Given the episodic form and fast pace of the piece — it's about two hours and 15 minutes — Solis doesn't dive too deeply into any one issue, which is sometimes frustrating and the writing could use more poetry and less prose. That doesn't, however, detract from the overall dexterity of delivering an entertaining and engaging "Quixote" that feels totally respectful of Cervantes and a thoroughly contemporary tale as well, a Quixote that feels totally "Nuevo."
---
"Quixote Nuevo" continues at the Huntington Theatre Company through Dec. 8.