Trey McLaughlin Brings The Sounds Of Zamar To Boston
There's power in finding your voice, singer and composer Trey McLaughlin tells me. The popular musician found his voice long ago. McLaughlin, who's based in Augusta, Georgia, recalls emulating the soloists at church when he was two or three years old. It's the earliest memory he has of trying to "create music and make sound," he says.
Since then, his commitment to the craft has never wavered. Beginning tonight, McLaughlin and his group The Sounds of Zamar—best known for their viral videos where they cover gospel and secular songs—will be in Boston for three events including "The Joy of Singing!" a free community workshop on Jan. 30, and a concert presented by Celebrity Series of Boston on Jan. 31 at the Sanders Theatre.
At the workshop, McLaughlin will teach two songs by rote, employing the techniques he uses with Sounds of Zamar, or, SOZ. Afterward, participants can engage in a Q&A session. Currently, more than 200 people have signed up from choirs across the city. Even though a large group is expected, McLaughlin aspires to develop a connection with everyone in the room. "…It's really an energy exchange," he says. "My goal is for them to feel close and create that intimate moment."
McLaughlin and SOZ, which has about 22 members, have been making music together for more than decade. The ensemble has performed with gospel giants like Kierra "Kiki" Sheard, Richard Smallwood and James Fortune. Their arsenal of YouTube content shows them re-making contemporary Christian songs like, "Fill Me Up," "Better is One Day," and "For Your Glory," (featuring three men from SOZ). These videos alone have a combined total of nearly 13 million views. Despite their growing reputation, their recordings aren't heavily produced. Instead, the performers sit in a semi-circle while delivering McLaughlin's lush arrangements, often with their eyes closed. The draw for listeners are crisp, clean sounds, intricate harmonies and impeccable blends.
"What I like about them is [that] they don't over sing," says Dennis Slaughter, director of music at Parkway United Methodist Church. Slaughter also directs the Boston Pops Gospel Choir, and singers from his network will attend the workshop.
Typically, McLaughlin's remakes bear some resemblance to the original songs, but sometimes what he composes feels like a different song altogether. If he's inspired to cover a song, McLaughlin wants his work to pay homage. "I'm trying to honor the work that was originally created," he explains. Boston Pops Gospel Choir member, Corey Tolbert praises the arrangements for their creativity, and says it's like "hearing that original song for the first time."
McLaughlin says he "sees harmonies in color and beams of light," a sensory condition called synesthesia. This ability, among other skills, makes it easy for McLaughlin to learn music. "I can hear things in their entirety. It's like seeing and hearing the colors [simultaneously]. It's a roadmap for where it [the music] wants me to go," he says.
Music has taken McLaughlin around the world. He's led a master class in Massy, France, guest conducted in Krakow, Poland and held a workshop in Menorca, Spain. Now, he's working on his personal album and an SOZ album. When he's not traveling or touring with the group, McLaughlin is cultivating the next generation of singers from Creative Impressions—a youth choir—and serving as the director of worship and arts at the Historic Tabernacle Baptist Church in Augusta. McLaughlin, a former Creative Impressions member, loves to see the transformation of the students; going from unsure of themselves to vibrant young performers.
To sing with McLaughlin, talent isn't the chief requirement. Attitude and temperament are just as important. "I don't want people to think they can just ace an audition," and end up in the group he says. "I need to see how they mesh with us…how they'll affect the group."
That good vibe McLaughlin meticulously fosters could be another reason why SOZ's music is so resonant. The best part of their renditions occurs before the lyrics are sung. Their freestyle humming and improvising in the first few measures at the top of a selection is a soft, vocal dance that works because they're listening to one another, deeply.
"You can see that every single person is engaged [and] believes the music that they're singing," Tolbert shares. "They're not just up there as background singers…they are people who believe in the word of God, that want you to believe. And [they] are allowing the gifts that God has given them to make room for them," he says.
Overall, McLaughlin aims to "inspire and uplift," with his music. And for everyone who comes to the show, McLaughlin is ready to change the atmosphere.
---
A panel talk,"Rocka My Soul: Gospel Music From The Church To The Stage," with Solomon Dumas, soloist, Alvin Ailey American Dance Theater, and Trey McLaughlin will take place at WBUR's City Space on Jan. 23 at 7 p.m.; "The Joy of Singing," a free community gospel workshop will be held at The Jose Mateo Ballet Sanctuary Theater on Jan. 30 at 7:30 p.m.; and see Trey McLaughlin and The Sounds of Zamar in concert at the Sanders Theatre on Jan. 31 at 8 p.m.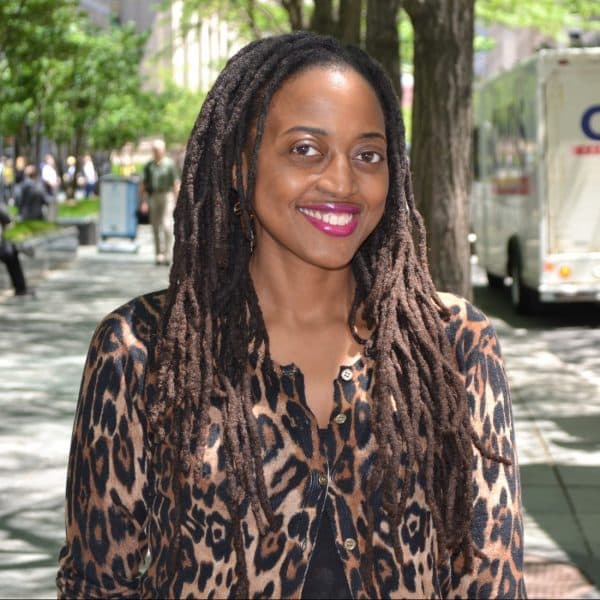 Jacquinn Sinclair Performing Arts Writer
Jacquinn Sinclair is a freelance arts and entertainment writer whose work has appeared in Performer Magazine, The Philadelphia Tribune and Exhale Magazine.