Boston Artist Accuses City Of Copying Her Pandemic Photo Series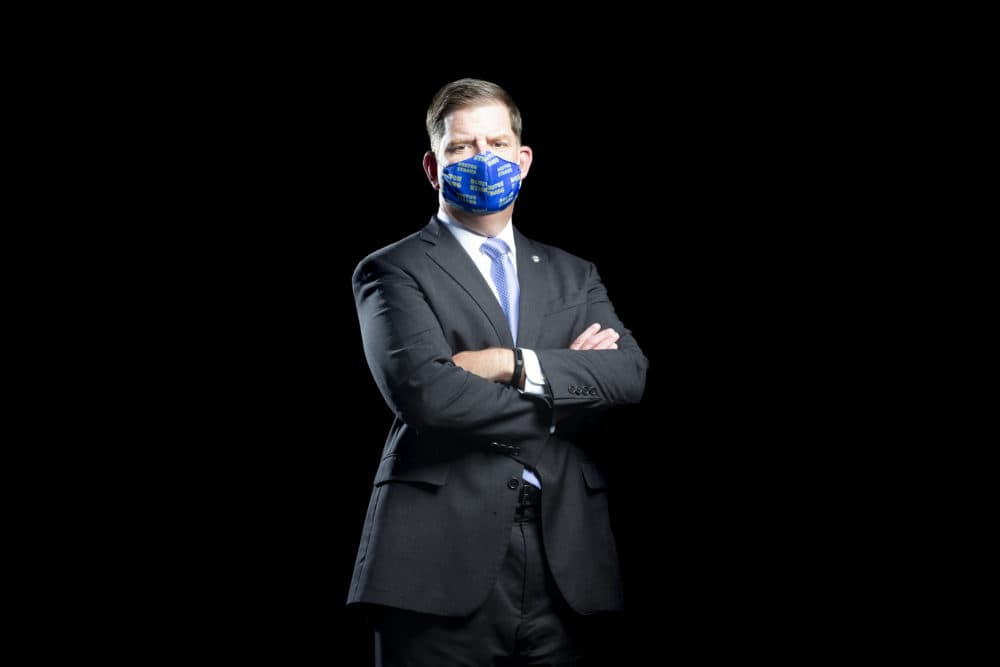 A Boston artist who photographed Mayor Marty Walsh for a series documenting Massachusetts residents wearing masks believes that the city stole her idea for their own photo campaign.
In April, Katherine Taylor began documenting individuals in the Boston area with a project called "Who Do You Wear a Mask For?" Her series pairs a portrait of a person wearing a mask with a brief interview addressing how that person is coping during the pandemic. Each portrait session ends with an answer to Taylor's titular question: who do you wear a mask for?
"I wanted to use questions to give individuals the space to talk about what they want to talk about, to be seen how they want to be seen," Taylor said.
But Taylor isn't the only one asking Bostonians why they wear a mask. On July 31, over three months after Taylor first started posting her project on her website and social media, Mayor Marty Walsh's office began posting similar portraits on Instagram of individual essential workers wearing masks.
According to emails between Taylor and city officials, Taylor first approached the mayor's office on May 22, requesting Walsh sit for a portrait for her series. Taylor photographed and interviewed him on June 15.
"It's so blatant that they copied my style," Taylor said. "Why the black background? Why didn't [they] bother even using a different background?"
Jeremiah Robinson is a staff photographer for the city of Boston. He created the city's photo series and pitched it to the mayor's office in early May. He said in an interview that the similar portrait style is just an unfortunate coincidence.
"I needed a portable [background] that I could carry around with my kit, and I just needed a solid background. The one I bought had a black side and a white side and I ended up just picking the black one," Robinson said. "I'm sorry that the black background ended up looking the same as Katherine's, but it's definitely not intentional."
Taylor doesn't entirely blame Robinson, and when she contacted the mayor's office again in early August with concerns about the similarity of the two projects, she didn't blame Robinson's bosses either. At that point, she offered to collaborate with the city's photo team.
"They brushed me off and said [Robinson] just had the same idea as me and made it all about him," Taylor said.
According to emails provided by Taylor, city spokesperson Audrey Coulter replied to Taylor's request for collaboration by connecting her to Robinson and Stacia Sheputa, who runs Mayor Walsh's social media accounts.
"I let nine days go by, I wasn't given any response," Taylor said.
In a written statement, a spokesperson for the city of Boston said again that the city's photo project was conceived independently of Taylor's work. The statement did not mention Robinson or Taylor by name, but reaffirmed their collective support for Boston's community of artists.
"The City of Boston's photo team has worked tirelessly over the course of this pandemic to document the nonstop, lifesaving work happening every day in Boston, including a portrait project showing the behind-the-scenes work of essential employees, from emergency responders, to Public Works crews, to Water and Sewer workers," it reads. "The City has the utmost respect for our artist community, and we have invested significant resources over the course of this pandemic to make sure they are prioritized as we begin to recover, including through Boston's Artist Relief Fund."
Taylor is frustrated. She spoke to an attorney to understand her legal options moving forward if the city fails to acknowledge the link between her and Robinson's projects. To her, the similarities are no coincidence.
When Robinson first proposed his project he saw his work as a kind of yearbook of essential workers.
"To me, it wasn't so much about individual pictures, it was about getting this giant, poster-size collage," Robinson said. "It was more about the collection of photographs together."
Where Taylor wanted her project to focus on individual stories, Robinson wanted to document a community of city employees. Originally, Robinson did not interview his portrait subjects. But according to emails between Robinson and Kathryn Burton, Mayor Walsh's chief of staff, Burton asked Robinson if the Mayor's team could use his photos for the state's #MaskUpMA campaign on July 31.
"I had no problem with it, but that was not my original goal when I started the project," Robinson said.
Weeks after Taylor asked the Mayor why he wears a mask, the city's team sent Robinson out to ask some of his original subjects the same question. The Mayor's recent #MaskUpMA posts feature a single portrait captioned with an explanation of why the subject wears a mask.
While Taylor waits to see if the team behind the #MaskUpMA photo challenge acknowledges her, she's still working.
"It's not complete. It's my baby. I spend 16, sometimes 18-hour days on this, and I've still got at least 40 more people to profile," she said. "As long as we're in masks and going through the pandemic, I'll continue shooting my own project."